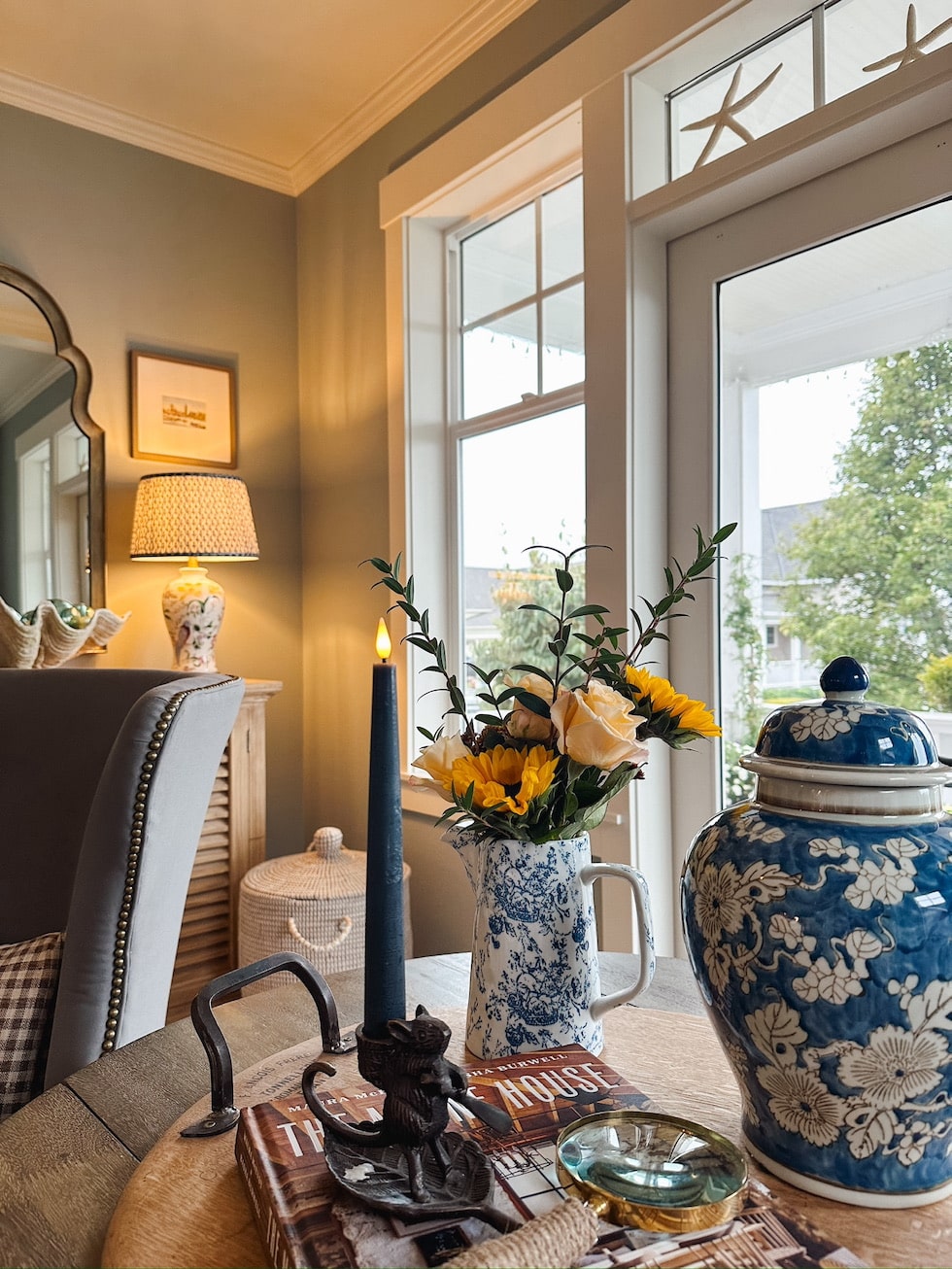 Following my recent post about battery operated colored candles, many readers asked me about candle holders, so I thought I would share sources and ideas with you.
Today I have a roundup for you with lots of candleholders for taper candles, votives, tealights, and pillar candles. See photos of a few below, along with some ideas and collages with lots more sources!
Candles and candleholders definitely will set the mood of a welcoming home for fall and winter. I have a mix of candleholders I've collected over the years–some antiques and some new. Etsy is a great place to look for secondhand finds as well–you can see some Etsy shops I like in this post.
ENJOY!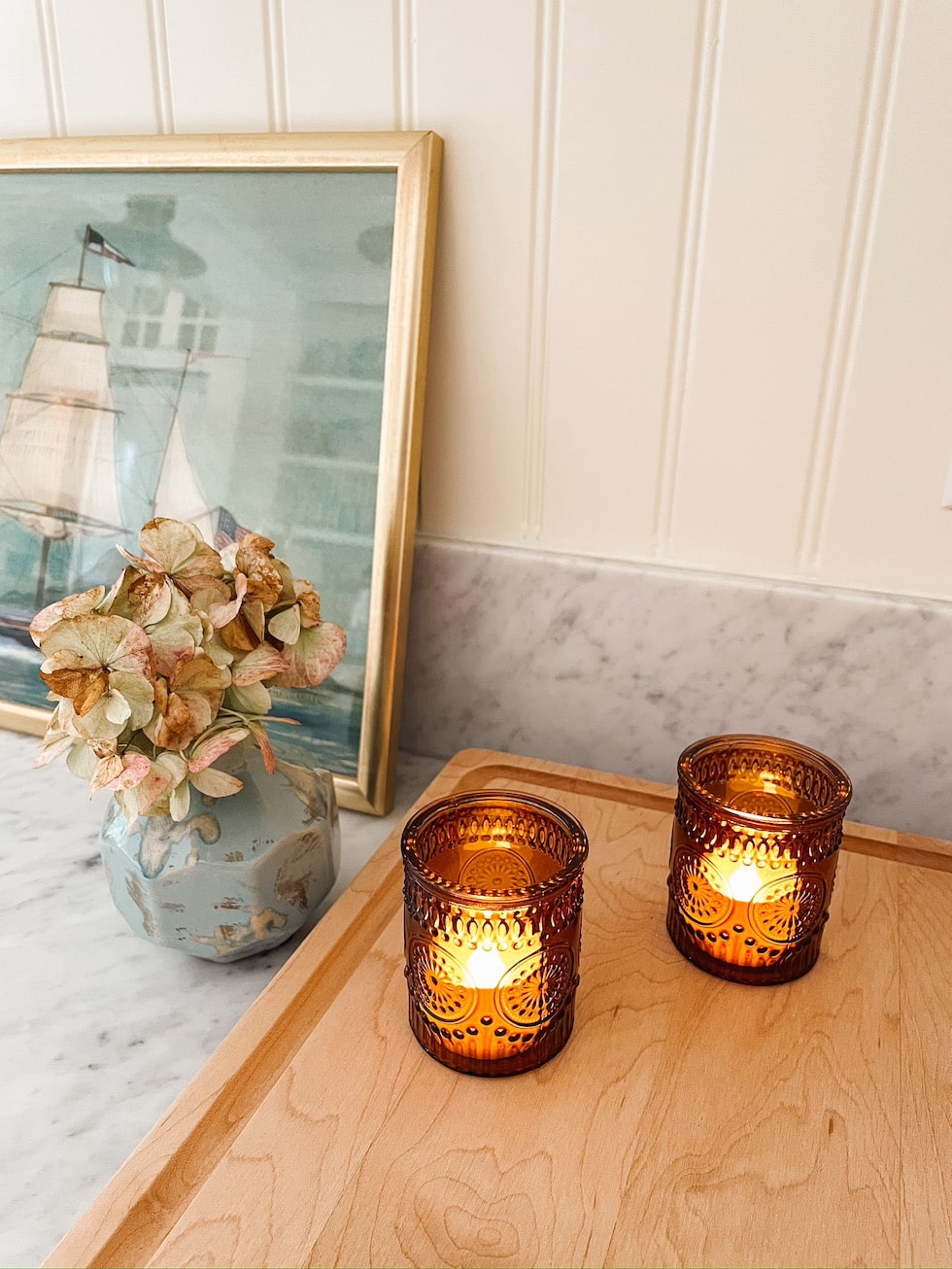 Sources for above: 1 Brass Candle Holder //// 2 Mint Candle Holder // 3. Ceramic Candle Holder //// 4 Mouse Candle Holder at 3 places >> Home Depot // Wayfair // Amazon) //// 5 White Candle Holder //// 6 Hand Forged Brass Finish Candle Holder //// 7. Flower Candle Holder //// 8 Stoneware Candlestick Set //// 9 Ceramic Speckled Candle Holder //// 10 Black Wrought Iron Candlestick Set //// 11 Gold Monkey Taper Candle Holders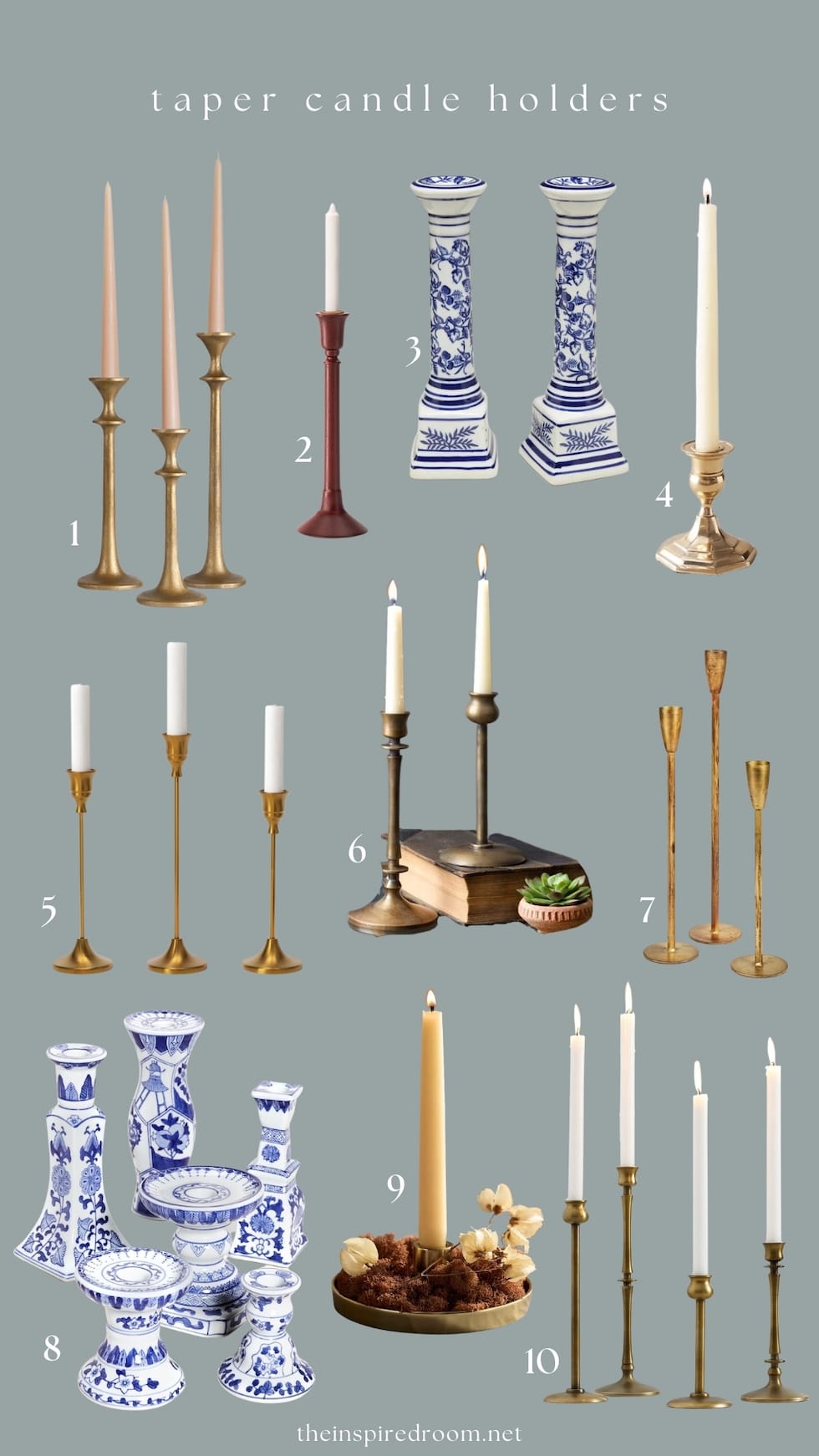 Sources for above: 1 Brass Taper Candleholders Set of 3 (very similar to this candleholder set that Courtney has but much less!) //// 2 Wood Turned Candlestick //// 3 Blue and White Porcelain Candlestick Set //// 4 Antiqued Brass Low Candlestick /// 5 Gold Candlestick Set //// 6 Brass Candlestick Set of 2 //// 7 Gold Taper Candleholder Set //// 8 Blue and White Candleholder Set of 6 //// 9 Brass Dish Candleholder //// 10 Brass Taper Candleholders (also comes in black and several sizes)
Sources for above: 1 Brass Pillar Candleholders //// 2 Green Distressed Terracotta Pillar Candleholder //// 3 White Wooden Pillar Candleholder //// 4 Mango Wood Pillar Candle Set //// 5 Turquoise Resin Pillar Candleholder Set //// 6 Bronze Pillar Candleholders //// 7 Distressed Blue Terracotta Pillar Candleholder //// 8 Grey Metal Pillar Candleholder Set (other colors available) //// 9 Gold Bunnies Candleholder
Sources for above: 1 Rattan Wrapped Votive Candleholder //// 2 Pewter Bunny Tealight Candle Holder //// 3 Blue Glass Votive Candleholders //// 4 Blue and White Tealight Candle Holders //// 5 Cane Wrapped Votive Candleholder //// 6 Metal Bunny Lantern Tealight Candleholder //// 7 Light Bluish Green Glass Votive Candleholders //// 8 Iron Bird Tealight Candle Holder //// 9 Amber Glass Candleholders Set of 24
---
---
---

Why I Love Colored Candles in the Fall (+ My Favorite Colored Battery Operated Candles!)