It's that time of year when we all want our living spaces to be cozy, welcoming and comfortable. We want to love our homes. But as you look around your room, do you ever have a nagging feeling that something is "off" but you don't know exactly what it is? I definitely have! Perhaps you've considered getting rid of everything you have so you can start over with new things you love. I'll admit that thought has crossed my mind a time or two.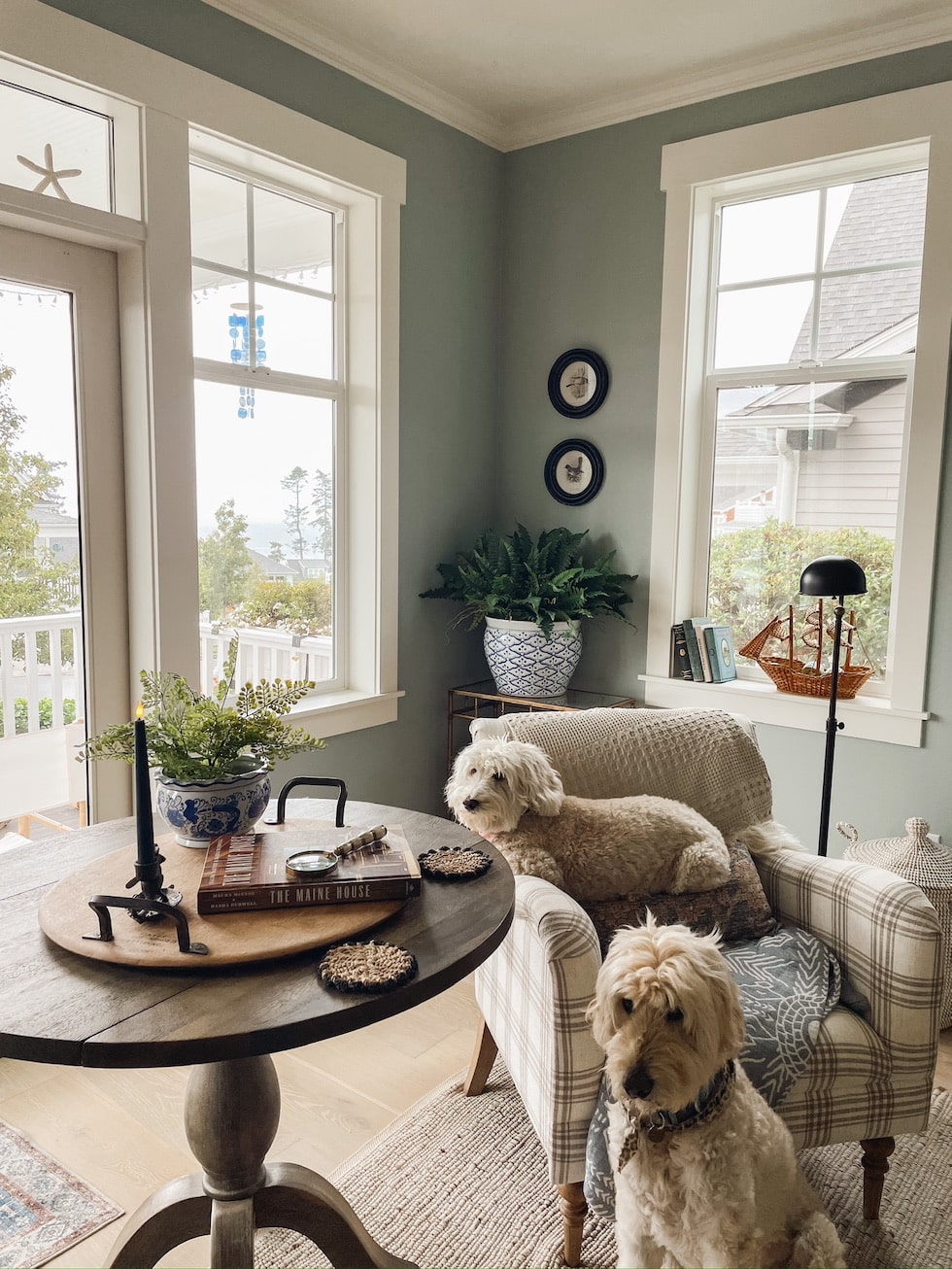 I'm a fan of using what you have when possible and not always buying new things.
But sometimes it's hard to figure out where to put the furniture you have, or how to combine what you have in a new way or a new room. And how to determine when you just need something new!
Did you know years ago I wrote a book called But Where Do I Put the Couch? with KariAnne Wood from Thistlewood Farms? Seems like I should be an expert on answering that age old question of where a couch should go in a room, but as is often the case with design, the best answer is often found through trial, error and experimentation rather than in a universal set of rules to to follow.
I think we need to give ourselves freedom to try new things, to break the rules and just arrange furniture in a way that is best for the room! This way your room will be better designed for you and make more sense.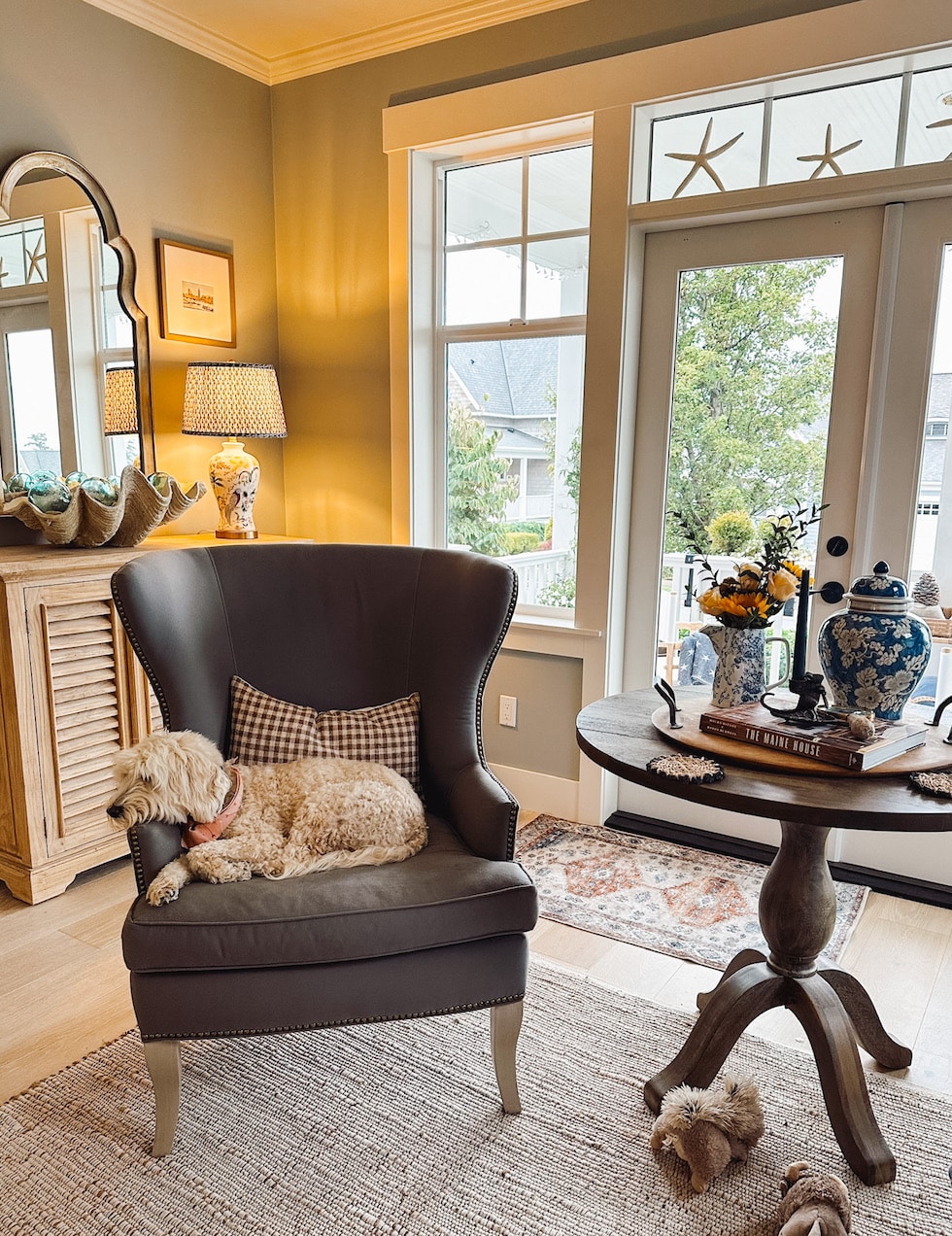 I am happy to say I stand by my advice in the book (which is not just about where to put the couch, by the way! It's so much more than that! It answers 101 actual decorating questions from readers like you! Read all about it here).
But even if we know the rules, break the rules or both, we can still feel stuck. I get stuck, too.
Case in point.
I was so excited when our renovation was nearly complete because I finally got to arrange furniture and get settled. But my enthusiasm soon turned to a slump. I just wasn't feeling like the living room was coming together.
It wasn't the backdrops at all. I was grateful for this newly refreshed space and love our paint colors and new flooring. Love the new feel and layout of our main floor. I still planned to get blinds in the living room, and I knew we'd get those soon.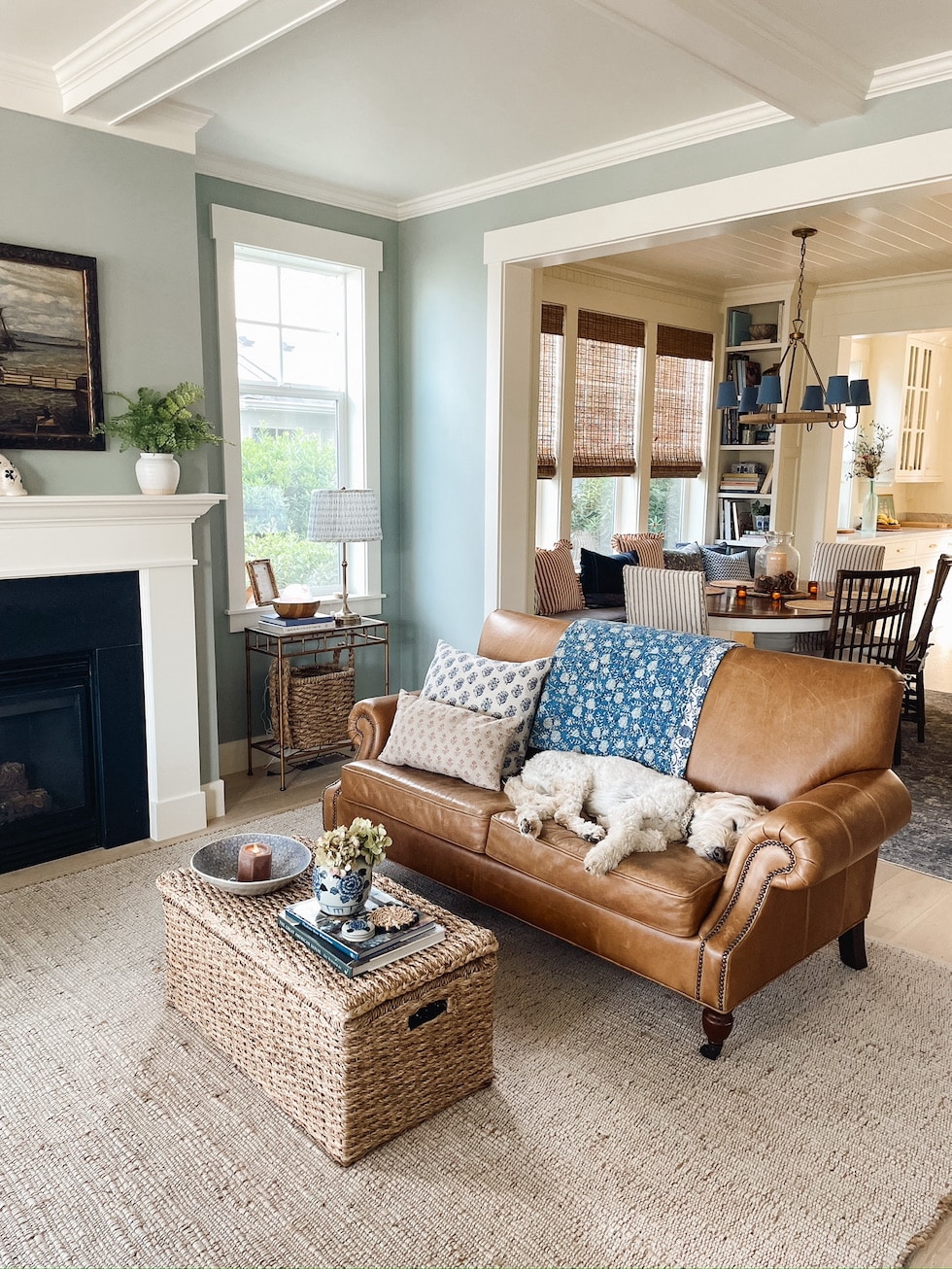 While I was stumped at how to solve the furniture arrangement, a little voice in my head told me to STOP DROP AND ROLL.
Catchy, yes? You're welcome. A little lesson we all learned in kindergarten.
This time though, there was no fire to put out.
Just a little crisis in my head, but nothing STOP DROP AND ROLL can't handle!
STOP scrolling for more ideas that just overwhelm or confuse you.
DROP the idea that shopping is the only way to solve problems.
Get out of your head so you can get ROLLING!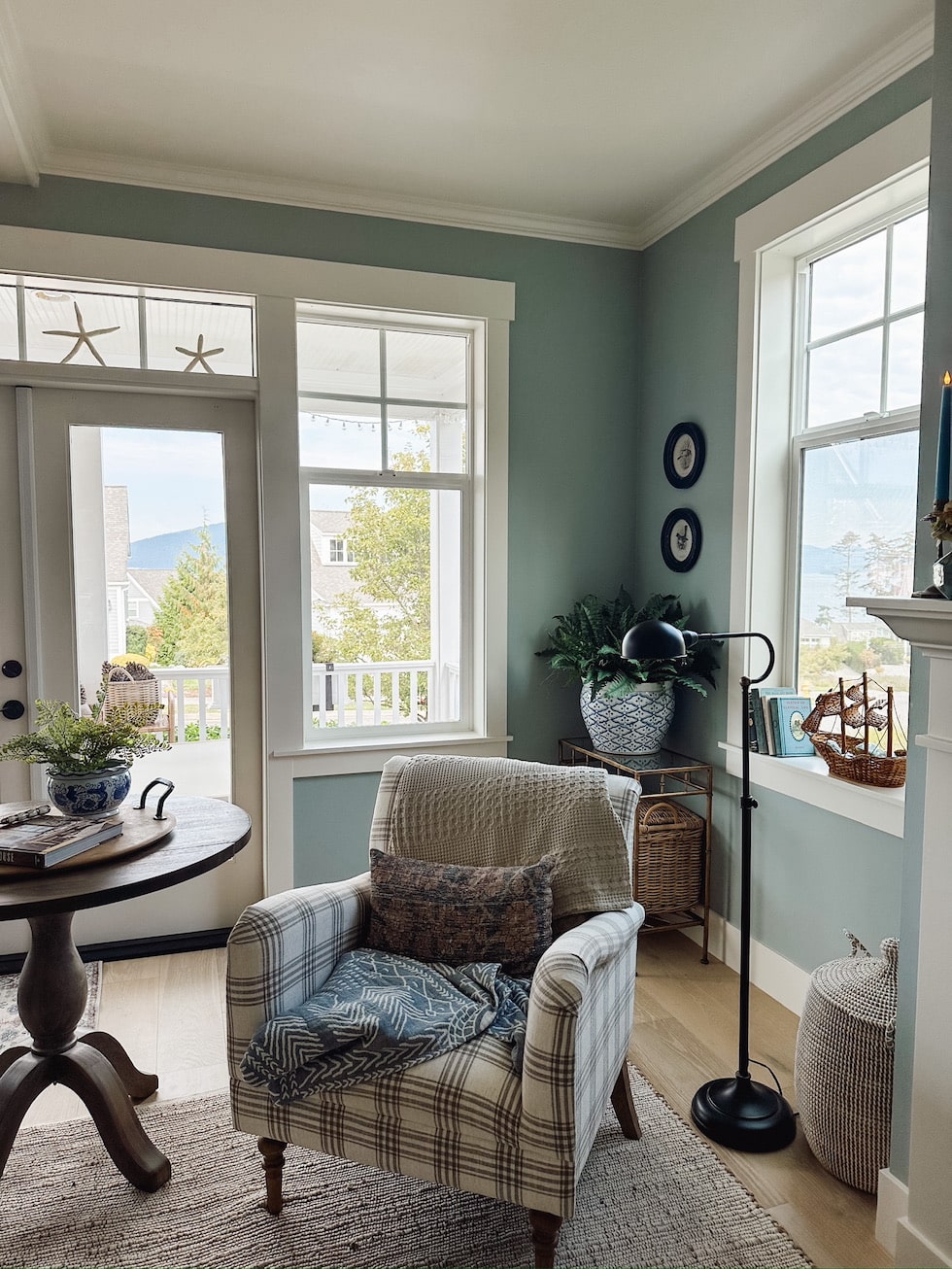 Even though I felt stumped — like I already tried every combination or arrangement, I told myself I needed to get up and try again. If I didn't like it, no problem, I could just move it all right back. If nothing else, it could give me clarity on what it was I needed so I could make a better decision.
It was time to STOP DROP AND ROLL!
I turned on my Fall Puttering Playlist, got my comfy tennies on, and started moving the furniture all around the room. I tried every possibility, even the ones I was pretty sure I wouldn't love. But you never know until you try!
Several arrangements later…it suddenly clicked! This felt right. Cozy, inviting, and pleasant for conversation. Funny enough, this is the arrangement I tried FIRST! I promptly dismissed it previously because when I tried it before, the dining room was still under construction.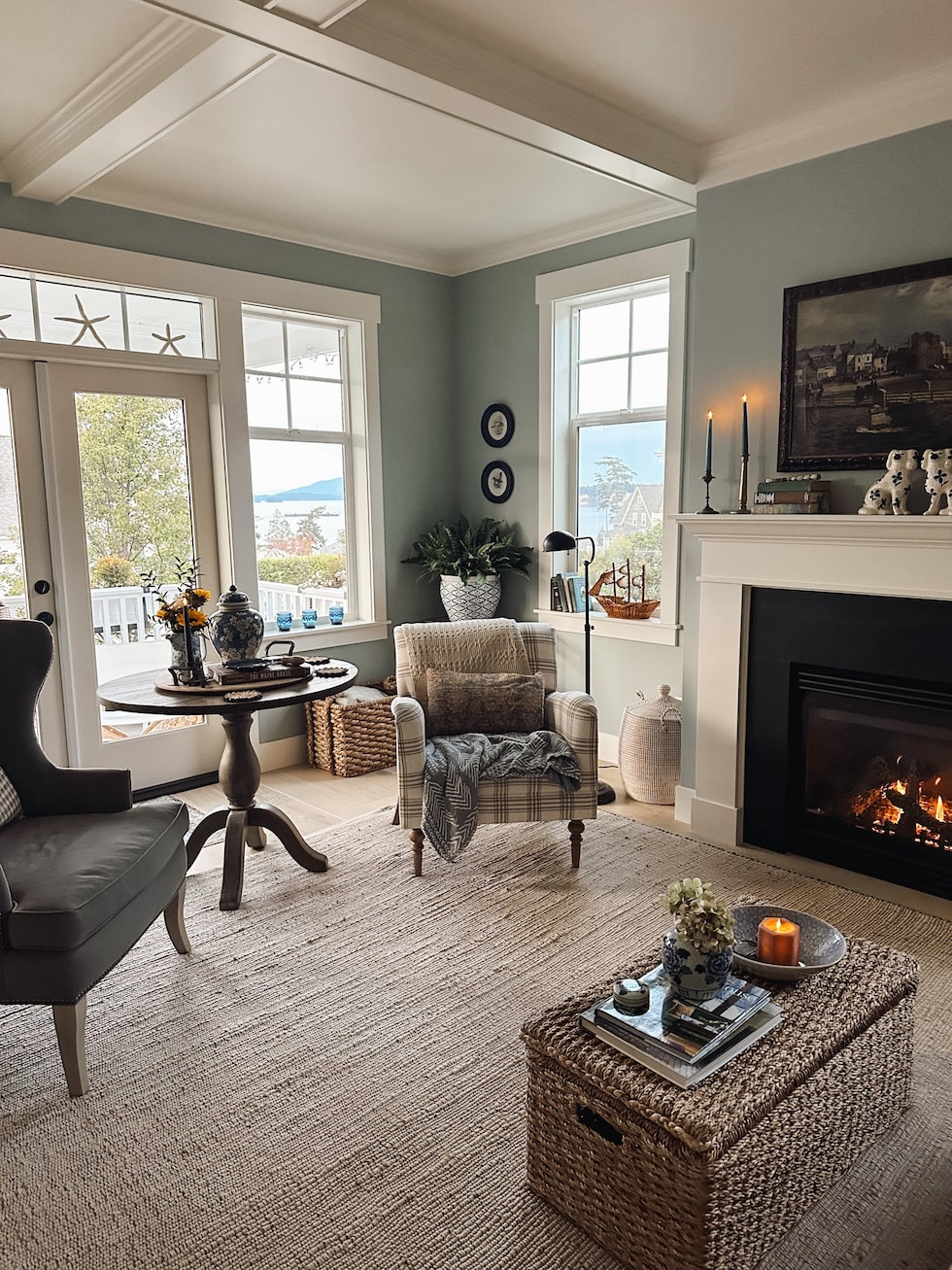 Here's another handy tip. Don't judge a room when it is under construction (or in a mess as the case might be). I can often look past a mess but this time, I made a quick judgement that was incorrect. I thought it was too crowded, but I am so glad I gave the arrangement another chance once the mess was picked up.
There is plenty of room to get around, and the couch there gives each room a cozier feeling! It works! Best of all, I was so happy I was able to use what I already had! All I had to do was try and try again.
Stop drop and roll.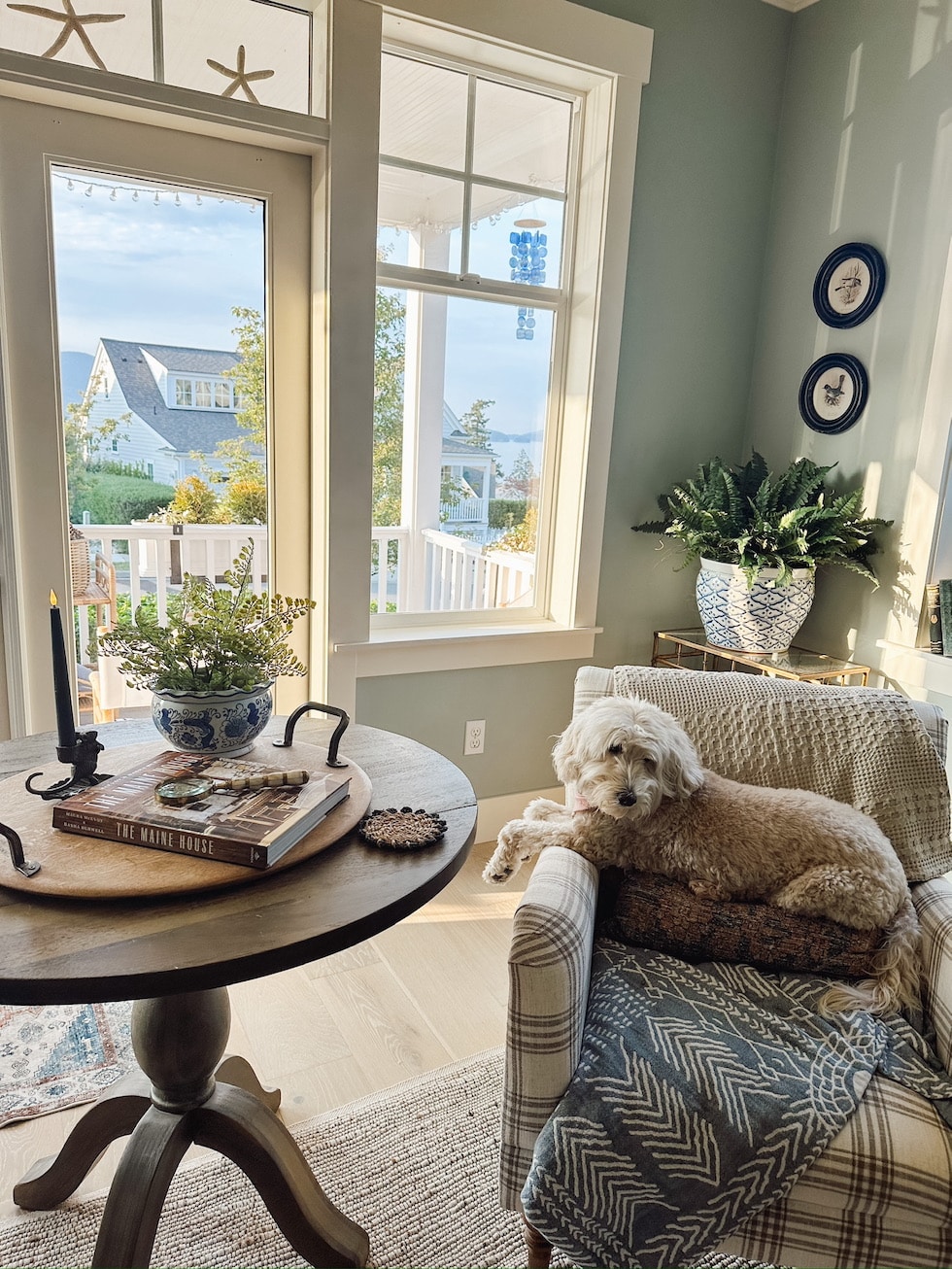 Once I fell in love with how the room felt with the furniture this way, it gave me ideas of things I had in other rooms that could serve a new purpose in this space. Our ottomans seemed too big and there were just too many legs in the room with four more on an ottoman (although I might try again, or maybe just get a new one someday). But I brought down a basket trunk I had up in the Snug and much to my surprise, it worked just fine in front of the couch!
We love how the room feels now. I'm so glad I didn't give up!
If you've followed along here for awhile, you'll recognize that many of these pieces are ones I've had for years and years and have used in many different ways in several homes!
If you're not feeling the love for your home, maybe it's not your home or your furniture!
Maybe you just need to STOP DROP AND ROLL!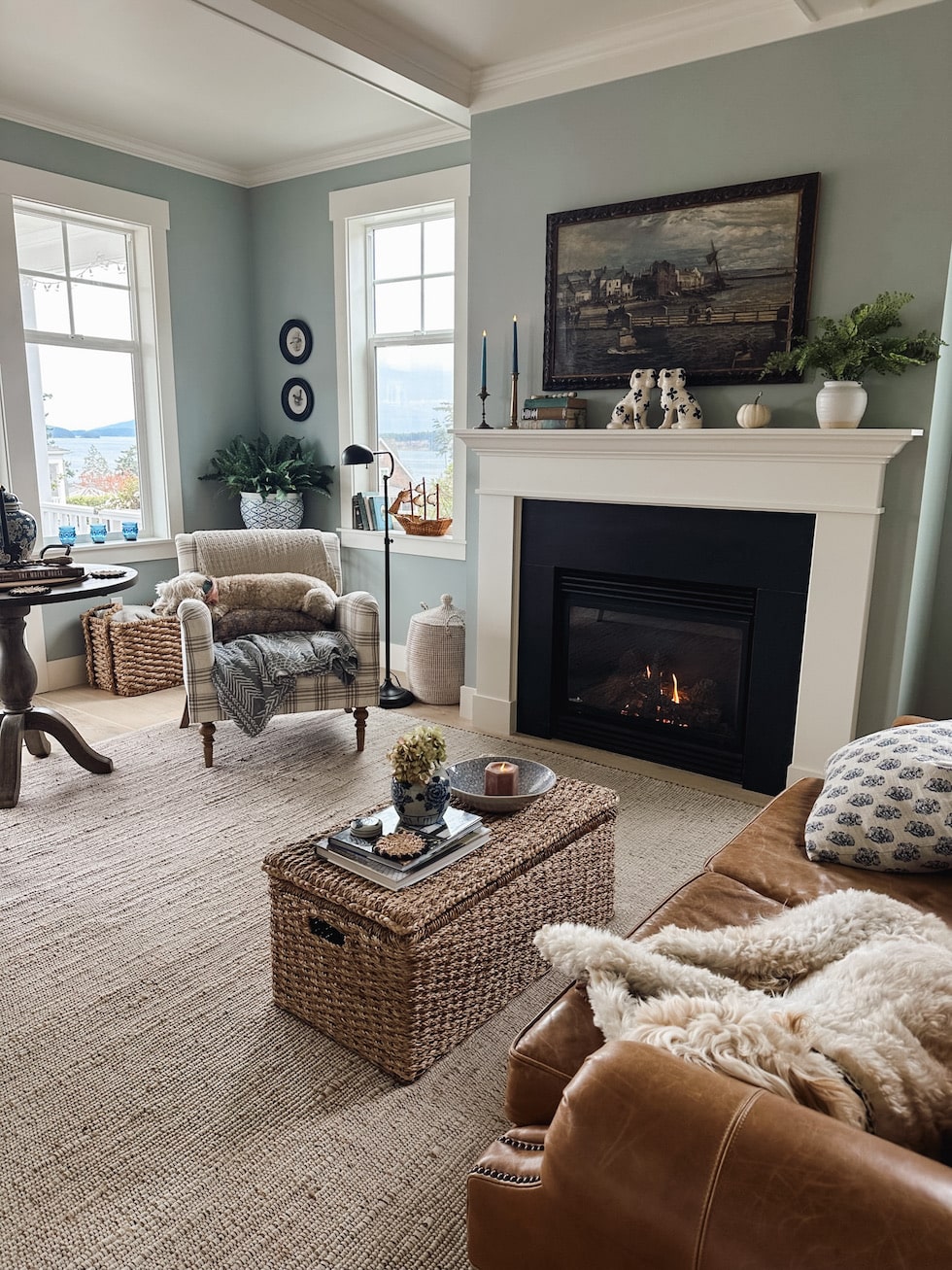 Hope this inspires you today! If you try a new arrangement in your home, I'd love to see! Tag me on Instagram @theinspiredroom. In my HomeBody Gathering Place membership group I share in depth on decorating and creating a sanctuary through custom mini-courses and workshops.
Join the waitlist HERE (homebodygatheringplace.com) to join us when we open HomeBody Gathering Place again!
Find more inspiration and encouragement for your home in my books, including Love the Home You Have, The Inspired Room, and Simply Home. Find all my books here.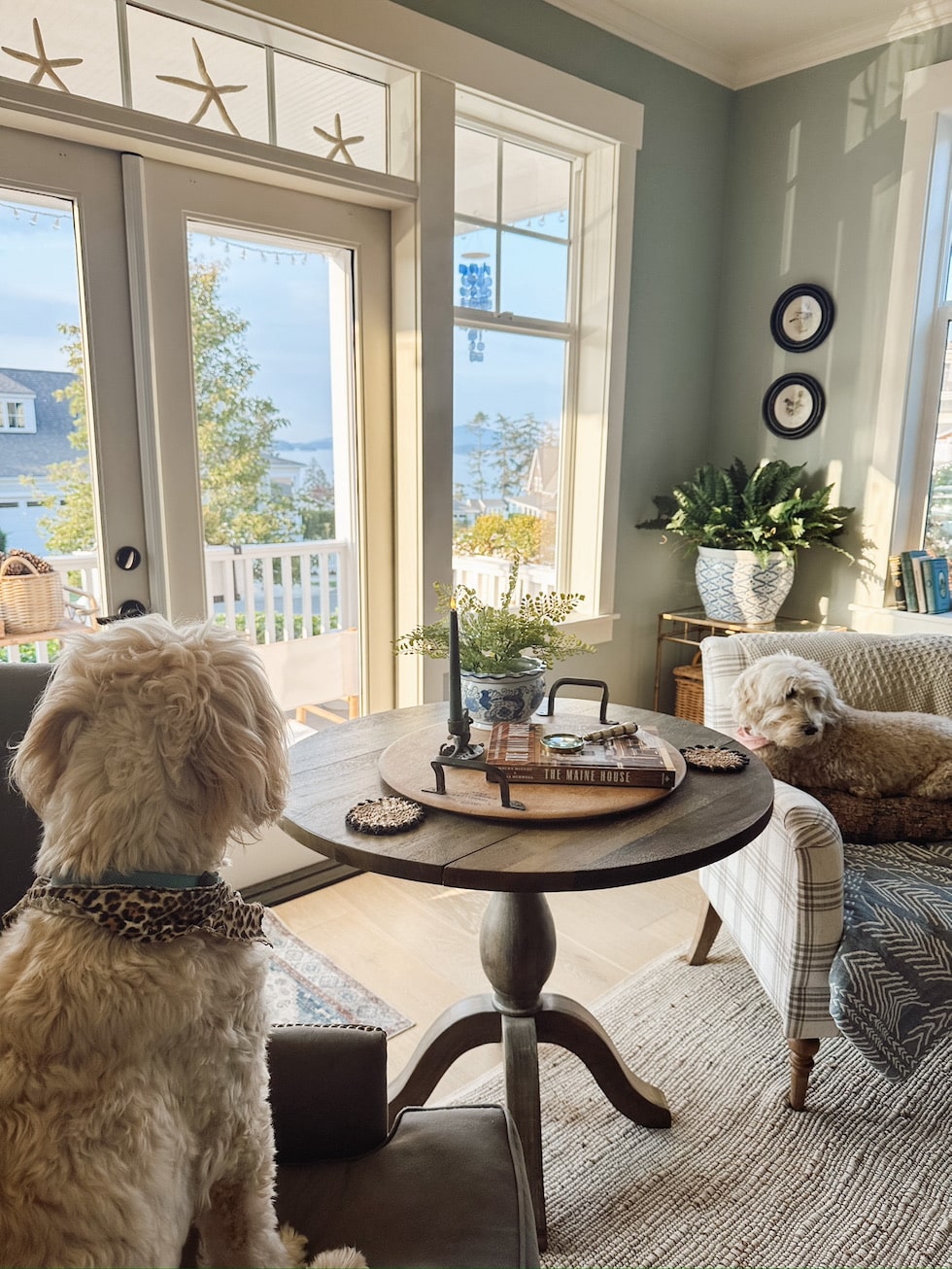 Jute + Cotton Rug – with this rug pad
Blue and White Geometric Blanket (reversible)
Waffle Weave Blanket on back of chair
Round Black Art (my art is birds which is sold out, but this is the same style with butterflies)
Lidded Rattan Basket Under Table
Lidded Woven Basket by fireplace
Leather Sofa Armchair Version (loveseat no longer sold)
Blue and White Stamped Pillow on Sofa
Blue and White Floral Ginger Jar
Clam Shell (similar) and other sources
Blue paint color: Beach Glass Benjamin Moore
White paint color: Classic Light Buff Sherwin Williams
Find more sources from my home and more decor I love in my shops!