I spent the weekend working on the cabinets just inside the studio door from the breakfast room. I decided to start with those because I think that will be a faster and easier project than the cabinets in the office section of the studio. But while I was working on the boring parts (the sanding, priming, and painting of the doors), my mind was wandering to the pendant light above the desk in the office corner of the room. I had originally thought I might do a makeover on the pendant light I currently have there, but after giving it some thought, I think I need a completely different light, or at the very least, a new lampshade.
The current pendant light looks like this…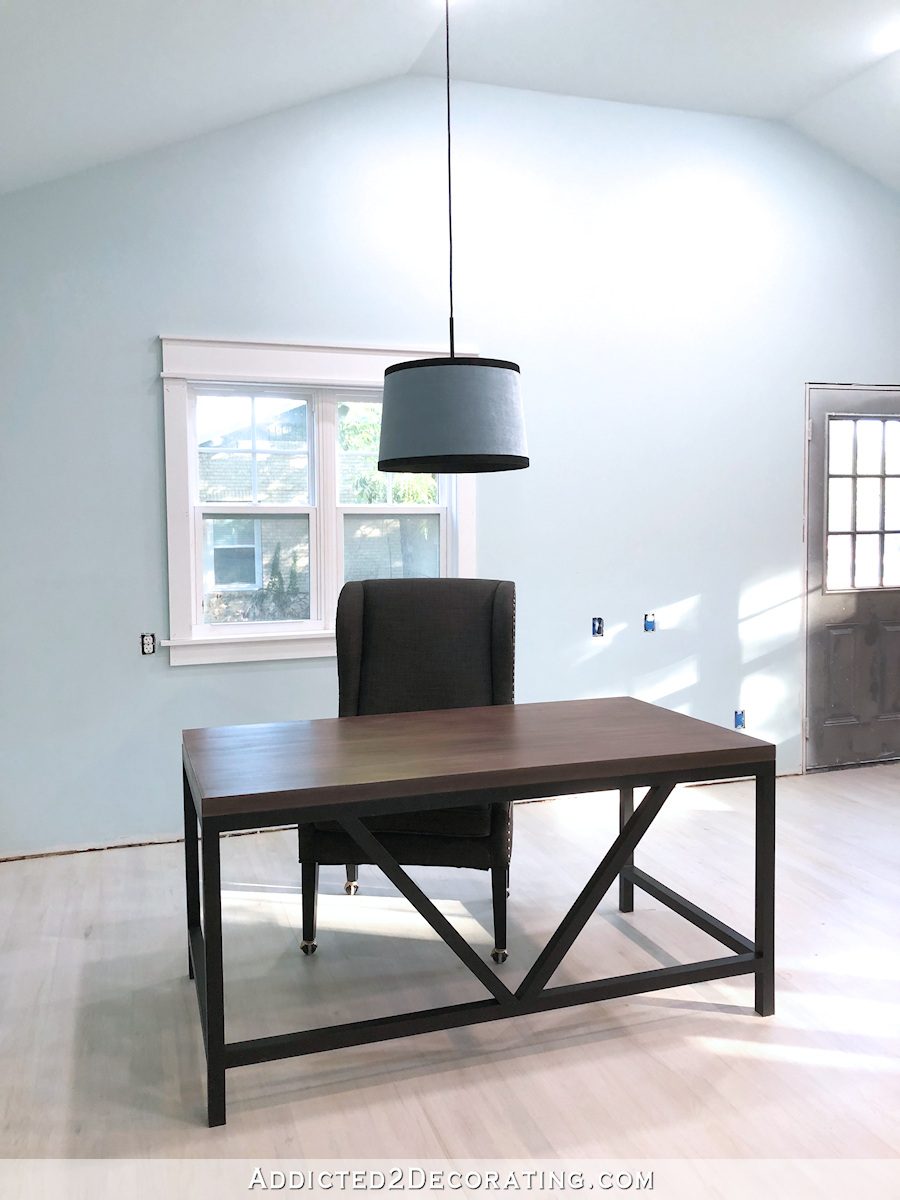 That was fine back when I was adding all of those black accents to the room. But now that I'm switching gears and trying to lighten and brighten things up in the room, that pendant light doesn't work anymore. I painted the inside of the shade back, and then covered the outside with velvet and black trim. So trying to undo those changes just to save and reuse a $20 lampshade is probably not worth the time and effort.
So I started looking at options this weekend. I hadn't really planned to look for pendant lights, but let's just say that the Facebook algorithm knows me better than I know myself, and it knows exactly what ads to serve to me to grab my attention and make them irresistible to me. So when it showed me an ad for this Claire Desjardins Kaleidoscope Lamp Shade from Anthropologie (affiliate link), I couldn't help myself. I immediately envisioned this lampshade, which is $98 for the medium size, hanging above my desk in the studio.
The problem is that those colors aren't quite right for the studio. So naturally, my mind went to the idea of DIYing something similar in the right colors. I'm not so sure about that idea, though, because I think it might be too much with the colorful and busy floral mural, the colorful paint swatch cabinets just inside the studio door, and the colorful squares wallpaper in the studio bathroom. So I've ruled out this lampshade as a possibility, but you can see why I clicked on it, right? It's definitely very me, and Facebook has my number. That darned algorithm knows how to grab my attention.
But I clicked around a little bit to see what else they had, and I came across this Naomi Pendant from Anthropologie (affiliate link), which is $228. I really love this. It kind of reminded me of a flower, but it's not overtly a flower. That's more money than I wanted to spend on a pendant light to go aver the desk, but it's not an outrageous price.
But then I came across this Magnolia Pendant from Anthropologie (affiliate link). Y'all! This thing has my name written all over it, right?! But there's no way I can bring myself to spend almost $900 for a pendant light. That will literally never happen. But it sure got my creative juices flowing.
They also have this Magnolia Chandelier from Anthropologie (affiliate link), but this one is even more expensive at $1098. So obviously, this is out of the question as well. But again, my mind starting whirling with DIY ideas.
With my newfound love for IKEA, I decided to see if they had anything in the flower pendant light category that might work. This VINDKAST Pendant Lamp from IKEA, which costs $44.99, is a very cute option, and the price is definitely more my speed. But you can tell by looking at it why this one is so much less than the Anthropologie lights. As far as quality, there's really no comparison.
I've loved this Possini Euro White Flower Pendant (affiliate link) for years, and I could have sworn that IKEA sold something like it, but I couldn't find it. This one is $269.99.
But after seeing the Anthropologie lights, the others just seemed like a compromise for lesser quality. And like I said, my creative juiced were flowing after seeing those. I got to wondering if I could make something similar for a fraction of the price, and I think I can.
I made that out of 800 wood tasting spoons.
And I just so happen to have about 1200 more wood tasting spoons sitting in a box waiting to be used for a project. This might be just the time to use them.
There are about three different styles that come to mind that I could make using those tasting spoons. The first would be to make lots of individual flowers, and then use those like the Anthropologie lights.
And then the third would be to make something similar to the capiz chandelier that I have in the music room. This is the best picture I have of it from when it was in the living room.
Addicted 2 Decorating is where I share my DIY and decorating journey as I remodel and decorate the 1948 fixer upper that my husband, Matt, and I bought in 2013. Matt has M.S. and is unable to do physical work, so I do the majority of the work on the house by myself. You can learn more about me here.