Don't keep those helmets stashed away! Make them a part of your home's aesthetic with these Football Helmet Display Ideas.
Why keep your prized football helmets hidden away when you can show them off? Check out this article featuring Football Helmet Display Ideas that make a statement while keeping your helmets easily accessible.
Here are the Awesome Soccer Scarf Display Ideas
---
Football Helmet Display Ideas
1. L Shaped Wall Mount Stand
L-shaped wall mount stands are a straightforward yet effective method to showcase your prized football helmets. This display option is not only cost-effective but also saves space where square footage is limited. Consider incorporating LED lighting to make the helmets stand out and highlight their details. Make sure to place the mounts at eye level for maximum visual impact.
2. Floating Shelves Helmet Display
Floating shelves are versatile display options that offer a modern and minimalistic look. Opt for wood or glass shelves to match your home's decor. By choosing floating shelves, you can display multiple helmets side by side or intersperse them with other sports memorabilia. They also let you switch out displays seasonally or based on your current favorites.
3. Glass Display Case
A glass display case is the go-to option for collectors who prioritize aesthetics and safety. With transparent panels on all sides, your helmets become artwork while staying protected from dust and UV exposure. Many models feature built-in lighting, allowing your collection to shine in any setting. Whether you opt for a wall-mounted or freestanding unit, this display choice adds an element of sophistication to your collection.
4. Try Pegboard Panel
The pegboard panel is a highly customizable and functional choice for football helmet displays. Pegboards can be easily attached to the wall and offer various options to showcase different helmet sizes. The panel's perforated surface lets you rearrange the hooks easily, providing a dynamic display you can update as often as you like. For a cohesive look, consider painting the pegboard to match the room's color scheme.
5. Cube Organizer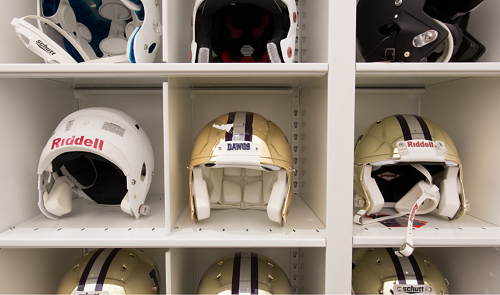 Cube organizers offer a structured yet stylish approach to showcasing football helmets. These modular shelves come in various configurations and materials, such as wood or metal. Each cube can hold a single helmet, making it easy to create a visually appealing grid-like display. Among the football helmet display ideas, this setup is also practical for other sports memorabilia, like jerseys or footballs.
6. Football Helmet Mantel Display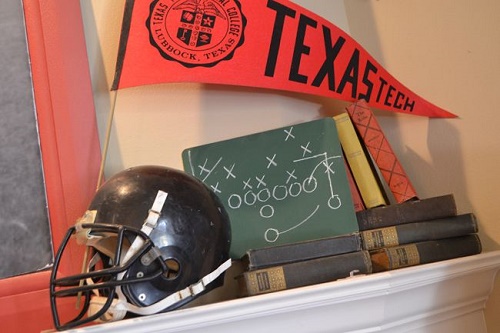 If you have a fireplace mantel, it can serve as an excellent platform for displaying your football helmets. The elevated position draws immediate attention and adds character to the room. Consider spacing the helmets evenly and adding smaller decorative elements like framed photos, flags, and books for a balanced look.
7. Shadow Box Helmet Display

Shadow boxes offer a dramatic yet secure way to showcase your helmets. These deep-set frames encase the helmet and often have a glass front. You can personalize the backdrop with team colors or additional memorabilia, such as tickets or autographs. Shadow boxes are versatile in terms of placement; they can be hung on the wall or placed on a shelf.
8. Football Helmet Christmas Tree Topper

During the holiday season, consider turning one of your helmets into a unique Christmas tree topper. This idea brings a creative, unexpected flair to your holiday decorations.  For this setup, opt for a mini-sized replica helmet to ensure the tree remains balanced and visually appealing. Secure the helmet atop the tree using strong wires or zip ties. It's a fun way to incorporate your love for football into the festive season.
9. Glass Cabinet Display
A glass-fronted cabinet is an ideal space for showcasing your football helmets, especially if you have a larger collection. The enclosed environment keeps dust and dirt at bay while making it easy to admire your helmets. Additional features like in-built lighting, adjustable shelving, and lockable doors make a glass cabinet a premium display option.
Check Out the Best DIY Cabinet Door Ideas here