Discover innovative Baseball Card Storage Ideas that protect and showcase your valuable collection in this article!
Are you a baseball card enthusiast struggling to keep your collection organized? We've collected some amazing Baseball Card Storage Ideas that not only safeguard your valuable cards but also let you display them in style.
Read the Creative Golf Club Storage Ideas here
---
Baseball Card Storage Ideas
1. Shadowbox Storage
Shadowbox offers a unique and visually stunning way to organize and display baseball cards. They are often framed with high-quality materials like wood or metal and have a glass or acrylic front. This provides an added layer of protection against dust and other elements. Depending on the design, shadowboxes can be wall-mounted or kept on a table.
2. Cardboard Storage Box
For a slightly more specialized approach, you can opt for cardboard storage boxes explicitly designed for storing baseball cards. These often come with dividers, offering a clean and organized manner to categorize your cards. Many also have a lid to protect against dust and dirt.
3. Plastic Storage Container
Plastic storage containers offer a durable, more protective environment for your cards. They come with sealable lids, providing an added layer of protection against moisture and other damaging elements. Some even come with handles, making them a convenient option for those who frequently move their collections.
4. Cigar Boxes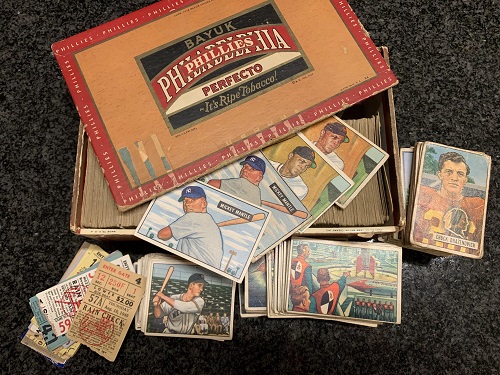 Cigar boxes offer a vintage and stylish way to organize your baseball cards. Made from high-quality wood or metal, cigar boxes add a layer of aesthetic appeal to your collection. However, ensure the box is clean and free from any tobacco residue to prevent damage to the cards.
5. Ziplock Bags
Ziplock bags provide an easy, portable option for storing individual cards or smaller collections. They are excellent for protecting your cards from moisture and can be easily labeled for quick identification. You can place these Ziplock bags in a larger storage container for added security.
6. Customized Glass-Fronted Wooden Box

For a more upscale and visually pleasing solution, consider a glass-fronted wooden box. This not only safely stores your cards but also lets you display your favorite ones. Many such boxes have a locking mechanism for added security.
7. CD Storage Racks
Repurpose an old CD rack by inserting cards in plastic sleeves and aligning them vertically in the slots. This is a quick and space-saving solution. CD storage racks offer multiple slots, making it easy to categorize and access your cards whenever you wish.
8. Decorative Tins
Tins that once held cookies or popcorn can be repurposed into stylish storage options for baseball cards. They not only offer protection but also add a unique aesthetic appeal to your collection. Opt for tins with tight-fitting lids to keep out dust and moisture.
9. Portable Photo Albums
Small, portable photo albums are an ideal solution for your most treasured cards. They're perfect for showing off your collection on the go. These albums are readily available in various sizes and designs.
Here are the Best DIY Funko Pop Display Ideas