Looking to show off your prized baseball collection? Discover amazing Baseball Display Ideas that blend style and functionality!
Are you looking to give your baseball memorabilia the spotlight they deserve? Look no further. This curated list of Baseball Display Ideas will turn your collection into a conversation starter.
Here are the Clever Baseball Cap Storage Ideas
---
Baseball Display Ideas
1. Wall-Mounted Baseball Rack
A wall-mounted wooden rack is not just a space-efficient way to display your baseball but it also adds an aesthetic element to the living space. You can also paint or stain the wood to match your room's color scheme. This idea keeps your collection visible, organized, and easy to access.
2. Acrylic Cube Cases
Clear acrylic cube cases are a great way to showcase your prized baseballs. They not only protect your memorabilia from dust and damage but also offer an unobstructed view from all angles. For added visual interest, you can arrange these cubes at different heights or in a zigzag pattern on a tabletop or shelf.
3. Shadow Box Display
Shadow boxes are perfect for those who want to add some depth to their baseball display. You can pair baseballs with items like baseball cards, photos, caps, trophies, or miniature gloves. Adding a background to the shadow box, like a photo from a game or a textured fabric, can provide more depth and context.
4. DIY Baseball Display Case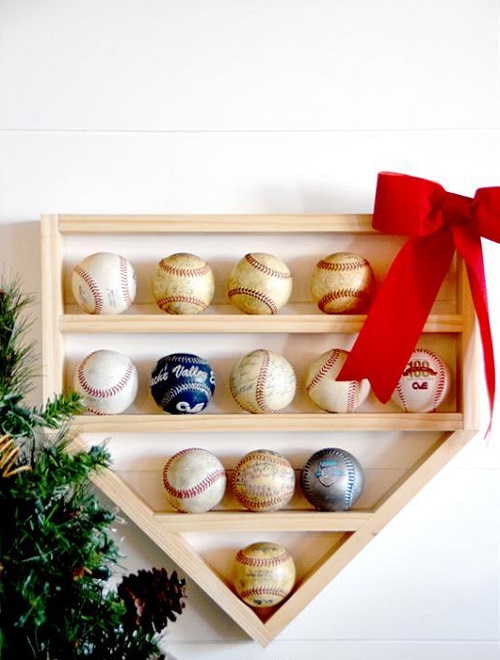 Want an eye-catching baseball display case? Check out this beginner-friendly project that can be finished in a day. This baseball display case would be a great gift or an addition to a kid's bedroom.
5. Large Glass Jar Baseballs Display
Grab a large glass jar, fill it with multiple baseballs, and your inexpensive sports display is ready to catch everyone's attention. You can place this jar on a table or even on the floor, depending on the available space. It's a budget-friendly addition to baseball display ideas.
6. Coffee Table Baseball Display

A glass-top coffee table with storage underneath is an excellent place to display your baseballs and other sports memorabilia. This keeps your collection visible yet protected from environmental factors.
7. Wire Basket
Choosing a wire basket for your baseball display adds a versatile design element to your living space. Whether your interior leans towards modern minimalism or rustic charm, a wire basket complements various styles.
8. Canning Jars Baseball Display
Canning jars offer a vintage appeal when used for displaying baseballs. These jars can be arranged on shelves or cabinets and offer a unique way to showcase balls. This display is easy to manage and visually appealing.
Read the Baseball Card Storage Ideas here