Turn your balcony into a spooky sanctuary with these Balcony Halloween Decoration Ideas! Find the best ways to amp up your Halloween game below!
Halloween isn't just about trick-or-treating and pumpkin carving. This year, take your decorations to new heights with this comprehensive list of Balcony Halloween Decoration Ideas.
Read the Best DIY Halloween Ghosts Decorations here
---
Balcony Halloween Decoration Ideas
1. Skull Planter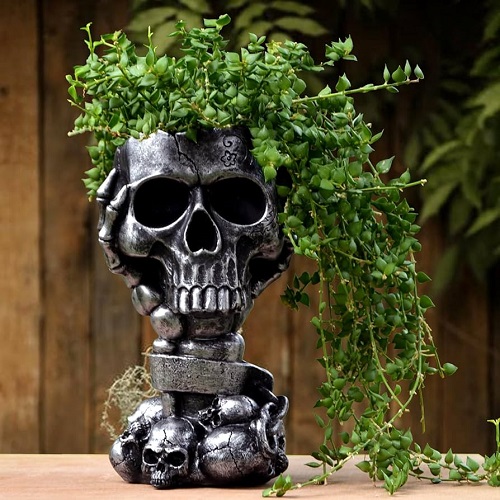 Enhance the visual appeal of your balcony by using skull planters. Pair them with dark-colored foliage like burgundy coleus or black mondo grass to intensify the spooky atmosphere.
2. Cobweb Balcony Decor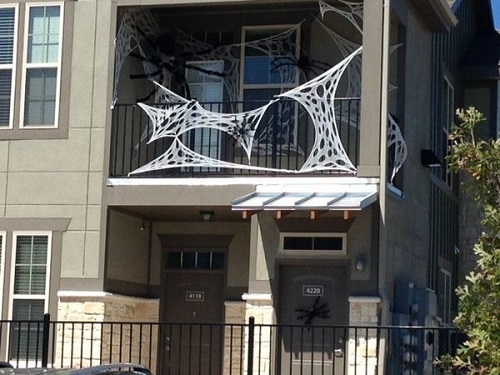 Stretch faux cobwebs across the balcony with a few plastic spiders for a creepy effect. Consider adding varying sizes of spiders and even some glow-in-the-dark ones. This low-effort, high-impact decor creates an eerie look perfect for Halloween.
3. Hanging Bats
Cut bat shapes out of black construction paper and hang them with string. When the wind blows, bats flutter, adding a dynamic element to your Halloween setup. To give the bats more depth and a 3D effect, bend the wings slightly. Your balcony will transform into a bat cave in no time.
4. Ghostly Drapes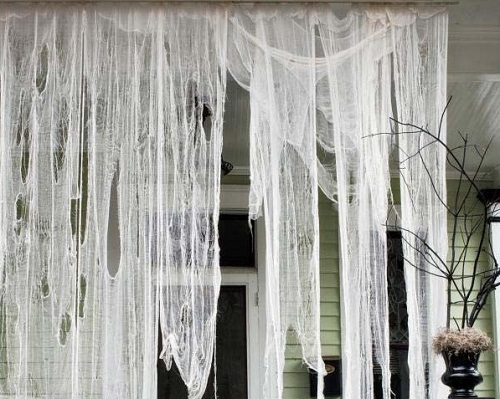 Drape white cloth or cheesecloth from the balcony ceiling and railing. Add some extra spookiness by attaching plastic eyeballs or lightweight skulls. This setup will give your balcony an ethereal, haunted feel.
5. Scarecrow in the Balcony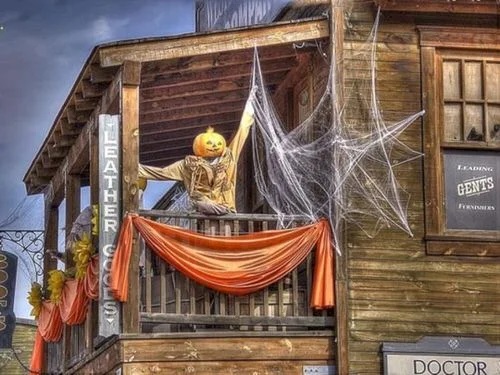 Create a scarecrow using old clothes, hay, and a pumpkin for the head. Place it on a chair or around the railing to amp up the spooky vibe. You can also add LED lights to glow the eyes or incorporate a motion sensor to startle your guests.
6. Mini Graveyard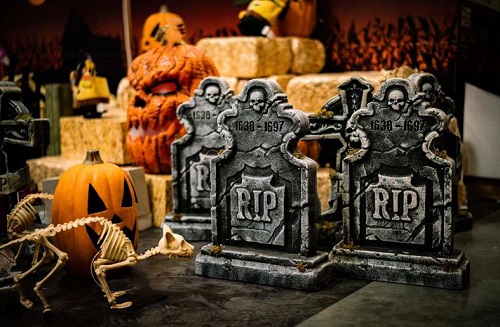 Using small wooden boards and paint, create tombstone replicas. Place them strategically inside the balcony to make a mini graveyard. Add cat skeletons and jack-o-lantern pumpkins around the tombstones to create a more spooky look.
7. Floating Witch Hats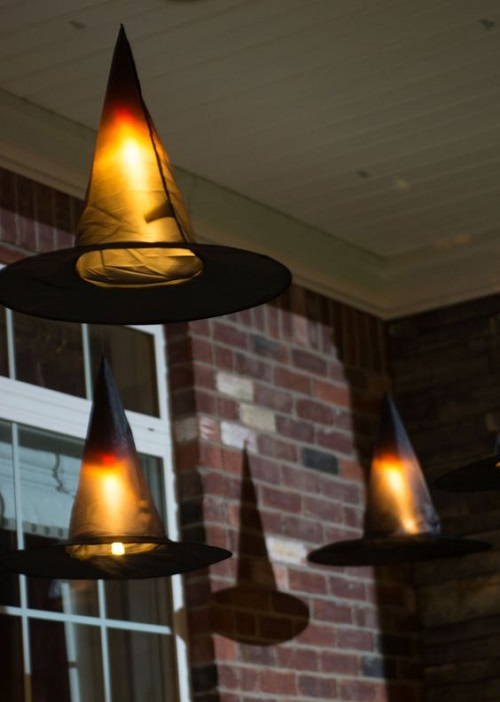 Illuminate your balcony with floating, lighted witch hats for an enchanting Halloween display. Use battery-operated LED lights inside each hat to cast a gentle glow that flickers in the dark. Hang them at varying heights using fishing lines to create a floating illusion. This setup makes your balcony stand out in the festivities.
8. Jack-o'-Lantern String Light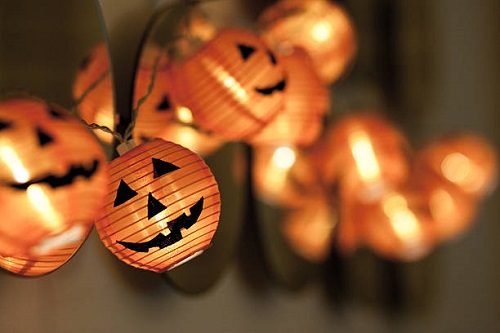 Hang a string of Jack-o'-lantern lights across your balcony. Choose ones with varying expressions for a more dynamic display. Among these balcony Halloween decoration ideas, this setup not only illuminates the area but also contributes to the festive atmosphere.
9. Candy Corn Planters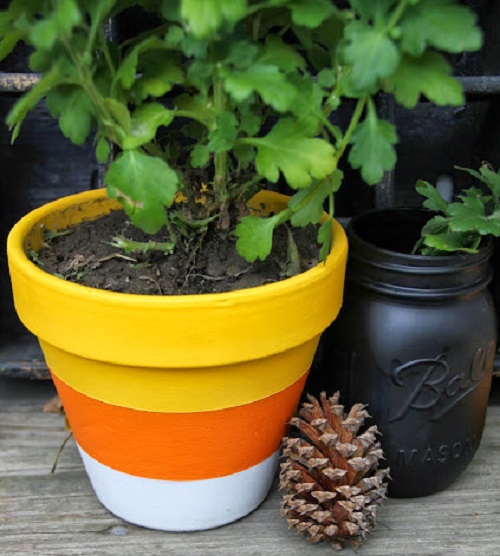 Paint the flowerpots in layers of white, orange, and yellow to mimic candy corn. It's a subtle but thematic way to tie in Halloween. Seal the paint with a clear coat for longevity, and plant autumnal flowers like chrysanthemums to complete the look. Read more about this project here.
10. Black Cat Silhouettes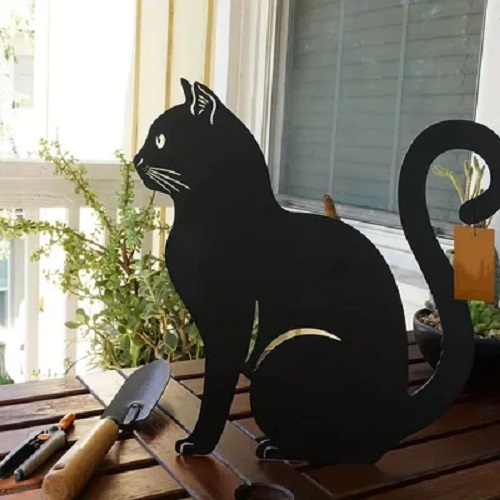 Cut out black cat shapes from construction paper and place them in visible areas. These silhouettes add a subtle, mysterious look to the balcony. For added drama, use reflective tape to make the cats' eyes shine in the dark.
11. Human and Cat Skeletons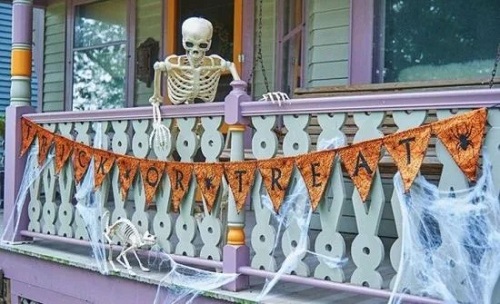 Make your balcony stand out in the festive season with human and cat skeletons. To make the display more impactful, position the skeletons in amusing or eerie poses. You can complete the look by adding a faux spider web and a trick-or-treat bunting.
12. Halloween Themed Throw Pillows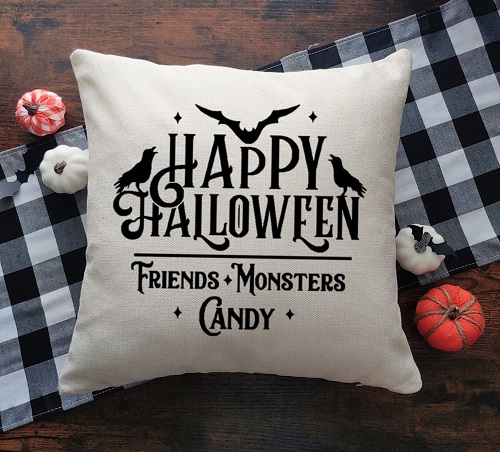 Swap out your regular throw pillows for ones with Halloween motifs. Opt for designs featuring pumpkins, ghosts, bats, crows, or witches. It's a simple yet effective way to integrate the holiday spirit into the balcony decor.
13. Gothic Candle Holders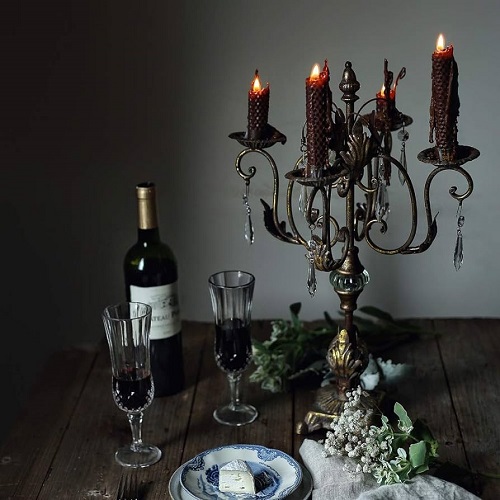 Place gothic-style candle holders on the balcony table. Adorn them with black or orange candles for an eerie, sophisticated atmosphere. These candle holders can add a Victorian Gothic touch, making your balcony look like a scene from a classic horror film.
14. Glowing Eyes in Bushes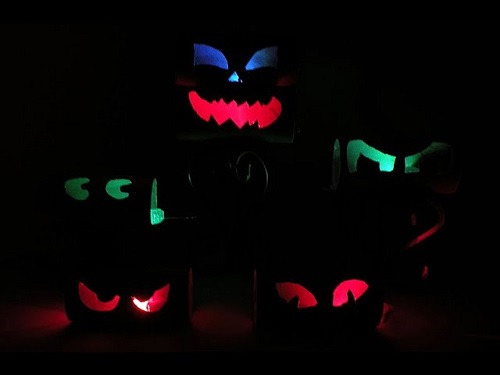 Place glow sticks in empty toilet paper rolls and cut out eye shapes. Hide them in your balcony's potted plants for mysterious glowing eyes. This simple DIY project can give a balcony an otherworldly aura that is perfect for Halloween.
15. Bloody Handprints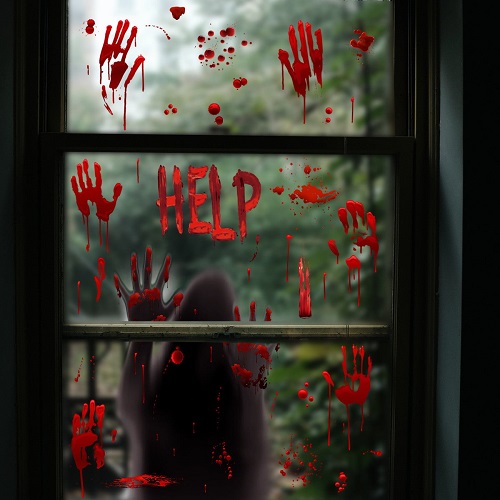 Looking for a simple and quick balcony Halloween decor idea? Make bloody handprints on the balcony window using washable red paint for a spooktacular display. To make it even more realistic, add some bloody footprints on the balcony floor.
16. Wooden Witch Signs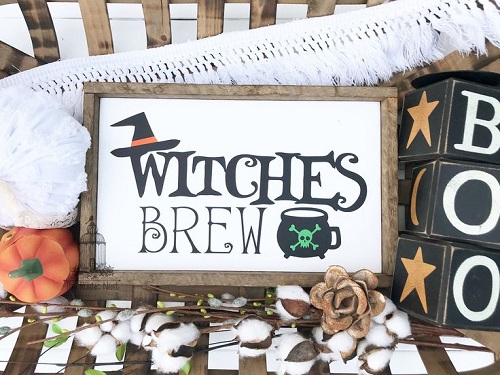 Create or purchase a small wooden sign with phrases like "Witches Brew" and place the sign in a noticeable area. Accentuate the signage with thematic embellishments like mini pumpkins, broomsticks, or plastic spiders.
17. Haunted Birdhouse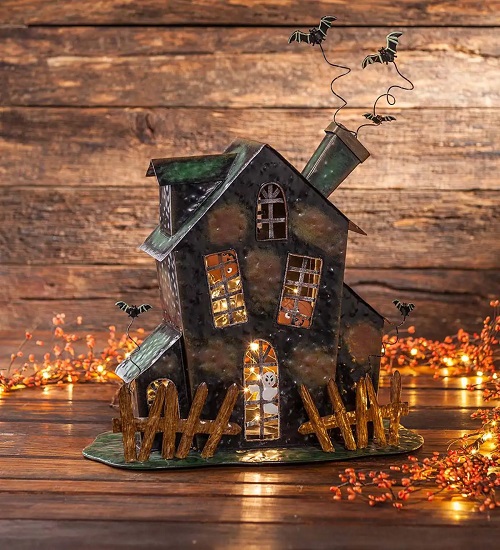 Give your regular birdhouse a haunted makeover with black paint, bats, and ghost stickers. Place it at a focal point on your balcony to draw attention. You can also use string lights to make the decor even more appealing.
18. Mini Hay Bales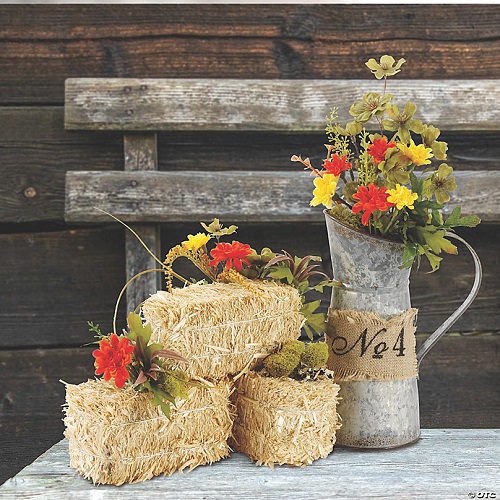 Place small hay bales on the benches or tables of your balcony. They are great platforms to showcase pumpkins, scarecrows, or other Halloween-themed items. You can even sprinkle them with a little cinnamon or pumpkin spice for a sensory experience.
19. DIY Vampire Stake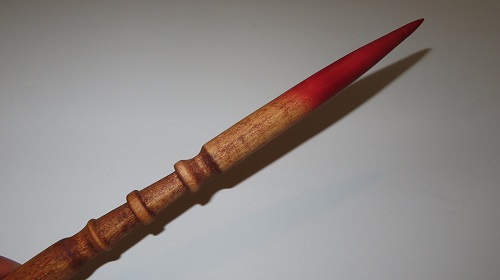 Use wooden stakes and paint them to look like they're blood-stained. Lean them against the balcony wall or railing for a vampire-hunting vibe. Consider carving out phrases like "Beware: Vampire Zone" to add context to your decoration.
20. Witch's Broomsticks Balcony Halloween Decoration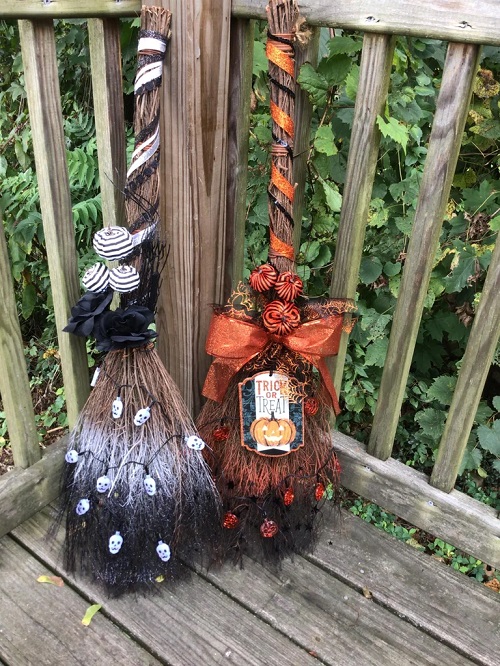 You only need brooms, ribbons, artificial flowers, Halloween mini signs & picks, spray paint, and lights to create spooky broomsticks. Place them against the wall or railing for an eye-grabbing festive display. Check the detailed instructions here.
21. Halloween Bat Wing Pinwheels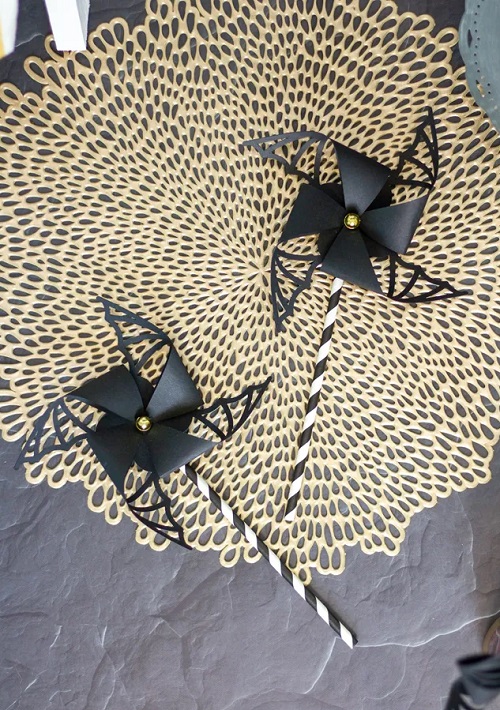 Create Halloween-themed pinwheels and stick them in the planters. Opt for dark colors like black or purple to maintain the theme. The pinwheels will add a dynamic element to your spooky balcony setup.
Check Out the Poison Ivy Halloween Costume Ideas here