Find inspiration to beautify your abode in this short and informative article on Butterfly Decoration Ideas! Check them out now!
Looking for unique ways to revamp your home decor? These Butterfly Decoration Ideas provide a plethora of unique and inspiring means to add the charm and beauty of butterflies into your living space.
Read this List of DIY Dragonfly with Fan Blades
---
Butterfly Decoration Ideas
1. Butterfly Wall Decals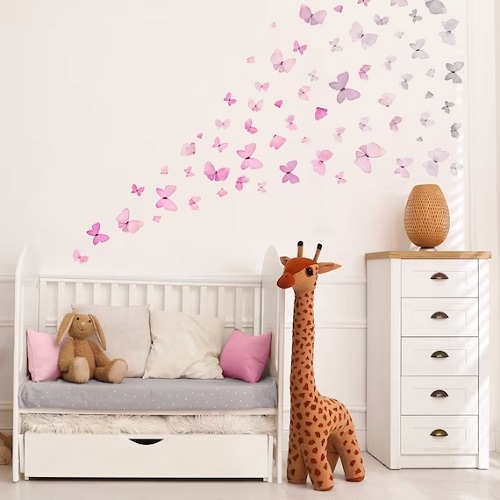 Want to elevate your kid's room instantly? Use the peel-and-stick butterfly decals. The best part is that the decals are removable and won't damage walls. It's a budget-friendly option that comes in various colors and sizes.
2. Framed Butterfly Art
Featuring real butterflies in an acrylic frame, this art is what you need to create a focal point in home and office space. This eye-grabbing piece is a brilliant way to bring a touch of nature indoors.
3. Butterfly Mobiles
Make your baby crib visually appealing with a butterfly mobile. You can craft one with paper, fabric, or paper and synthetic thread. The butterfly mobile can also be used as a decor piece in other rooms.
4. Potted Plants with Butterfly Stakes
Butterfly-themed stakes are simple and cost-effective means to elevate the look of monotonous pots. They add a playful touch to indoor plants or garden beds.
5. Butterfly-Patterned Curtains
Upgrade the appearance and privacy of your living space or office with butterfly-patterned curtains. Not to mention, these curtains are easy to install and come in various colors and patterns.
6. DIY Butterfly Garland
A butterfly-shaped garland is an excellent addition to everyday decor. You only need twine and paper or felt for this project. Drape the garland over windows, mirrors, or along staircases for a personalized, festive touch.
7. Butterfly-Themed Throw Pillows
Butterfly-themed throw pillows are a cost-effective way to add a pop of color, comfort, and style to any room. Among the butterfly decoration ideas, this one is ideal for seasonal decor changes.
8. Butterfly Burlap Lampshade
Turn your plain bedroom lampshade into a captivating focal point by attaching paper or fabric butterflies. It's a super affordable and beginner-friendly project that you can do with kids.
9. Butterfly Wind Chimes
Amp up the aesthetic charm and ambiance of your living space by incorporating butterfly-themed wind chimes near windows. Their gentle sound is perfect for relaxation and meditation areas.
10. Butterfly Coasters
Available in ceramic, wood, or silicone-like materials, butterfly-themed coasters protect surfaces from water stains and add a delightful touch to the coffee table.
11. Butterfly Window Clings
Make your living space stand out with butterfly window clings. These clings are easy to apply and remove, thus a perfect renter-friendly decoration.
12. Butterfly Area Rug
A butterfly-shaped rug is what you need to add drama and character to any room. You can make one with fabric and paint or purchase from the nearest store.
13. Butterfly-Shaped Cabinet Knobs
Upgrade your cabinets or drawers with butterfly-shaped knobs. This small change makes a big impact and suits different decor styles.
14. Butterfly Canvas Art
Add some drama and beauty to our living room with beautiful butterfly-inspired canvas art. This type of artwork goes well with various interior designs, whether it's modern or traditional.
15. Butterfly Table Runner
Beautify your dining or coffee table setting with a quirky butterfly-themed table runner. This setup is great for elevating everyday meals or special occasions.
16. Butterfly Patterned Bedding
Looking for a quick bedroom decor update? Use butterfly-patterned duvet covers, pillowcases, and sheets. It's a perfect choice for spring or summer home decor updates.
17. Butterfly-themed Garden Flag
A butterfly-themed flag is an excellent conversation starter for any outdoor space. This setup is great for showing your love for nature and butterflies in gardens, patios, or balconies.
18. Butterfly Fairy Lights
Instead of regular string lights, consider butterfly-shaped fairy lights around mirrors, bed frames, or balconies to create a magical ambiance.
19. Butterfly Patterned Shower Curtain
Spice up the visual interest of your bath area with a butterfly-patterned shower curtain. It's a simple and quick way to update the bathroom's appearance inexpensively.
20. Butterfly Key Holder
A butterfly-inspired key holder not only adds a decorative touch to the entryway but also keeps your keys organized. Choose a wooden or metal one with flying butterflies for added pizzazz.
Here are DIY Medal Holder Ideas