Want to amplify the Halloween vibe in your home? These Halloween Chalkboard Ideas offer quick and simple ways to scare and delight!
If you're looking for cost-effective ways to bring the Halloween spirit into your home, our Halloween Chalkboard Ideas are the perfect solution. These ideas are not only easy to execute but also incredibly budget-friendly.
Read the Best Halloween Balloon Decor Ideas here
---
Halloween Chalkboard Ideas
1. "Boo to You" Message Board
Craft a simple and welcoming message on your chalkboard that says, "Boo to You!" This idea is not only easy but also inviting for guests who come over for Halloween. It sets the tone for fun and scares while staying easy on the budget.
2. Chalk Art Bats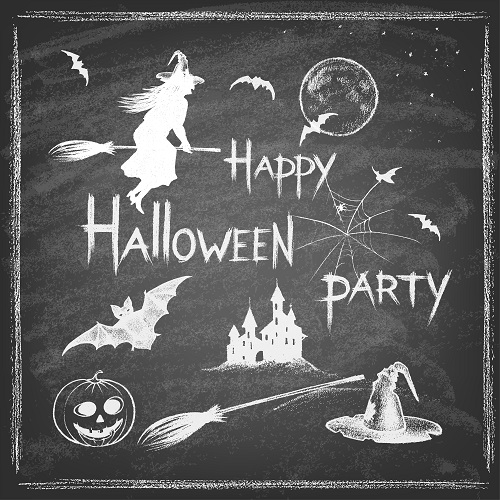 Draw a swarm of bats flying across a moonlit sky and a witch on the chalkboard. With just white chalk and patience, you can create a stunning visual that adds spookiness to your Halloween decor.
3. Countdown to Halloween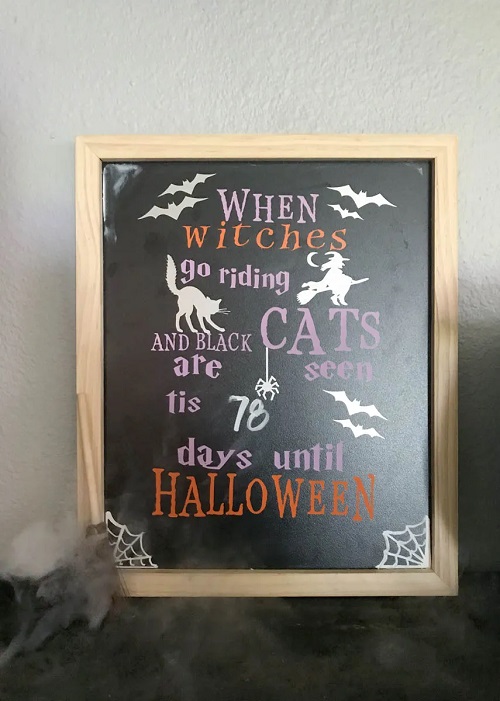 Turn your chalkboard into a Halloween countdown calendar. Update it daily and build up excitement as Halloween nears. Adding small doodles or icons, like cats, bats, or witches' hats, will make the countdown even more engaging for kids and adults.
4. Haunted House Outline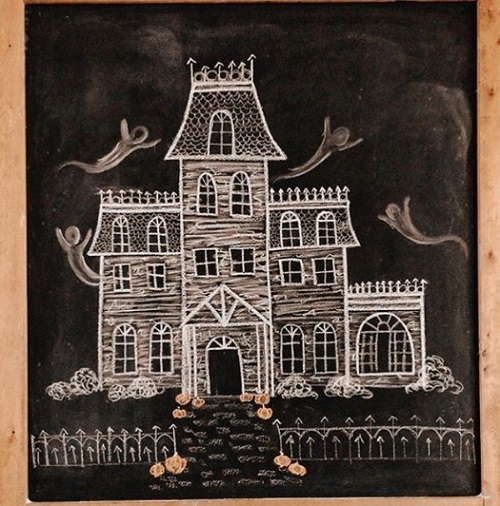 Create a haunted house outline featuring eerie elements like ghosts and pumpkins. This project is perfect for those who are looking for last-minute decorating ideas. Within minutes, you can have a spooky setting that adds intrigue to your space.
5. Spider Web Corner
Draw a spider web that starts from one corner of the chalkboard and expands outward. Add a few spiders to complete this chalkboard art. This design can go well with other Halloween decorations.
6. "Happy Haunting"
Doodle the words "Happy Haunting" and a sketch of a small pumpkin ghost on the chalkboard. Among Halloween chalkboard ideas, this one is perfect for welcoming guests and setting the festive mood in a jiffy.
7. Chalkboard Pumpkin Art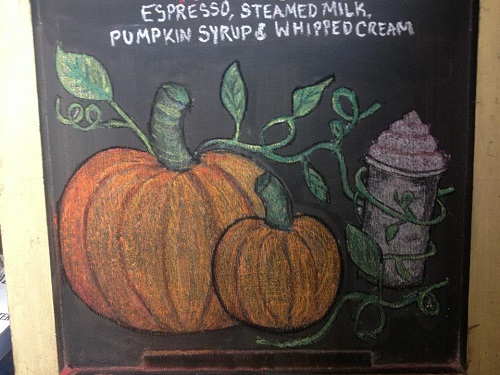 Draw a large pumpkin in the center of your chalkboard using orange and green chalk. Add facial features for a spookier look, or leave it plain for a minimalist, chic style. It's an excellent, eye-catching centerpiece for your Halloween decor.
8. Hocus Pocus Chalkboard Quote
Pick a famous quote from the movie "Hocus Pocus" and write it stylishly on the chalkboard. This not only adds a nostalgic touch but also works as a conversation starter for the fans.
9. Eyeball Chalkboard Halloween Art
Sketch a large creepy eyeball staring out from the chalkboard using white chalk and creativity. You can use a bit of red or blue for the veins to make this design a focal point in your Halloween decor.
10. Cat and Pumpkins
Outline a black cat and scary pumpkins against a moonlit sky and include a "Happy Halloween" quote on the chalkboard. This idea combines classic Halloween symbols and is perfect for indoor and outdoor settings.
11. Vampire Teeth
Make a set of vampire teeth with blood dripping down on the chalkboard using white chalk. The minimalistic style can add an unsettling yet playful vibe to your Halloween decor, making it an eye-catching piece.
 12. "Enter if You Dare"
Write "Enter If You Dare" on the chalkboard to amplify the scare factor in your home. This message is a perfect addition near the entrance of your home. It takes minutes to write and costs practically nothing.
13. Creepy Tree
Sketch an eerie, bare tree with sprawling branches on the chalkboard. You can add a crow or an owl to complete the scene. This idea adds a creepy atmosphere without requiring intricate details.
14. Zombie Hands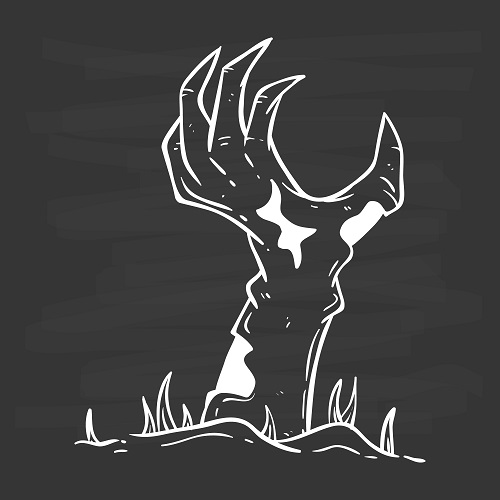 Draw a zombie hand reaching up from the bottom of the chalkboard. This is an easy-to-execute idea but adds a significant scare factor when paired with dim lighting.
15. Witch's Cafe Menu
If you're going all out with Halloween decor, why not include a "Witch's Cafe Menu"? List spooky food items like "Witch Hair Pasta" or "Spider Eggs" to terrify your guests. It's an excellent addition to the Halloween chalkboard Idea.
16. Halloween DIY Chalkboard Tombstone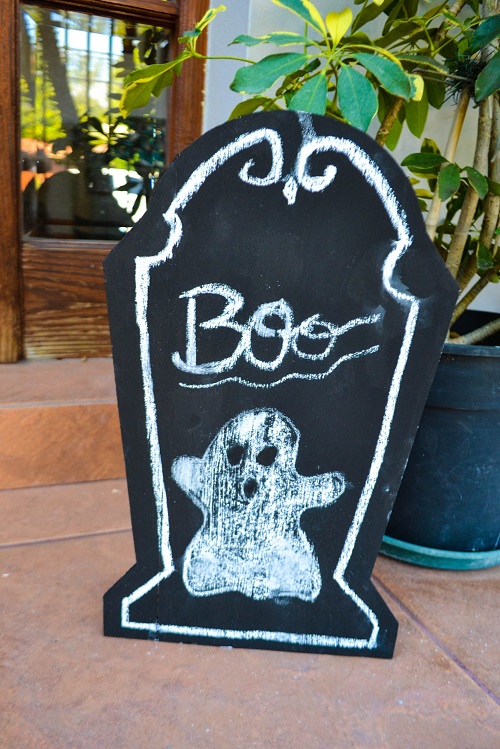 Grab chalkboard paint, balsa wood sheets, chalk, craft knife, and wood glue to create this chalkboard tombstone. This chalkboard art can be an attention-grabbing piece in any Halloween setting.
17. Ghost Family
Make a family of ghosts holding pumpkins and flying bats on the chalkboard. Use white and orange chalk to make this adorable scene come to life, appealing to both kids and adults.
18. Chalkboard Menu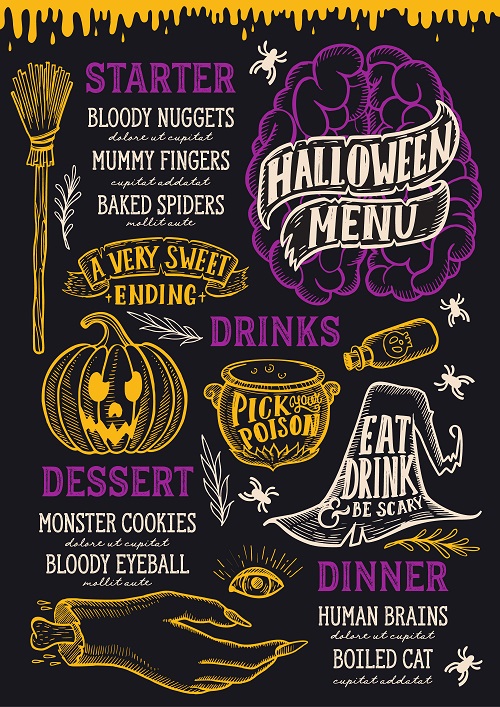 If you're hosting a Halloween party, create a spooky food and drinks menu on your chalkboard. Items like "Monter Cookies" or "Bloody Eyeball" will add fun and theme consistency to your party.
19. Frankenstein Face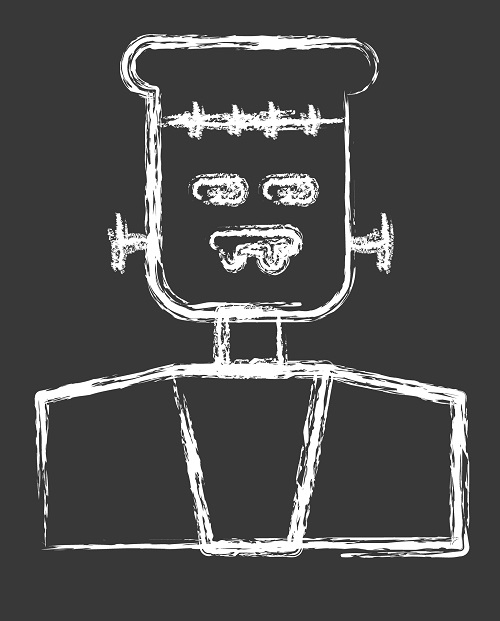 Sketch the iconic face of Frankenstein's monster, complete with bolts on the chalkboard. Using only white chalk, you can quickly bring this famous character to life, adding nostalgia and spookiness to your Halloween decor.
20. Skull and Crossbones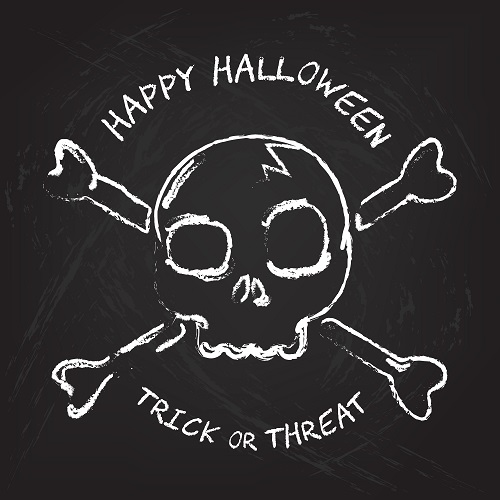 Draw a skull and crossbones with "Happy Halloween" and "Trick or Threat" messages on the chalkboard, ideal for classic pirate-themed decor. Easily drawn with white chalk, this chalkboard art can complement virtually any Halloween theme.
Here are the Balcony Halloween Decoration Ideas