Find Day of the Dead Decoration Ideas that honor tradition! From sugar skull masks to marigold flowers, find inspiration for a memorable celebration!
Day of the Dead, or Día de los Muertos, is a time for remembrance and a celebration of life. It's a festival filled with color, art, and symbolism. To help you commemorate this occasion, this article has a curated list of Day of the Dead Decoration Ideas that combine tradition with creativity.
Read the Best Grave Decoration Ideas here
---
Day of the Dead Decoration Ideas
1. Sugar Skull Masks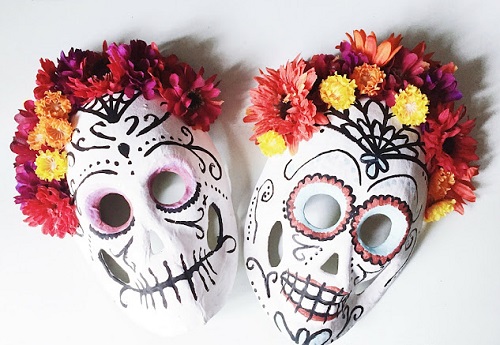 Create personalized sugar skull masks using paper mache skull masks, colorful markers, and glitter. These masks symbolize the departed souls and are a fun craft for all ages. Hop to this detailed article for more info.
2. Marigold Paper Flowers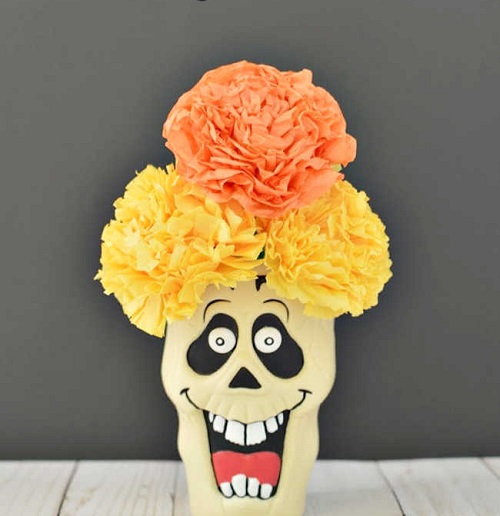 Marigolds are the traditional flower for the Day of the Dead. Create beautiful marigold flowers using tissue paper, scissors, and creativity. Put them on a sugar skull or scatter them for vibrant Day of the Dead Decoration ideas.
3. Skull-Shaped Candle Holders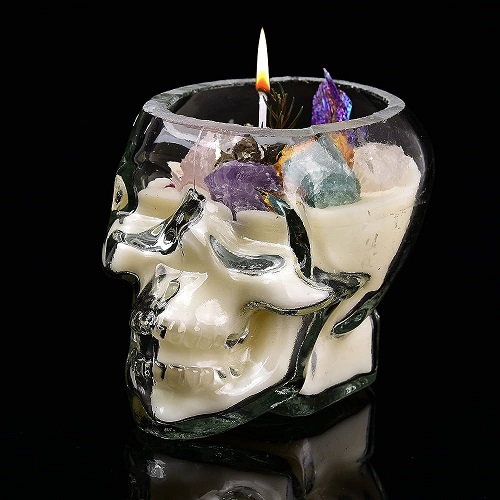 A skull-shaped candle holder is what you need to elevate the look of your Day of the Dead decoration. This simple addition can create a stunning visual effect.
4. Papel Picado Banners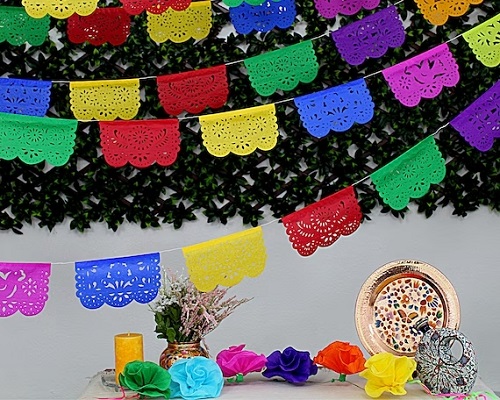 Papel picado banners are a festive touch for any Day of the Dead celebration. Cut intricate designs into colorful paper, string them together, and hang them around your space. This traditional Mexican craft adds an authentic flair.
5. Catrina Figurines Decoration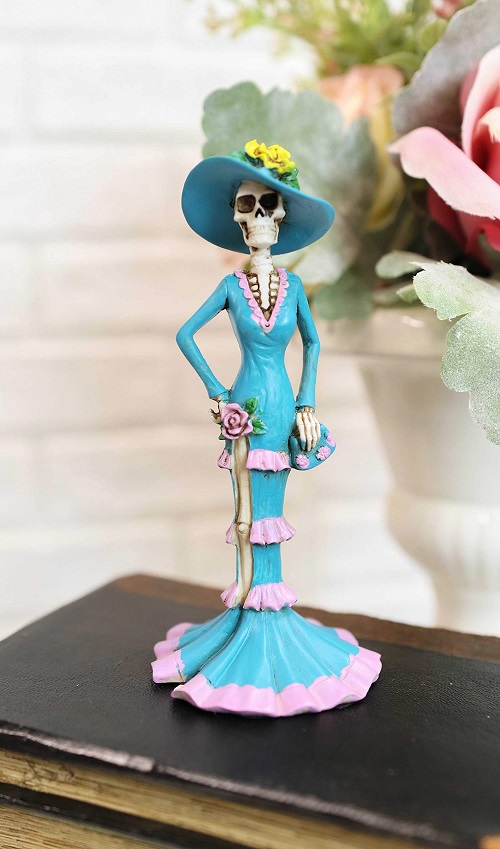 Decorate your space with beautiful Catrina figurines for added charm. These finely dressed skeleton figures make your decor elegant and honor the tradition's artistic beginnings.
6. Clay Small Skull Ornaments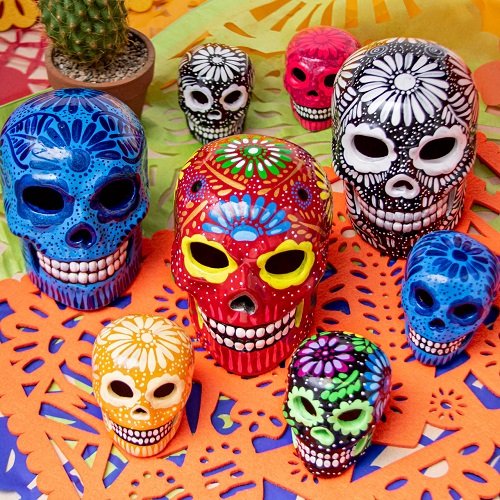 Mold clay into small skull ornaments and decorate them with colorful paints and beads. Hang them around the house or place them on your altar as a nod to this rich cultural tradition.
7. Skull Rock Garden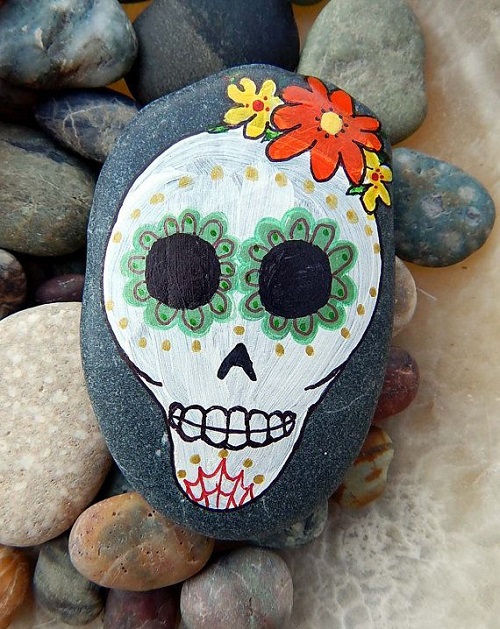 Paint skulls onto garden rocks and arrange them in your garden or inside pots. This natural decoration adds a unique touch and serves as a subtle homage to the holiday.
8. Ghostly Drapes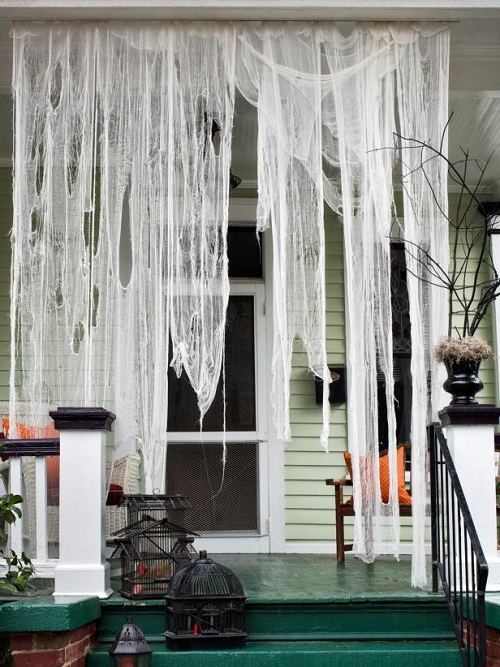 Add a spooky touch to your front porch this Halloween with billowing, tattered draperies made from budget-friendly cheesecloth. This idea complements other Day of the Dead decoration ideas.
9. Sugar Skull Cookies Decoration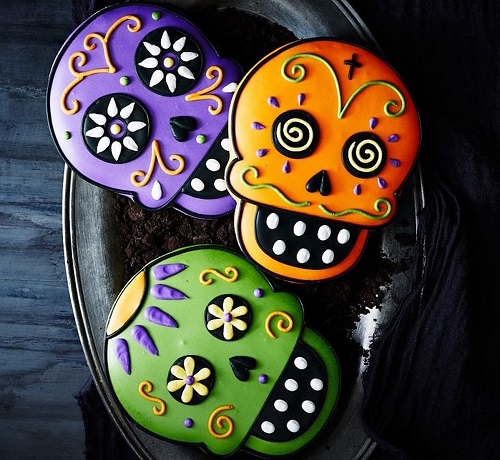 Bake and decorate sugar skull cookies as an edible decoration. Use colorful icing and edible beads to make these treats an eye-catching part of your Day of the Dead Decoration Ideas.
10. Skulls and Leaves Wreath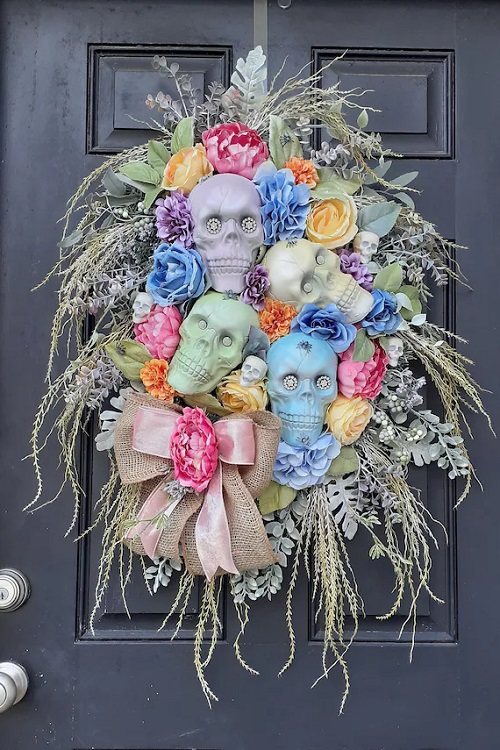 Craft a Day of the Dead-themed wreath using artificial foliage, ribbons, and miniature skulls. Hang it on your front door to welcome guests with an appropriate seasonal touch.
11. Hand-Painted Vases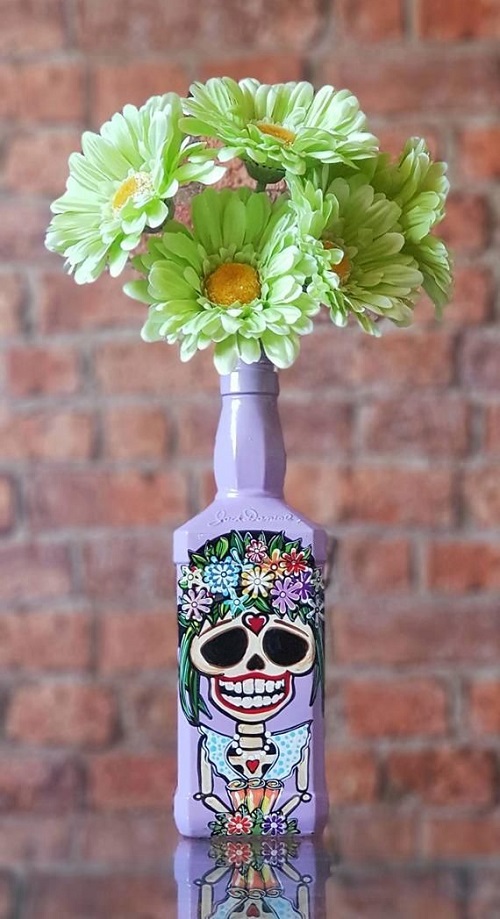 Turn ordinary vases into art by hand-painting Day of the Dead designs. Fill with fresh flowers for a stunning centerpiece that encapsulates the holiday spirit.
12. Tiny Skull Napkin Holders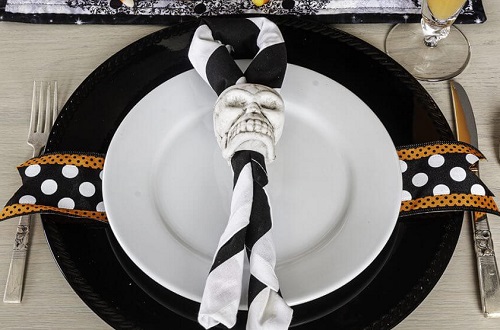 Create napkin holders from plastic miniature skulls. This quirky addition to your table setting is functional and perfectly on theme.
13. Skull Cushion Covers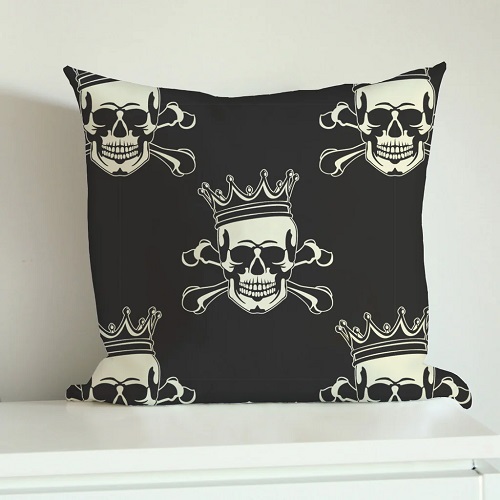 Stitch or paint skull designs onto plain cushion covers. These homemade covers will effortlessly blend with your existing decor while adding a festive twist.
14. Day of the Dead Garland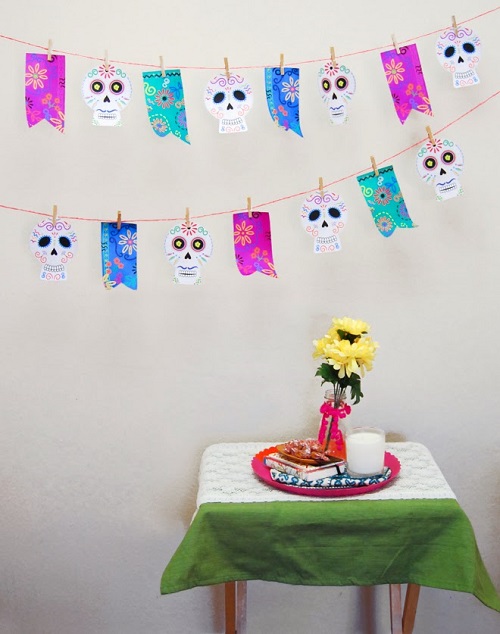 Create a themed garland using string, paper, and themed cut-outs. Hang it across doorways or walls to quickly add festive energy to your space.
15. Glowing Ghost Jars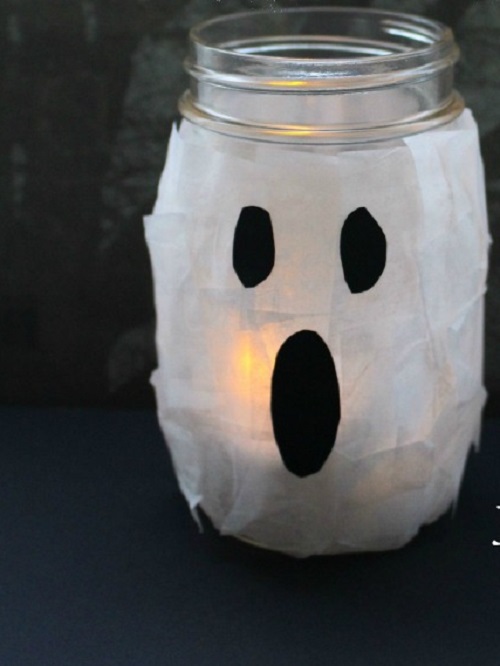 Grab a mason jar, tissue paper, stock paper, glue stick, and tea lights to make this spooky decor piece. This glowing ghost jar can be placed around the house, adding a spooky yet fun element to your Day of the Dead celebration.
16. Sugar Skull Balloons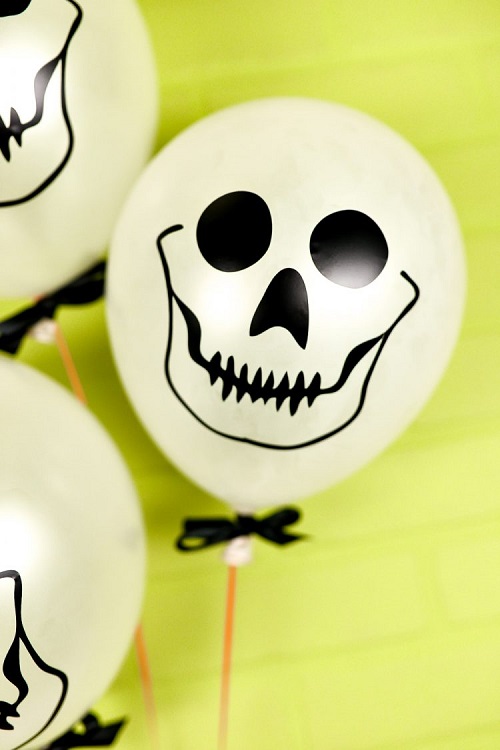 Purchase plain white or light-colored balloons and use black markers to draw sugar skull designs. These balloons are great to adorn your party space, placed near the altar, or even given to children as a fun activity during the celebration.
17. DIY Sugar Skull Pumpkin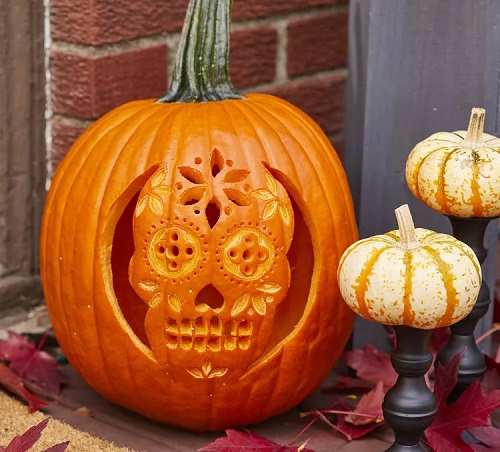 Enhance your Day of the Dead ambiance with this sugar skull pumpkin. Carve a pumpkin with intricate designs reminiscent of the traditional sugar skulls.
18. Skull-Shaped String Lights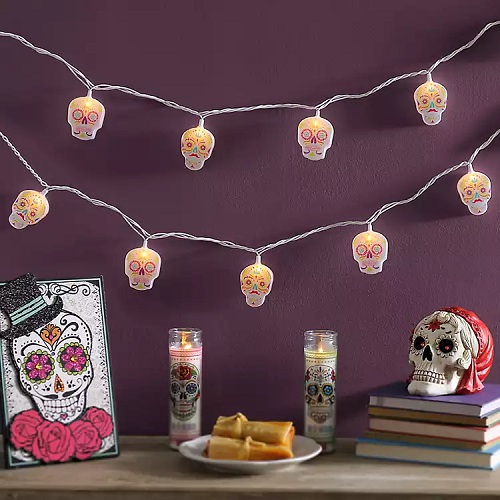 Brighten up your Day of the Dead decor with string lights. These twinkling lights add a joyful and enchanting glow, creating a welcoming atmosphere that honors loved ones.
Check Out the Best Urn Display Ideas here