Revamp your living space with these amazing Blanket Ladder Decorating Ideas. We have tips to make your ladder a piece of art!
Elevate your interior design game with this list of Blanket Ladder Decorating Ideas. Whether you're into seasonal decor, minimalist styling, or rustic charm, you'll find plenty of inspiration here to suit your aesthetic.
Read the DIY Weighted Blanket Patterns here
---
Blanket Ladder Decorating Ideas
1. Seasonal Garlands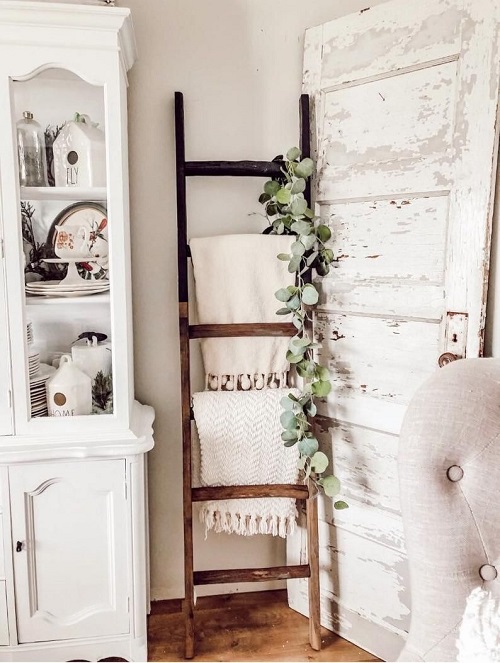 Seasonal garlands are an easy yet effective way to dress up a blanket ladder. Simply drape a leafy fall garland over the rungs. You can easily switch out the garlands according to the seasons—think cherry blossoms for spring or seashells for summer. This seasonal switch keeps your decor fresh.
2. Twinkling Fairy Lights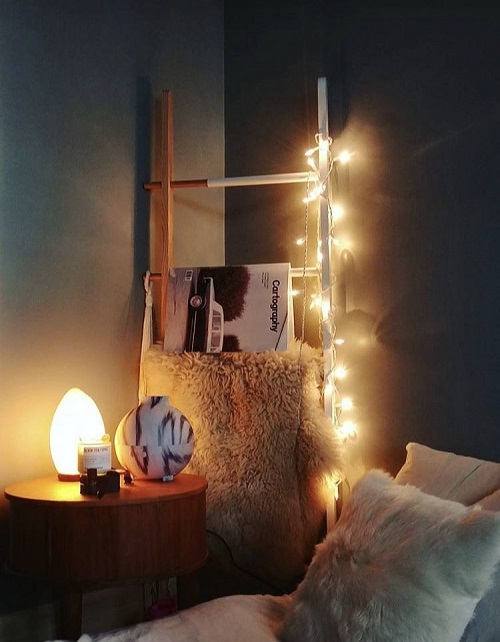 Wrap a string of battery-operated fairy lights around the ladder rungs to add a soft, cozy glow. The luminescence creates a tranquil setting, perfect for reading a book or sipping tea. To elevate the look, consider lights with different modes like flicker or fade to complement various moods and occasions.
3. Vintage Quilts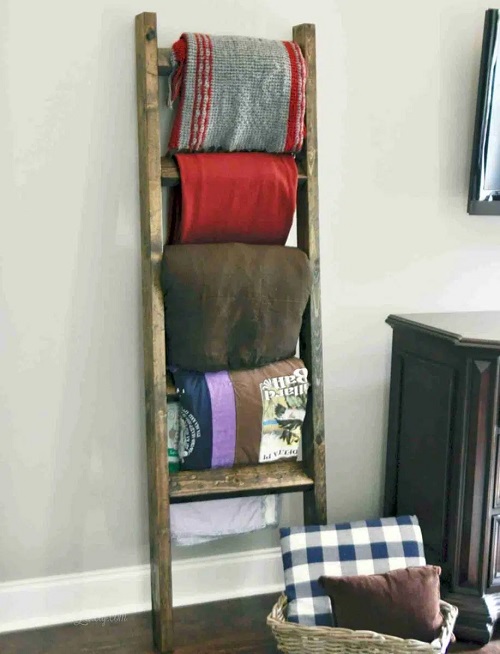 For a country or rustic feel, drape vintage quilts or throws over the ladder rungs. Search flea markets or antique shops to find quilts that resonate with your aesthetic. Look for options with hand-stitched details or unique patterns to add an extra layer of depth and texture.
4. Mason Jars with Flowers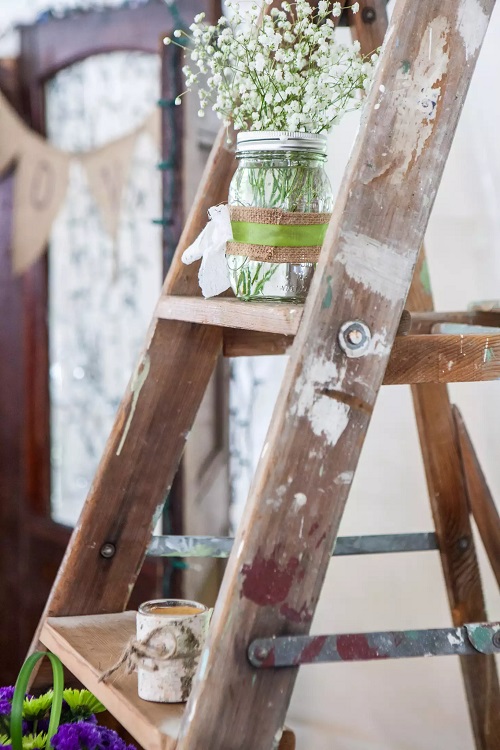 Mason jars brimming with seasonal flowers can bring an outdoor feel to your indoor space.  Choose vibrant florals like daisies, sunflowers, or chrysanthemums for a pop of color. Enhance this garden-like aesthetic by using ribbons, lace, or rustic twine to tie around the jars.
5. Bandanas or Scarves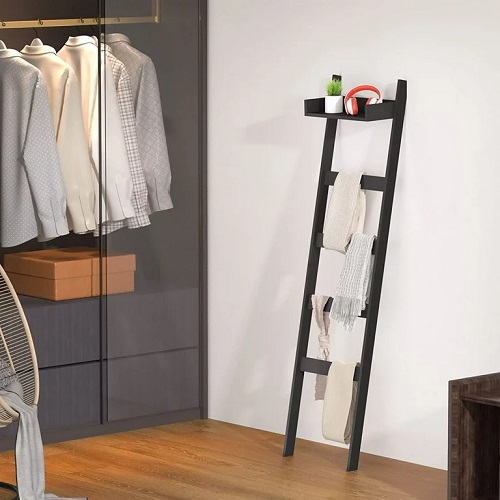 Selecting vivid bandanas or elegant scarves to drape over each rung offers an alternative aesthetic to traditional blankets. Mix and match different fabrics and styles to create a multicultural or boho chic look. Among the blanket ladder decorating ideas, this creates a stunning visual contrast.
6. Festive Blanket Ladder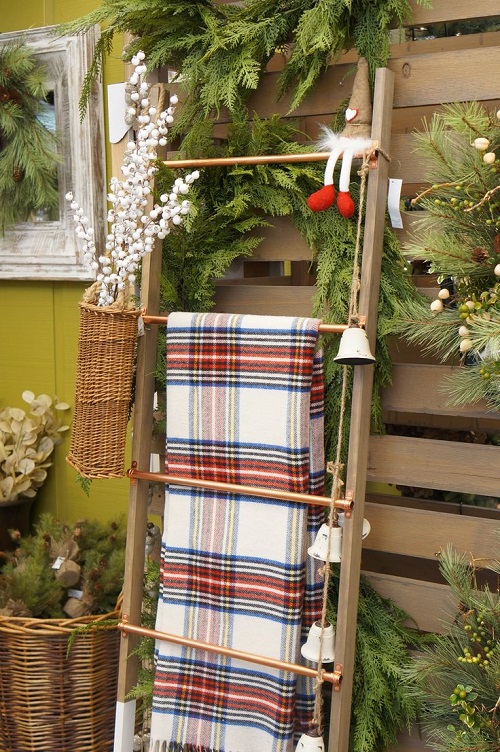 Turn your blanket ladder into a holiday hub by hanging jingle bells, candy canes, or other miniature ornaments from the rungs. You can intermingle these items with evergreen branches or seasonal ribbons for added charm. This setup acts as an alternative Christmas tree or holiday display area.
7. Potted Plants Ladder Display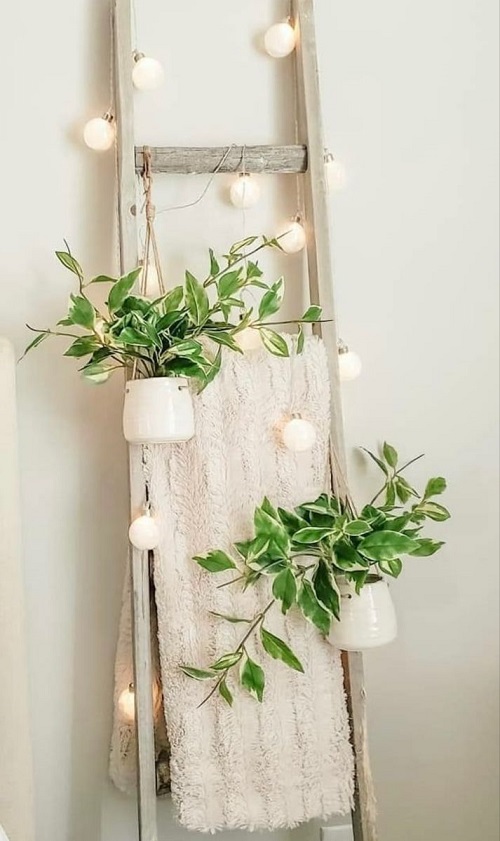 Transform your blanket ladder into a vertical garden by suspending small potted plants from each rung. Opt for low-maintenance plants like succulents or air plants that require minimal care but add a lively touch to your interior.
8. Ribbon and Jingle Bells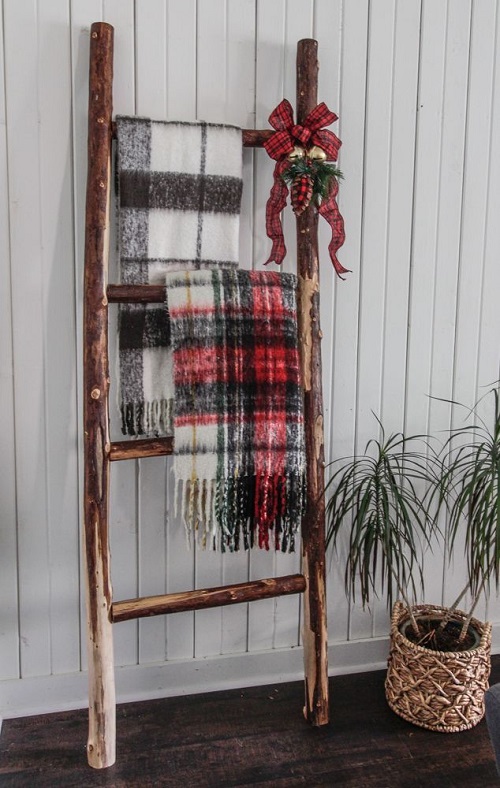 Weave colorful ribbons through the rungs and attach jingle bells in the center. This playful addition not only provides visual appeal but also creates a gentle, melodic sound whenever there's movement nearby.
9. Mini Pumpkins Wire Basket, Foliage Wreath,  and Foliage Garland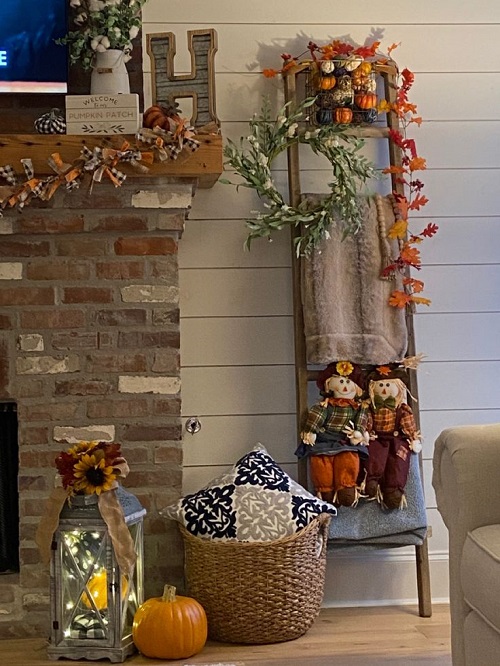 Transform your blanket ladder into a full-blown autumnal display. Place mini pumpkins in a wire basket on one of the rungs, and consider adding a foliage wreath. Intersperse these with a foliage garland to tie the whole autumnal theme together. This setup can be the focal point of your fall decor.
10. Magazines Holder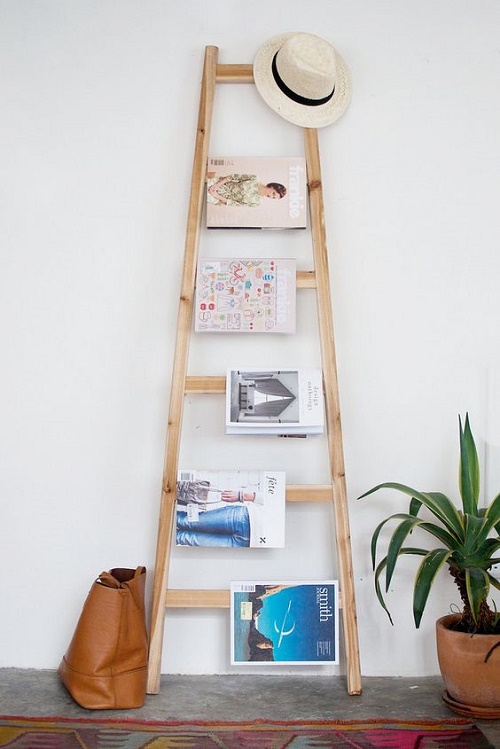 Turn your blanket ladder into a stylish and functional magazine holder. Stack your favorite reads, rolled or folded, across the rungs. This creates a well-organized look and provides easy access to your preferred reading material.
11. Holiday Stockings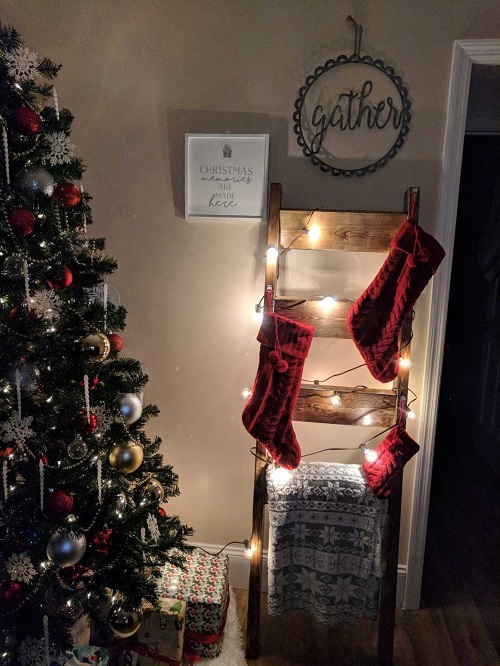 In lieu of a fireplace or a standard mantel, hang your holiday stockings from the blanket ladder rungs. This adds a charming, classic touch to your Christmas decor. If you're particularly crafty, consider hand-stitching each family member's name onto their respective stocking. Intersperse these with string lights to fully capture the holiday spirit.
12. Tassel Garland
Beautify the blanket ladder with a tassel garland for a bohemian or eclectic look. Choose tassels in colors that complement the existing palette of the room. Don't be afraid to mix materials—think silk, cotton, or even metallic threads for a diverse textural experience.
13. Scented Herbs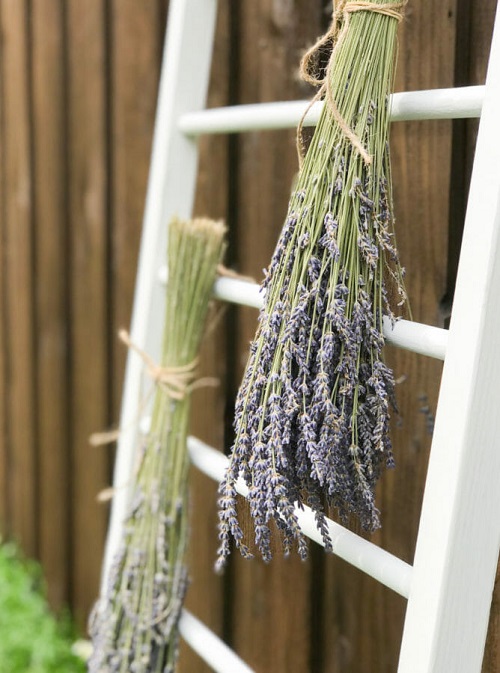 Use bunches of dried herbs like lavender, eucalyptus, or sage for a fragrant touch. They not only offer a pleasant fragrance but also introduce an element of nature into your indoor space. To optimize visual impact, bundle herbs with complementing or contrasting ribbons. This setup can be particularly appealing in kitchens or bathrooms, where the herbs' aromas can serve a functional purpose as well.
14. Blanket Ladder with Photographs, String Lights, and Evergreen Garland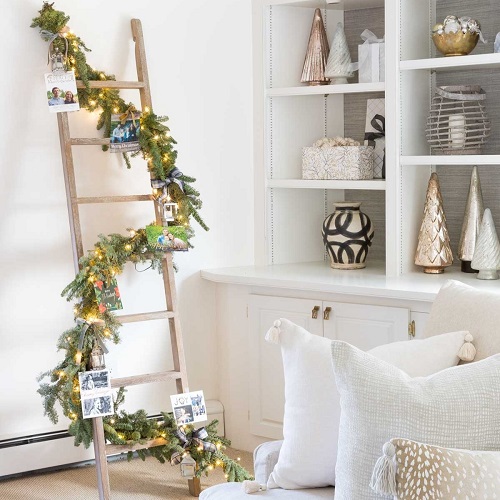 Combine memories and holiday spirit by adorning your ladder with framed photographs, string lights, and an evergreen garland. Consider black and white photos for a classic look, or go for vibrant images to add a burst of color.
15. Candle Corner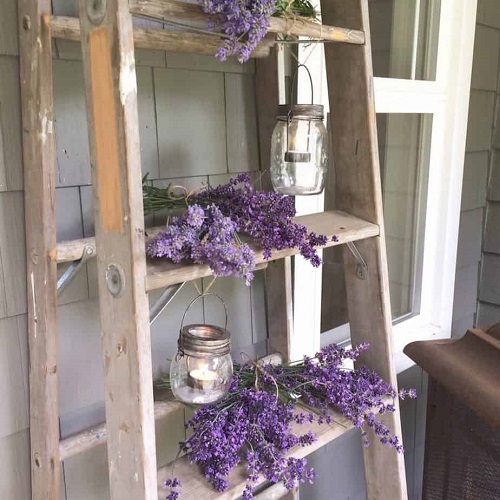 Secure small lanterns or battery-operated candles from the ladder to create a cozy, glowing corner. Choose candles with scent profiles that match the season or your mood—spicy for autumn, fresh for spring. Ensure that the candles are far away from any flammable materials.
16. Cooking Tools Ladder Display
Convert your blanket ladder into a culinary centerpiece by displaying cooking tools. Showcase a curated collection of utensils like wooden spoons, whisks, and spatulas, or hang small pots and pans from S-hooks or nails for an industrial look. This setup not only enhances the aesthetic appeal but also maximizes the storage space of the cooking area.
Find the Best Cast Iron Storage Ideas here