Maximize space and create a captivating visual impact with these Book Display Ideas. Find the perfect setup for your home below!
If you consider books to be not just reading material but also decor, you're in the right place. Discover a variety of aesthetically pleasing and functional Book Display Ideas to enhance any room's ambiance.
Here are the Best DIY Projects with Old Books
---
Book Display Ideas
1. Floating Shelves Book Display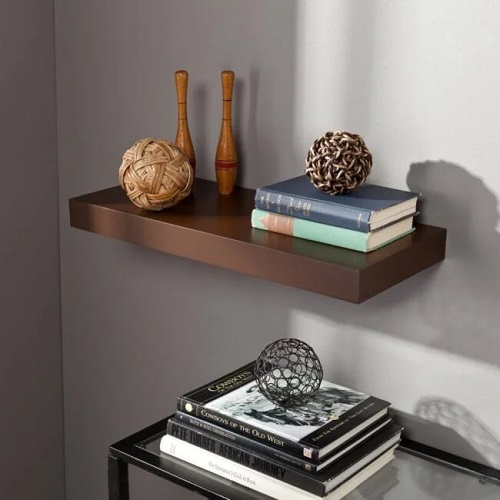 Floating shelves are not just an aesthetic choice but also a smart space-saving option. They give an illusion of books hovering on the walls, adding a minimalist touch to your room. They work exceptionally well in small apartments or spaces where floor space is at a premium.
2. Ladder Bookshelf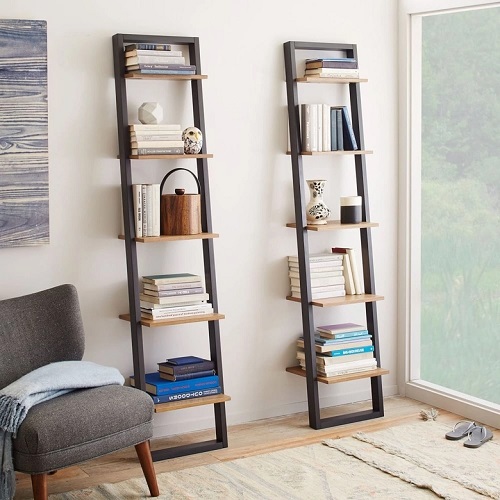 A ladder bookshelf adds a rustic charm to any room and offers a unique way to showcase your books. It also doubles as storage for knick-knacks or plants, providing functionality and style. It's a popular choice for modern and traditional interiors among these book display ideas.
3. Stacked Crates Books Display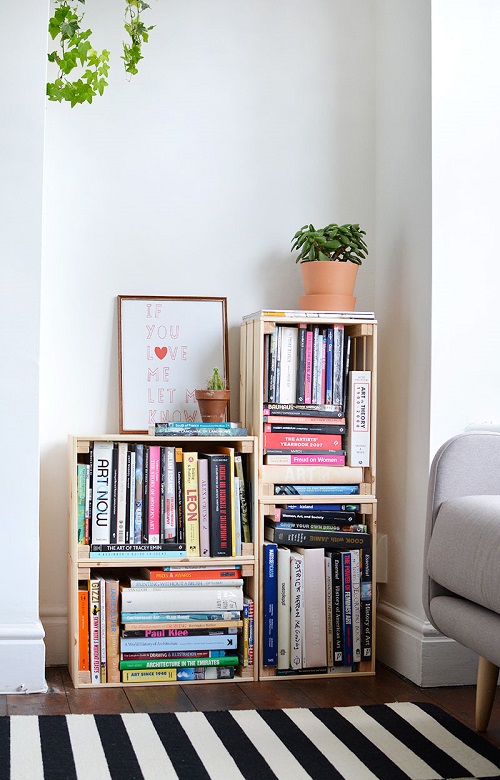 Stack wooden crates vertically or horizontally to showcase your favorite books. Paint or stain the crates to match your décor. This DIY project offers flexibility in design and size, letting you personalize the book display while recycling old crates.
4. Pegboard Bookshelf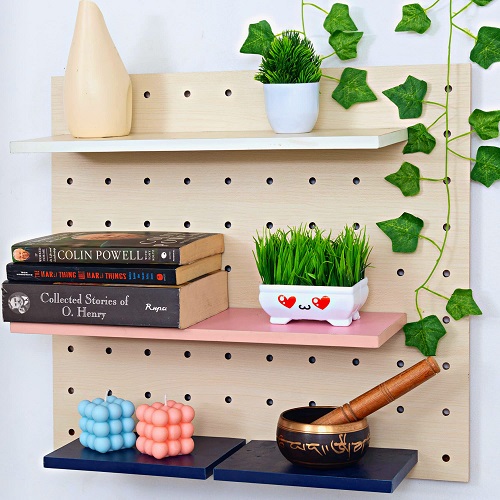 Install a pegboard on the wall and use adjustable pegs to hold up small wooden shelves. This versatile setup lets you change the book display arrangement easily. This setup is recommended for offices where adaptability is key. It's also an excellent solution for craft rooms or kids' spaces, where needs and interests often change.
5. Under-Stair Book Display Nook
The space under the stairs is often underutilized. Install shelves or simply stack books for a cozy reading nook. Adding a comfy chair or bean bag makes this spot perfect for peaceful reading sessions.
6. Install Industrial Pipe Shelving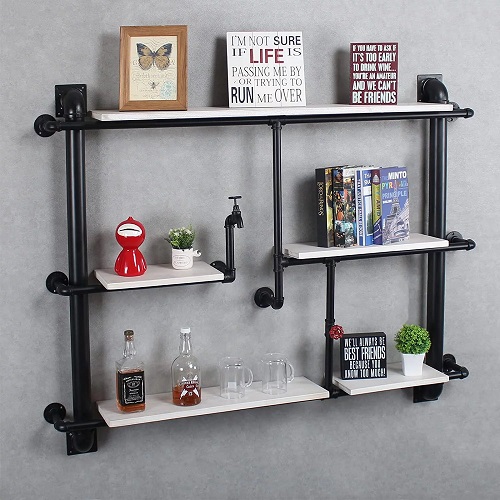 Want to display books with an industrial look? Simply attach iron pipes and wooden planks to the wall using screws. This sturdy setup works well in loft-style homes and creative office spaces. Its robust construction makes it ideal for large book collections.
7. Fireplace Mantel Books Display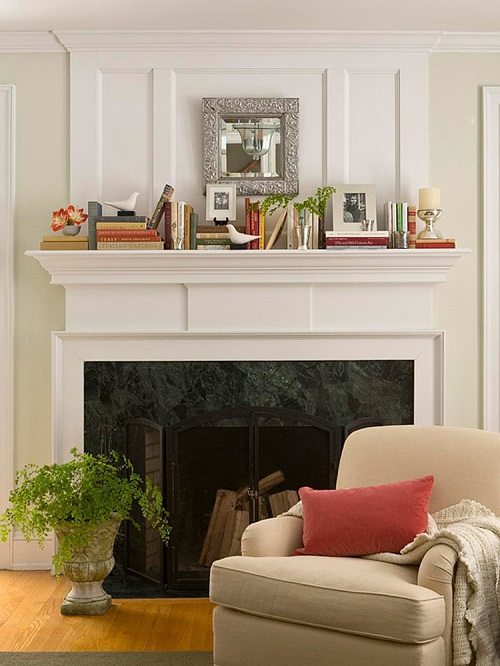 A fireplace mantel is an excellent book display station, especially during off-seasons. It's a great way to keep your favorite reads within reach while adding a cozy vibe to the living room. Just be sure to keep fire safety in mind.
8. Basket Books Storage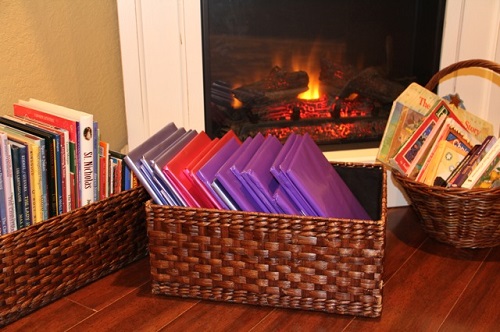 Use wicker baskets to store and show your books neatly. Place them on shelves or tables for easy accessibility. Baskets are not just functional but also add texture and warmth to the home décor.
9. Books Side Table Display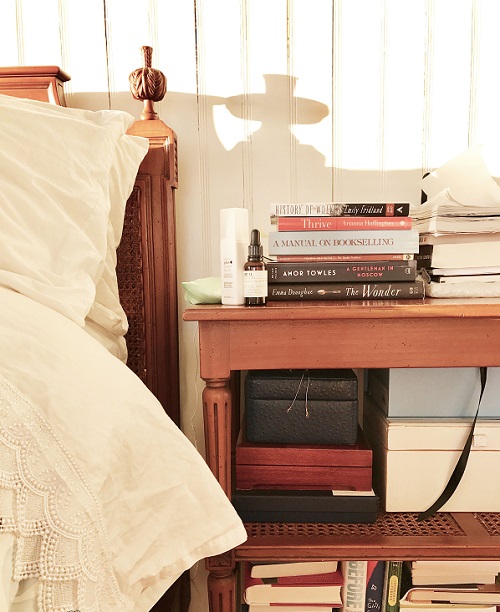 Stack your night-time reads on a side table by your bed. This arrangement is both convenient and a space-saver. You can accessorize the table with a reading lamp and bookmarks to create a complete bedside reading nook.
10. DIY Slat Wall Bookshelves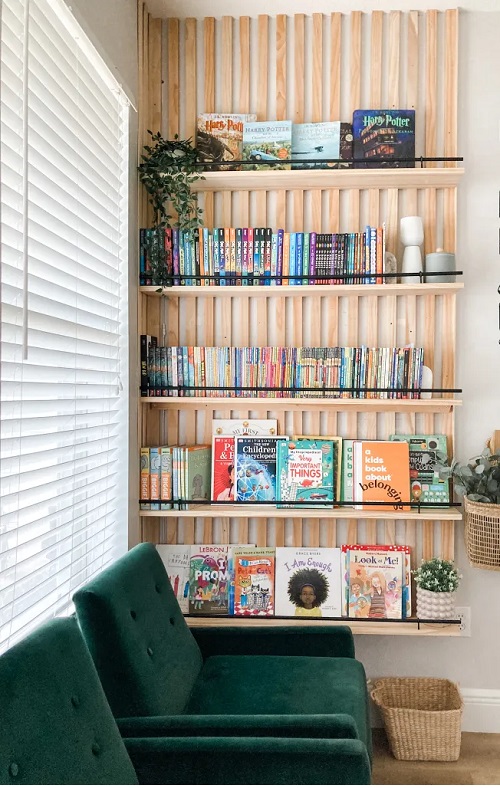 The Slatwall bookshelves are a functional and stylish way to showcase your reading collection. The design's key advantage is its adaptability; you can effortlessly move your brackets and shelves to fit books of any size. Whether you have a modern, industrial, or eclectic interior design, this setup seamlessly blends in.
11. Tree Bookshelf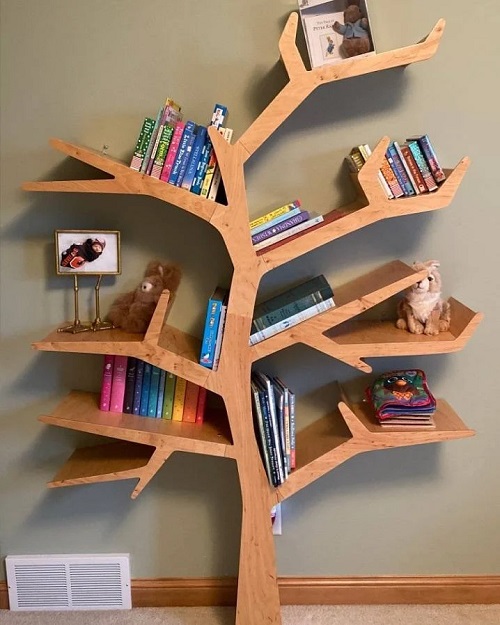 Install a tree-shaped bookshelf on your wall for a nature-inspired aesthetic. Besides holding books, the varying branches offer unique nooks for displaying collectibles, photos, or small plants. It's especially useful for apartments or rooms where square footage is limited.
12. Wall-Mounted Wire Baskets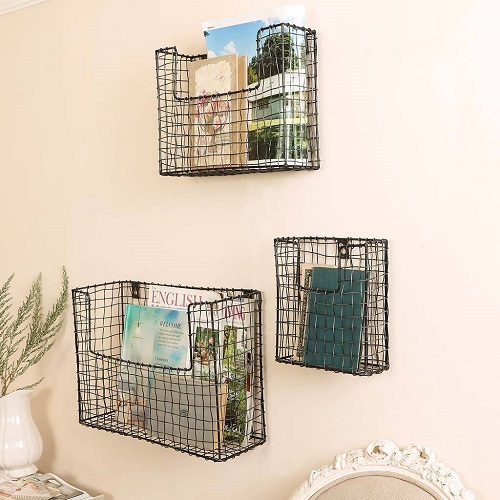 Opt for wall-mounted wire baskets to create a rustic or industrial book display. These baskets can be hung at various heights to create a visually appealing arrangement. Among the book display ideas, this setup is useful for those with limited floor space.
13. Rolling Cart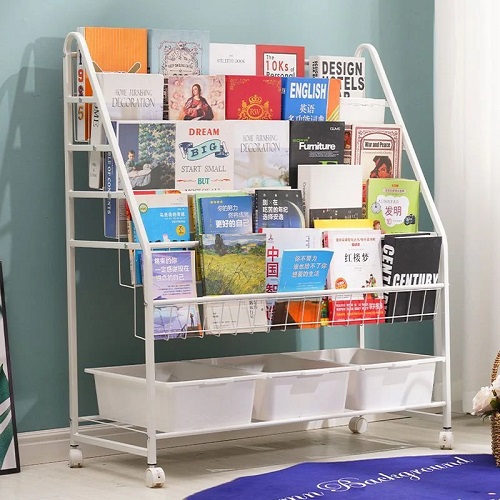 Use a rolling cart with multiple tiers to store and display books. It's ideal for shared office spaces and versatile home interiors. The wheels make it portable, letting you move your book collection around your home or office with ease.
14. Glass-Door Cabinet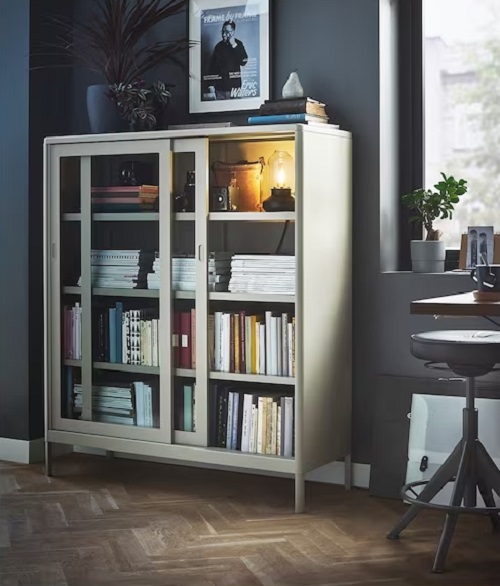 Consider a glass-door cabinet to showcase your treasured books while protecting them from dust. Brands like IKEA offer a variety of styles, making it easier to find one that matches your interior décor.
15. Revolving Bookcase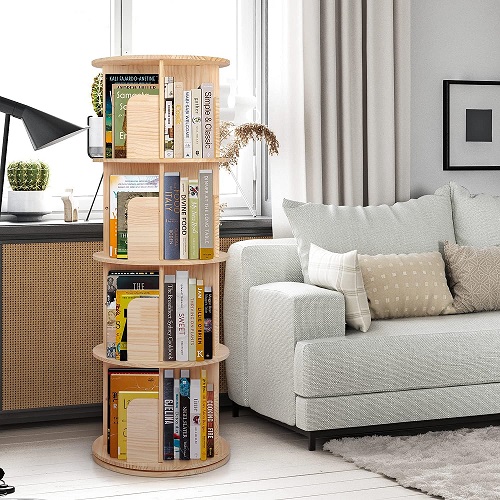 Invest in a revolving bookcase for a dynamic and easily accessible book display. It adds a touch of luxury and is perfect for corporate and home settings. The revolving feature ensures easy book access, making it a functional yet stylish piece.
Check Out DIY Kids' Bookshelf Ideas here