Find the perfect Sunflower Arrangements Ideas for every occasion! From elegant to playful, these ideas will make your decoration stand out!
Planning a wedding, baby shower, or birthday party? Don't overlook sunflowers as an affordable yet stunning option. These Sunflower Arrangements Ideas have creative ways to make your event memorable.
Read the Eye-Catching Gladiolus Arrangement Ideas here
---
Sunflower Arrangements Ideas
1. Rustic Mason Jar Arrangement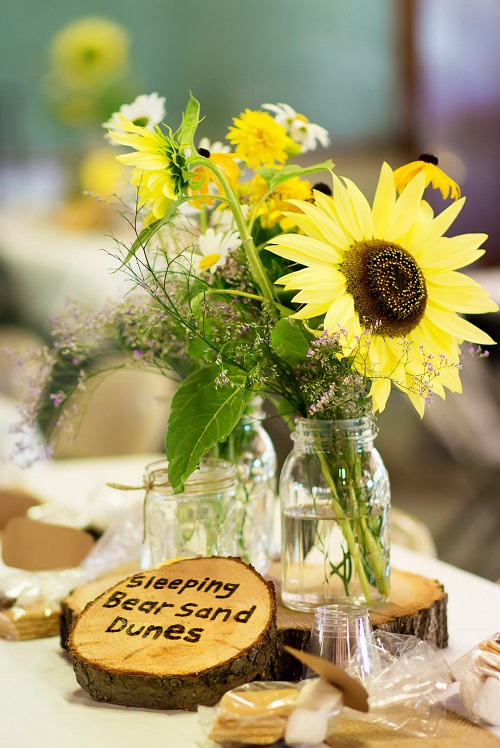 Fill a mason jar with pebbles for stability and insert a couple of sunflower stems. Add sprigs of baby's breath or lavender to complement the bright yellow blooms. Place the jar on a wooden slice for a natural farmhouse feel. The rustic mason jar setup is perfect for casual events or outdoor gatherings like barbecues.
2. Floating Sunflower Heads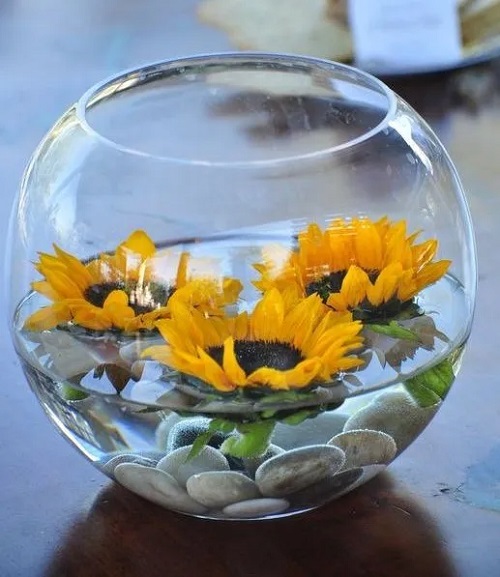 Remove sunflower heads and let them float in a shallow bowl of water. You can add floating candles for a more romantic vibe. A clear or colored glass bowl can add flair to the setting. This makes for a perfect centerpiece, thus a notable mention in this list of sunflower arrangements ideas.
3. Hanging Sunflower Baskets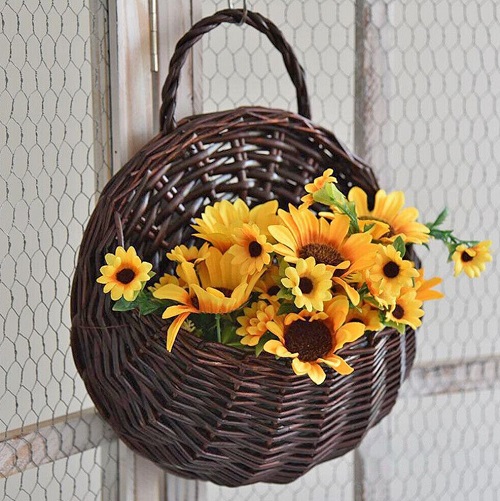 Fill a hanging basket with sunflower blooms and complementary foliage. Hang them on porch corners or entryways for an eye-catching decoration. This vertical arrangement is a space-saver and adds color to otherwise overlooked spaces. Consider durable coir or wire mesh baskets for long-lasting outdoor use.
4. Vintage Watering Can Display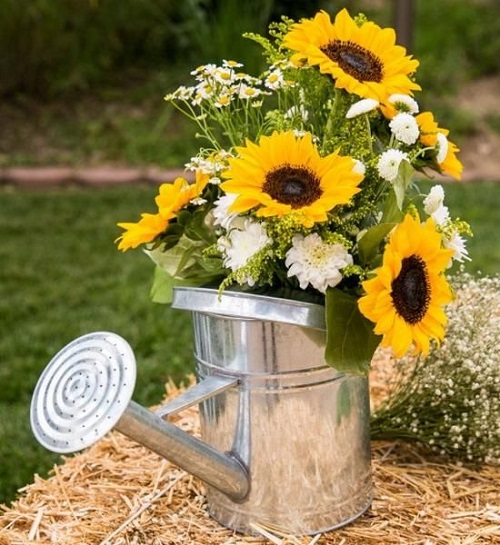 Repurpose a vintage watering can by turning it into a sunflower vase. Add wildflowers like daisies and lilies for a contrast. This creates a whimsical and nostalgic garden setting. For added thematic consistency, incorporate other vintage garden elements like rusty trellises or antique garden tools.
5. Sunflower Wreath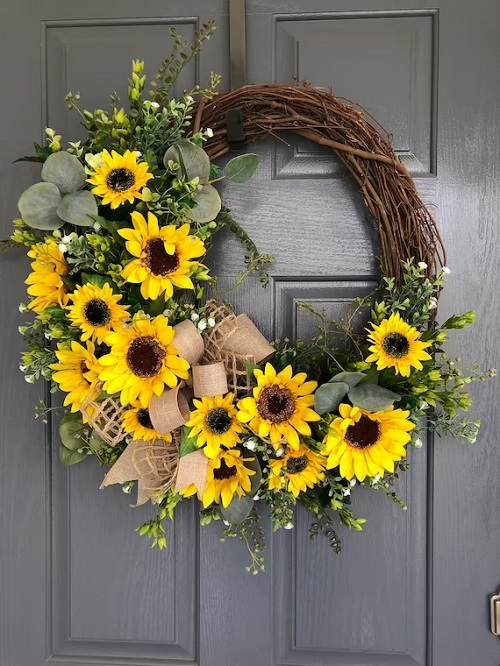 Craft an eye-grabbing wreath with sunflowers, a grapevine wreath base, floral wire, burlap ribbon, and greenery. This wreath will be an excellent, welcoming outdoor decor piece. For a fuller look, integrate other autumnal elements like pine cones or dried corn husks.
6. Tall Vase Sunflower Display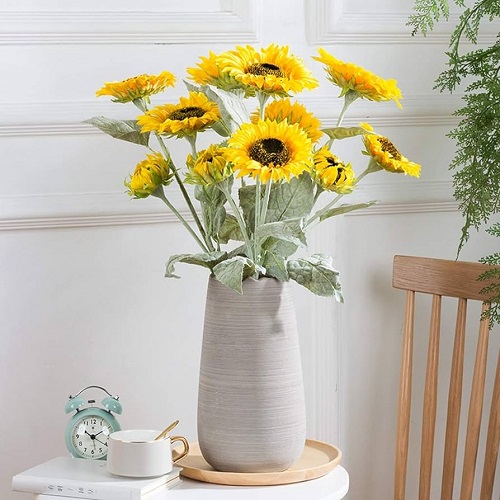 Use a tall, slender vase to make sunflowers the star of the arrangement. Among the sunflower arrangements ideas, this setup is ideal for formal settings like weddings or banquets.
7. Teacup Sunflower Table Centerpiece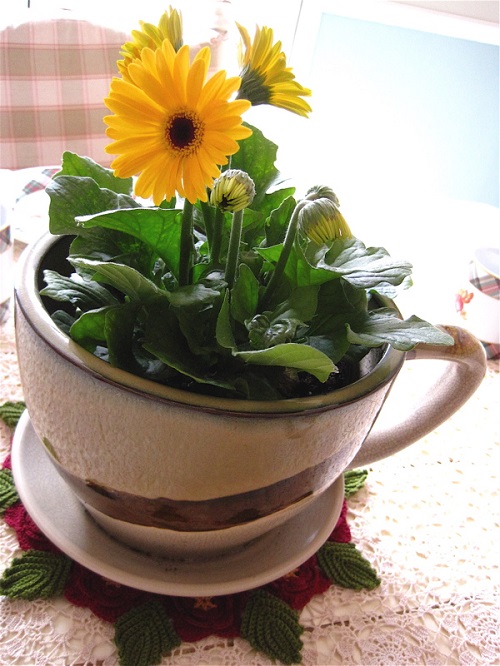 Showcase small sunflower blooms in a vintage teacup for a captivating display. Pair this arrangement with lace table runners and fine china to elevate the tea-time experience. Consider teacups of different shapes for a quirky touch.
8. Sunflower Garland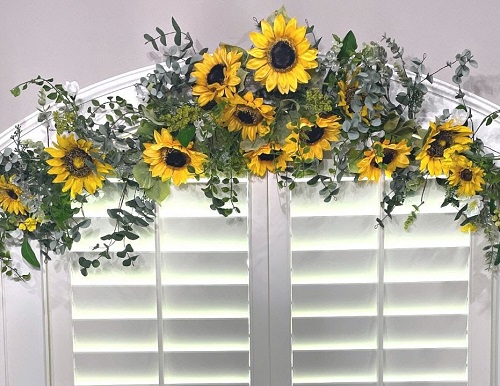 String sunflower heads together and greenery with twine to create a sunny garland. Drape it along fences, mantels, windows, or banisters for a vibrant decoration that's simple yet impactful.
9. Sunflower Bouquet & Herbs Arrangement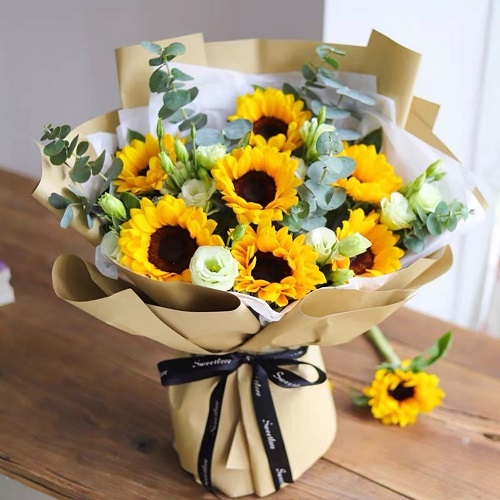 To recreate this arrangement, add fresh herbs like rosemary or thyme to a sunflower bouquet. It not only adds texture and greenery but also introduces a fragrant element to the arrangement.
10. Modern Geometric Vases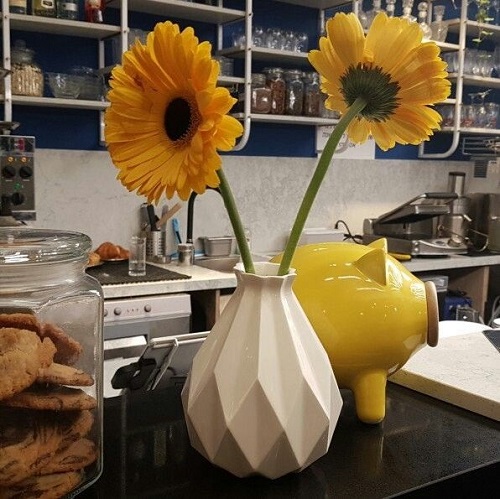 Display sunflowers in a small geometric vase for a contemporary twist. Geometric vases add a sleek and modern touch that contrasts well with the sunflowers. This setup is well-suited for modern interior design themes.
11. Sunflowers in Boots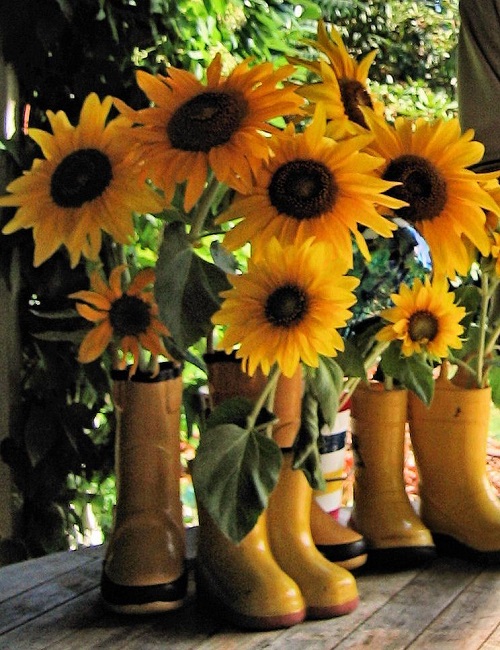 Reuse old pairs of rain boots as unique vases to showcase vibrant sunflowers. Put them near the front door or garden for a playful outdoor arrangement. Choose boots with playful designs or bright colors to complement the sunflowers.
12. Milk Bottle Sunflowers Arrangement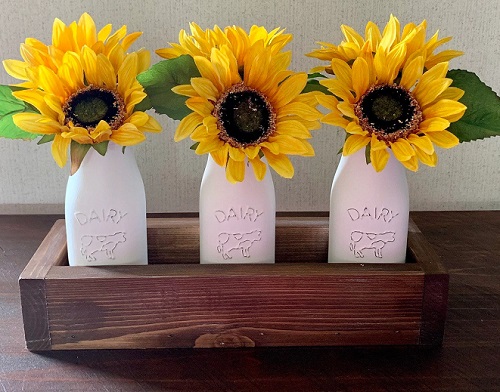 Arrange a cluster of vintage milk bottles, each holding one or two sunflowers. Place this arrangement on a wooden tray to create a simple yet impactful centerpiece. This is an excellent option for those who prefer minimalist designs.
13. Sunflowers and Wheat Combo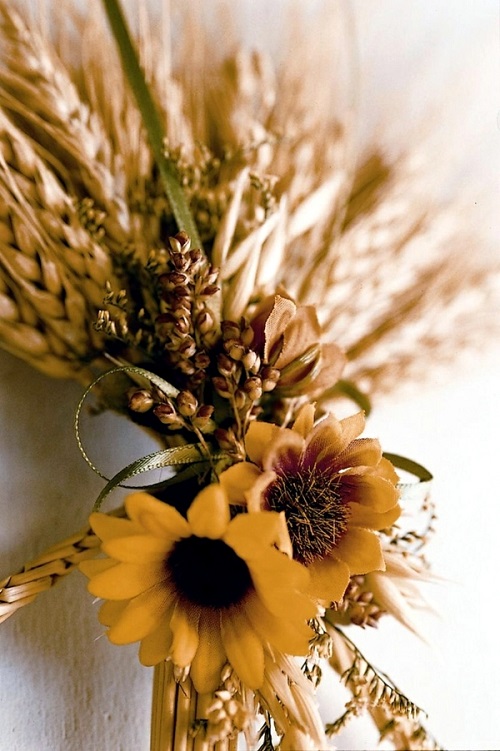 For a harvest-themed display, tie sunflowers and wheat stalks together with twine. This arrangement is perfect for Thanksgiving or harvest festivals. Adding a burlap ribbon can further enhance its rustic charm.
14. Antique Birdcage Sunflowers Display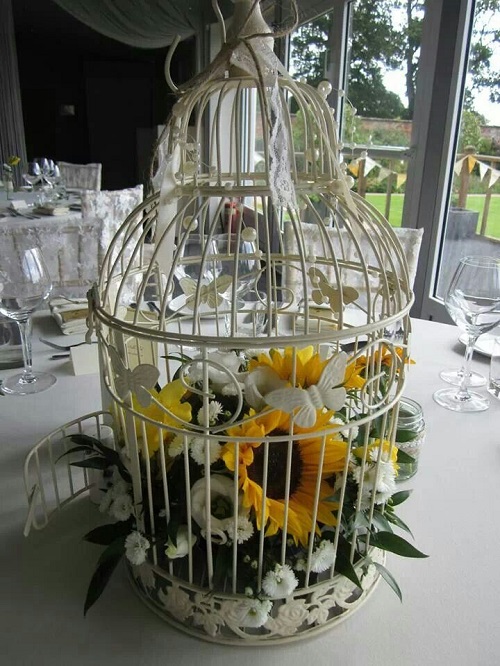 Use an antique birdcage to showcase your favorite sunflowers. This unconventional display is an excellent conversation starter. To complete the whimsical look, intertwine some fairy lights around the birdcage.
Here are the Flowers That Look Like Birds