Wondering how to spruce up your room with plushies? Check out these eye-catching Squishmallow Display Ideas that wow guests and yourself!
Are your Squishmallows taking over your living space? Browse these Squishmallow Display Ideas to find attractive ways to organize and display your cuddly plush toys.
Read the Doll Organizer Ideas here
---
Squishmallow Display Ideas
1. Squishmallow Floating Shelves Display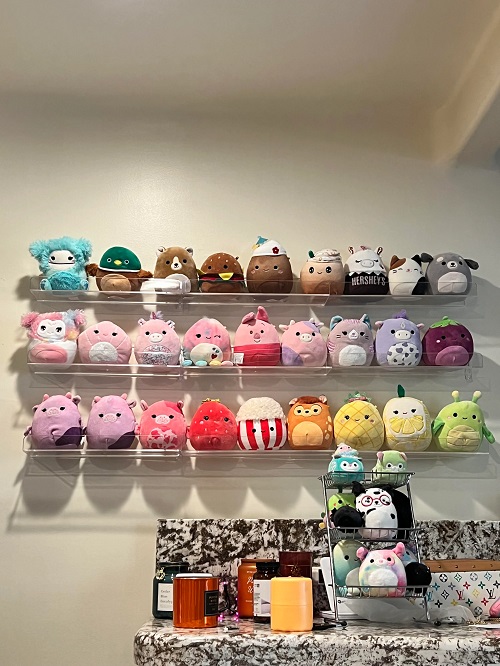 Floating shelves are a simple yet effective way to display squishmallows. Their minimalist appeal places the spotlight on your collection. Mount multiple shelves at various heights for visual interest. Hardware stores offer pre-made options that are both affordable and easy to install.
2. Cube Organizer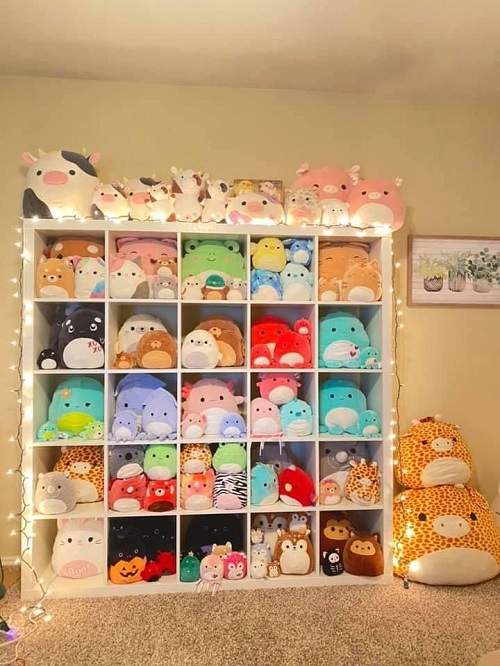 A cube organizer is not only a storage solution but also an excellent display station. Place your squishmallows in individual cubes, sorted by color or theme. Among the various squishmallow display ideas, this setup keeps your collection organized and easily accessible.
3. Glass Display Cabinet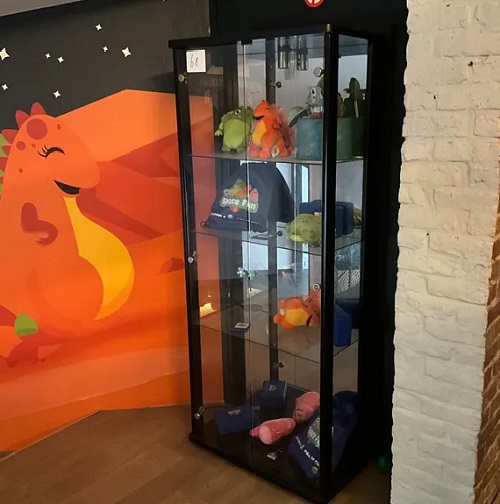 Invest in a glass-fronted display cabinet to give your squishmallows a secure, dust-free resting place. Consider cabinets with built-in lighting to give your collection the spotlight it deserves. Make sure it has adjustable shelves to accommodate squishmallows of various sizes.
4. Ladder Shelf Squishmallows Display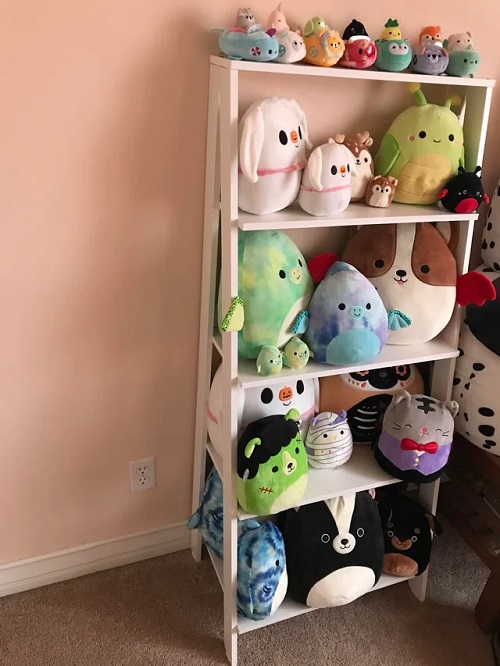 A ladder shelf is a unique and stylish way to display your squishmallows. Its tiered design creates a cascading effect, making your collection visually appealing at different heights. The open concept also accommodates larger squishmallows.
5. Hanging Baskets Squishmallows Decor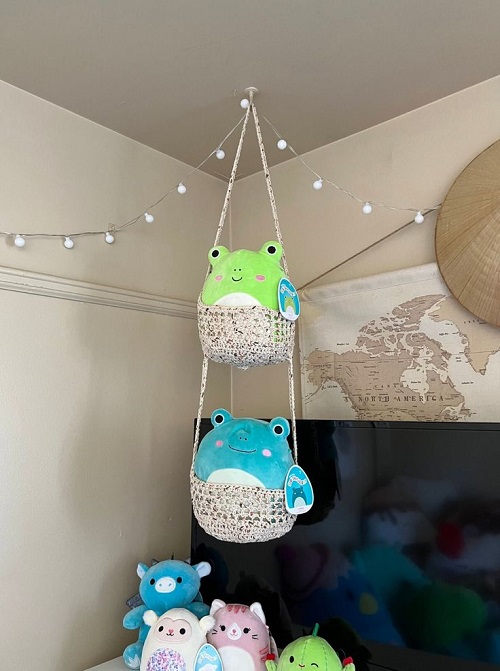 Hanging baskets offer a creative and space-saving way to display your plushies. You can hang these baskets from the ceiling or mount them against the wall. Whether you choose wire or woven baskets, this approach adds a textural and playful element to any room's decor.
6. Pegboard Squishmallows Display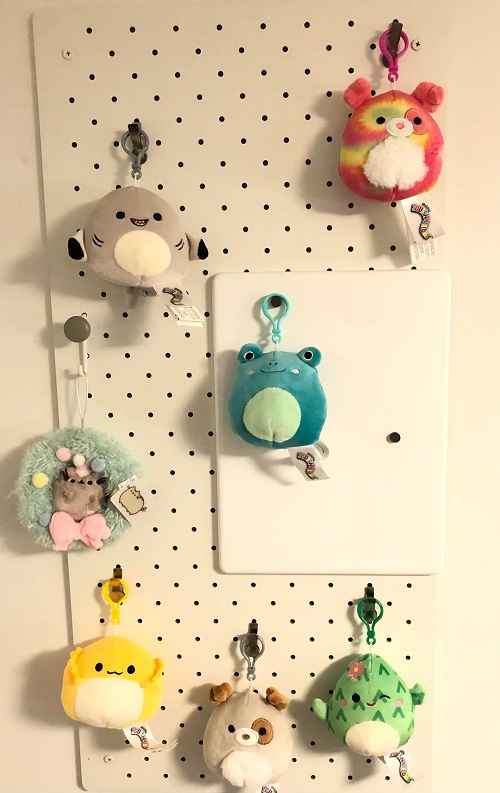 Install a pegboard on the wall and use hooks to hang your squishmallows. This option lets you easily move the hooks around to display new additions. Pegboards can also be painted or framed to match your room's decor.
7. Bookshelves Display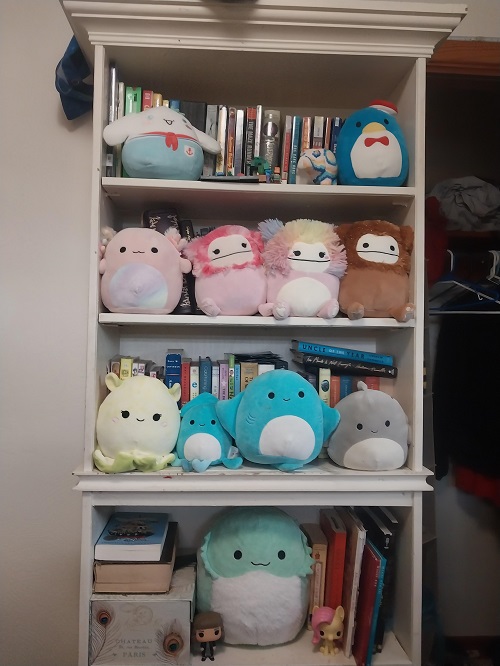 A bookshelf offers a versatile platform to showcase your squishmallow collection. The multiple levels provide ample room for plushies of different sizes, making it easy to create a visually appealing arrangement. The bookshelves ensure that your collection remains secure and easily accessible.
8. Toy Hammock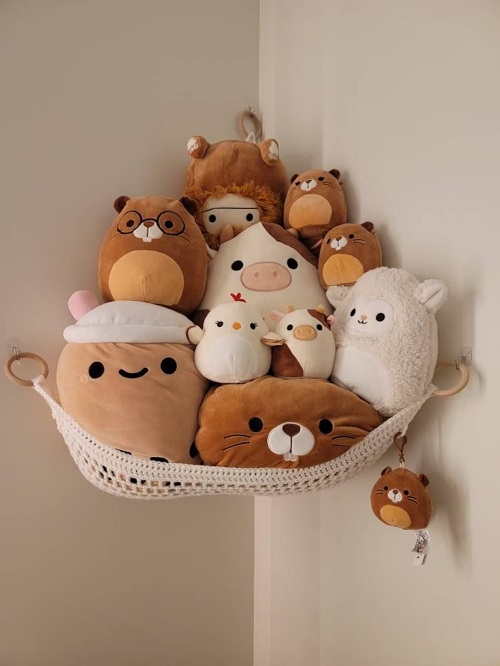 Installing a toy hammock in a corner of a room at eye level is an ingenious way to display squishmallows, especially in kids' rooms. It keeps them off the floor and at an accessible height. A toy hammock is easy to install and can be color-coordinated with the room's theme.
9. Window Sill Squishmallow Decor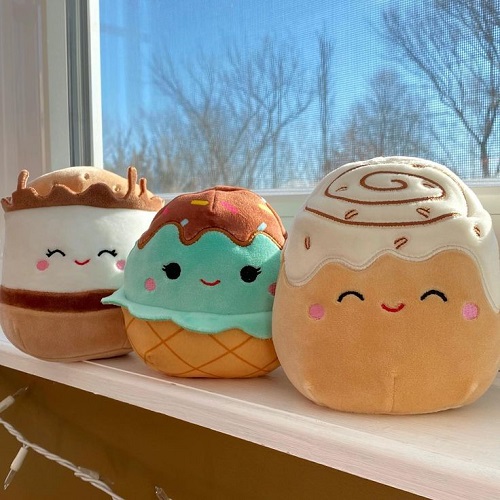 If you have a wide window sill, it's a great spot to line up smaller squishmallows. They are not only adorable window decorations, but the natural light also brings attention to the colorful collection.
10. Cart Display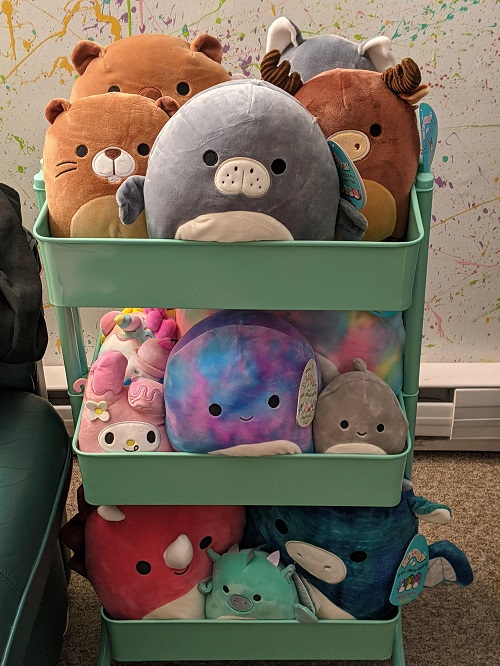 A rolling cart with multiple tiers is a portable, flexible solution for showcasing squishmallows. This movable cart is ideal for those who want to change the display location frequently. It's also easy to decorate and personalize to match room aesthetics.
11. Decorative Crates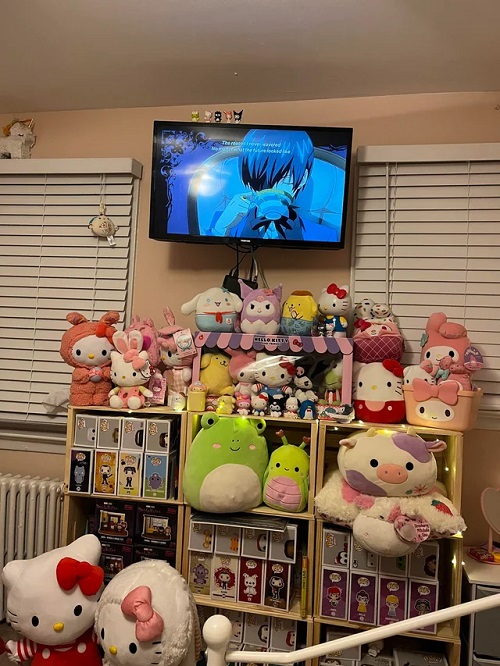 Wooden crates are an amazing option for creating a unique squishmallows display. You can paint them to match your home's decor. This is an affordable DIY project that adds a farmhouse touch to any space.
12. Shoe Organizer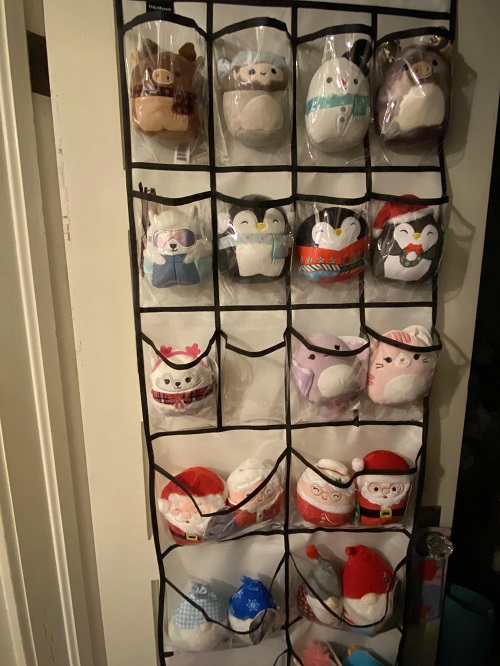 A transparent over-the-door shoe organizer is a clever way to display and organize squishmallows. Simply insert one into each pocket. It's an excellent option for those looking to use vertical space while keeping the collection visible.
13. Corner Shelf Squishmallows Display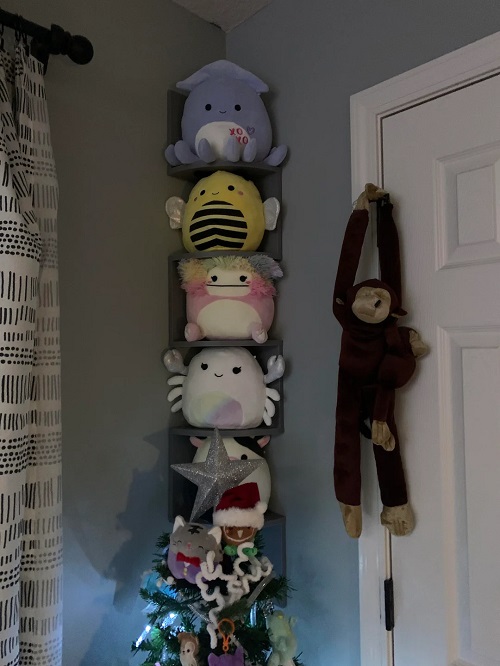 Do you have corner shelves? Make the most of that unused space by displaying a couple of squishmallows. These shelves keep your plushies accessible and in sight. You can customize these shelves with paint or decals for added charm.
Here are the Best Nutcracker Display Ideas