Need Farmhouse Hutch Decorating Ideas? From vintage china displays to mason jar arrangements, this article has got you covered!
If you're looking to refresh your farmhouse hutch without breaking the bank, you've come to the right place. These Farmhouse Hutch Decorating Ideas have innovative ways to make a big impact in limited space.
Read the Best Pottery Display Ideas here
---
Farmhouse Hutch Decorating Ideas
1. Vintage China Display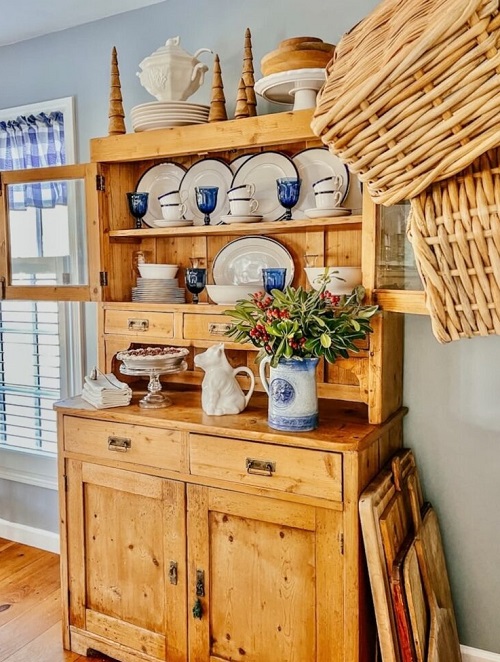 Showcasing vintage china or pottery is among the simplest farmhouse hutch decorating ideas. Stack plates, bowls, and teacups on the shelves. It adds rustic charm without costing a dime.
2. Display Enamelware
Enamelware is an old-time favorite that fits perfectly with every home decor. Showcase classic enamelware items, like plates, teapots, or bowls, for a nostalgic and rustic feel. These items are often available at thrift stores at an affordable price point.
3. Seasonal Decor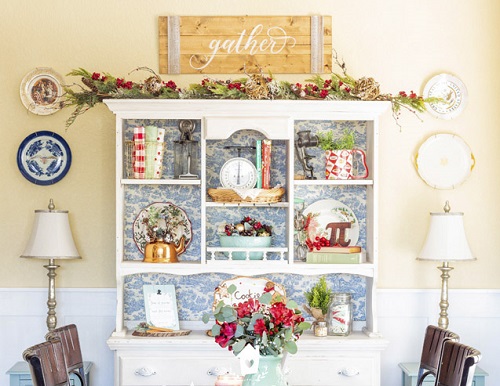 Rotate your decorations according to the season. Incorporate pumpkins and leaves during the autumn months, and switch to snowflakes and Christmas ornaments in winter. This not only refreshes the look of your hutch but also provides an economically efficient approach to home decor.
4. Cookbook Corner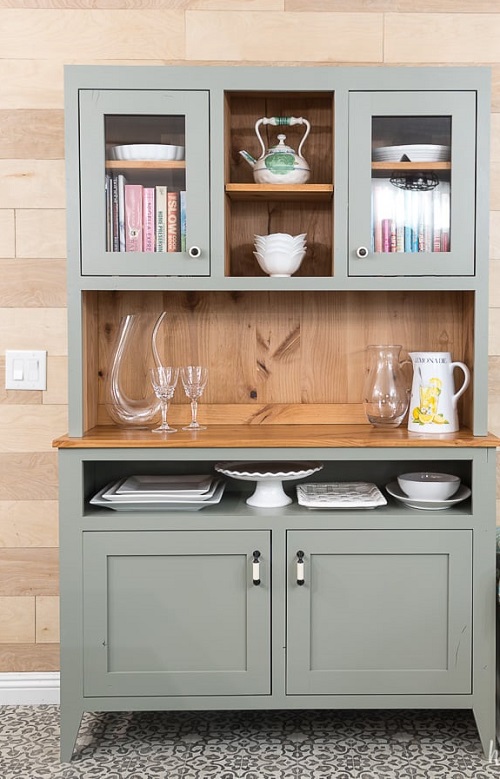 Turn your farmhouse hutch into a specialized cookbook shelf. Sort the books by color or size for an organized appearance. Add some decorative bookmarks to make them aesthetically pleasing yet functional.
5. Farmhouse Signage
Adorn the farmhouse hutch with wooden signs to create a unique, captivating decor. These low-cost add-ons instantly elevate the rustic charm and add character to the hutch.
6. Antique Hutch Styling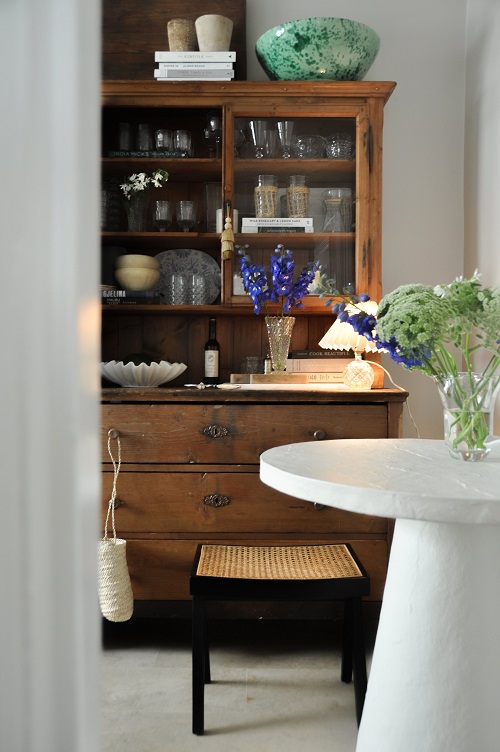 Elevate the look and feel of your glass cabinet hutch with a glassware collection, vintage bowls, books, vases, pitchers, and candles. These add drama, character, and visual interest without breaking the bank. Read more here.
7. Wine Rack Insert
Insert a small wine rack on one shelf to hold your favorite bottles. Also, use wine bottles and glassware to create a tiny bar on the hutch. It's functional, visually appealing, and doesn't require much space.
8. Glass Door Facelift
Swap out the wooden doors of your hutch for glass ones. This is one of those Farmhouse Hutch decorating ideas that significantly change the look of the space without a massive overhaul.
9. Fairy Lights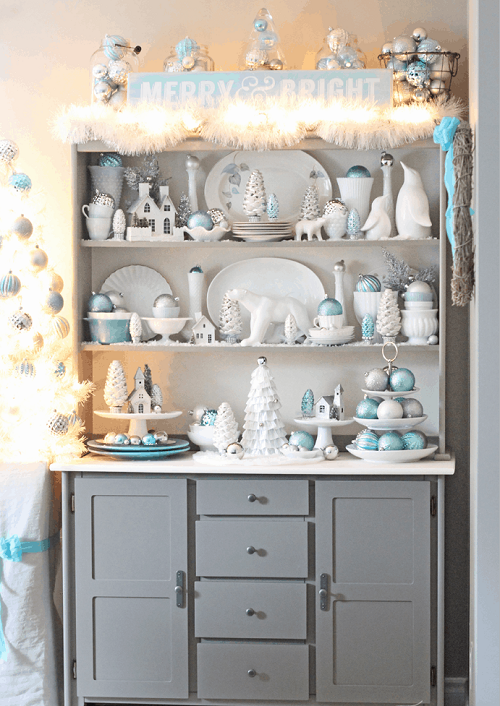 Add some battery-operated fairy lights across the shelves. Also include tiny Christmas trees, ornaments, and figurines to complete the festive look. This adds charm and ambiance at a low cost.
10. Use Ceramic Animals
Place small ceramic animals like cows or chickens to complete the farmhouse look. These items are usually budget-friendly and are the perfect rustic, whimsical touch to your hutch setup.
11. White Mason Jars
Place a set of three white mason jars on the hutch shelf or counter. Fill them with flowers or foliage to add height and color to the setup. It's a simple and budget-friendly way to decorate any farmhouse hutch.
12. Mason Jar and Greenery
Mason jars are excellent additions to any Farmhouse Hutch decorating ideas. Fill them with either fresh or faux greenery and place them on alternating shelves. This is a low-cost, easy-to-maintain way to introduce a burst of color and natural elements into your living space.
Check Out the DIY Love Jars Ideas here