Add aesthetic and functional value to your cooking space with these amazing Kitchen Island Centerpiece Ideas! Start your décor journey now!
If you're looking for inspiration to dress up your kitchen island, you've come to the right place. Add style, color, and character to your cooking space with these Kitchen Island Centerpiece Ideas.
Read the Best Kitchen Cabinet Decor Ideas
---
Kitchen Island Centerpiece Ideas
1. Flower Vase Display
Elevate your kitchen island's appearance with a simple yet elegant flower vase display. Choose your favorite blooms and arrange them in a decorative vase to create an eye-grabbing focal point.
2. Rustic Wooden Tray
A distressed wooden tray adds a rustic touch to the kitchen island. Place a small potted plant, a flower vase, a wooden sign, and a candle on the tray to complete the arrangement. It's an excellent addition to kitchen island centerpiece ideas.
3. Seasonal Fruits Basket
A basket full of seasonal fruits offers a functional and aesthetic appeal. Choose a stylish basket with vibrant fruits like apples, bananas, and oranges. This not only adds color to your kitchen but also encourages healthy snacking.
4. Patriotic Hydrangea Centerpieces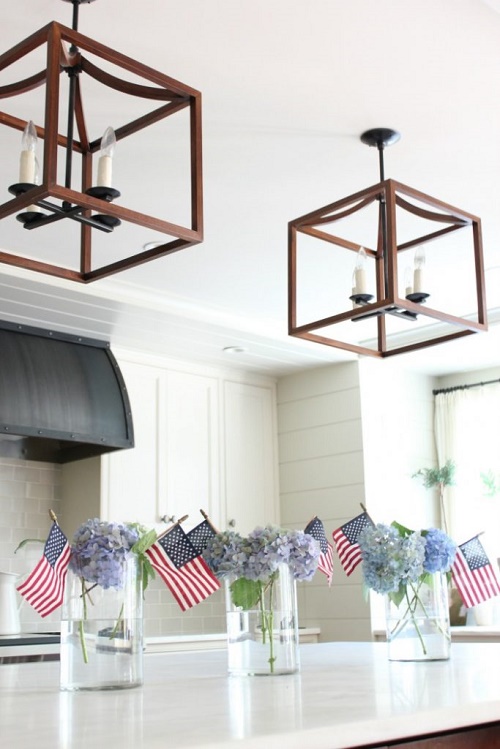 Grab glass jars, mini flags, and hydrangeas to create a captivating centerpiece, ideal for the 4th of July. For an added effect, you can add a few LED tealights or fairy lights around the jars.
5. Vintage Tin Containers
Vintage tin containers give a nostalgic yet chic look to your kitchen island. Opt for containers with retro designs or typography for added character. Add beads or small rocks at the bottom for stability and a touch of creativity.
6. Succulent Garden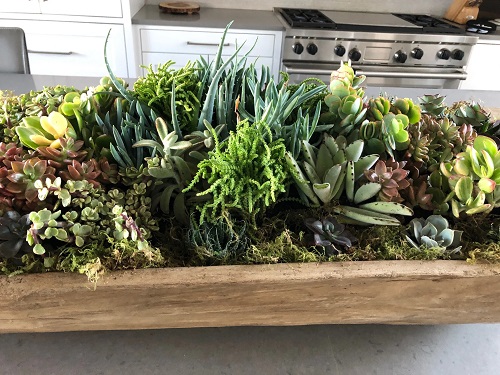 Succulents are the go-to plants for a modern and low-maintenance centerpiece. Consider wooden or ceramic planters to create this visually appealing kitchen island decor.
7. Teapot and Cups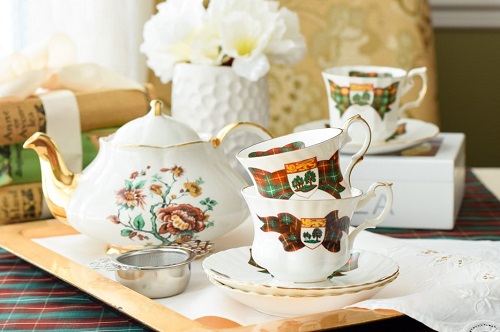 A classic porcelain teapot paired with matching teacups makes your kitchen island inviting and visually pleasing. Elevate the setting by adding a small honey jar, a milk jug, and a few tea varieties displayed in a small wooden box.
8. A Bowl of Pinecones
Pinecones aren't just for the holidays. A bowl filled with pinecones can add a natural and rustic touch to any kitchen island. To enhance the look, consider spraying the pinecones with metallic paint.
9. Decorative Glass Jars
Fill glass jars of different shapes and sizes with apples, lemons, and oranges to make your kitchen island stand out. Consider adding a ribbon or a jute string around the neck of the jars for a subtle, decorative touch.
10. DIY Painted Rocks
Get creative and paint a set of rocks or pebbles to enhance the look of your kitchen island. Place them in a bowl or spread them on the kitchen island worktop. Choose colors that either contrast or complement the existing color palette of your kitchen.
11. Ceramic Figurines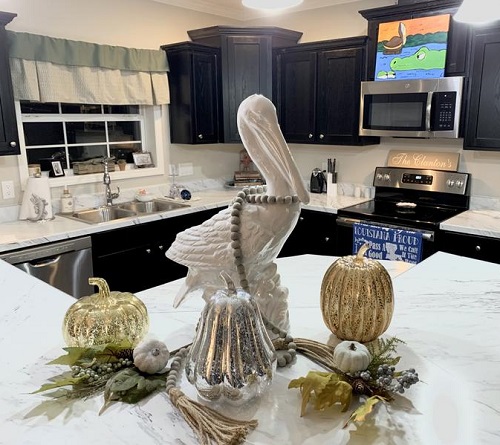 Small ceramic figurines, like birds and pumpkins, are great conversation-starting centerpieces for any kitchen island. You can also consider seasonal rotations, like snowmen for winter or flowers for spring.
12. Kitchen Island Fall Centerpiece Idea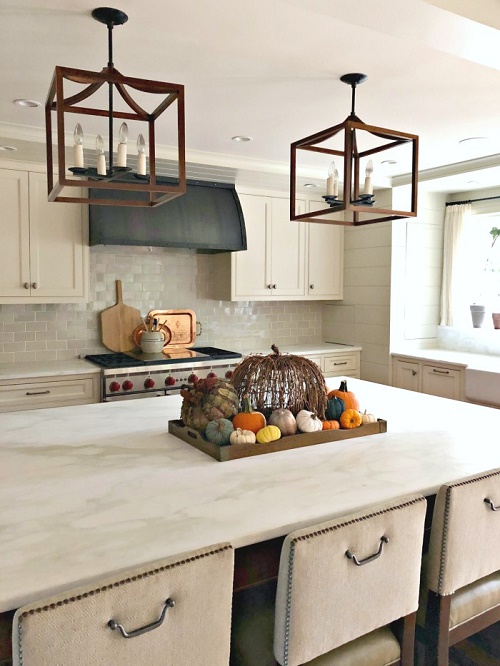 To recreate this kitchen island centerpiece, grab a wooden serving tray, small pumpkins, and a grapevine pumpkin. Hop to this detailed article to learn more about this amazing kitchen decor.
Here are the Best DIY Kitchen Ceiling Ideas