Transform your bland living room into a botanical paradise with these Orchid Arrangement Ideas. Learn how to create the show-stopping setup below!
Orchids are known for their elegance and vibrant colors, but how you arrange them can take their beauty to the next level. Take inspiration from these amazing Orchid Arrangement Ideas and brighten up your living space.
Read Impressive Orchids Display Ideas here
---
Orchid Arrangement Ideas
1. Orchid Vase Display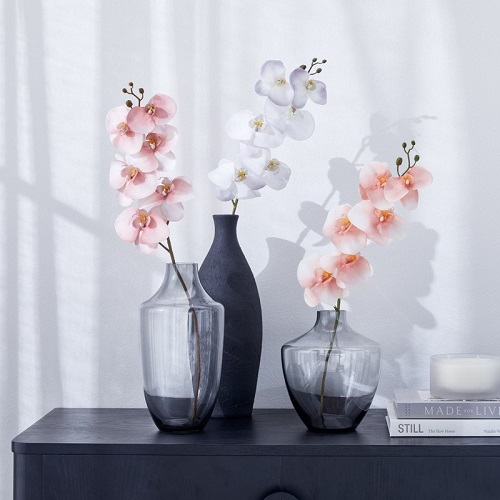 Display the orchid in a sleek vase to create a minimalist but elegant look. Choose a glass or black ceramic vase to complement the orchid's vivid colors. Place the arrangement on a coffee table or windowsill for a mesmerizing display.
2. Floating Orchids in Hurricane Vases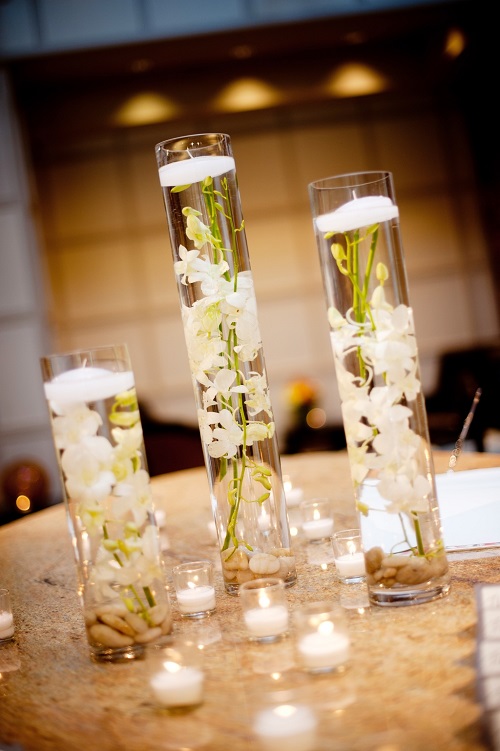 Float orchid blooms in hurricane vases to create an eye-grabbing table centerpiece. Enhance the arrangement with floating candles or decorative stones. It's quick, budget-friendly, and suitable for any occasion.
3. Orchid in a Mug Display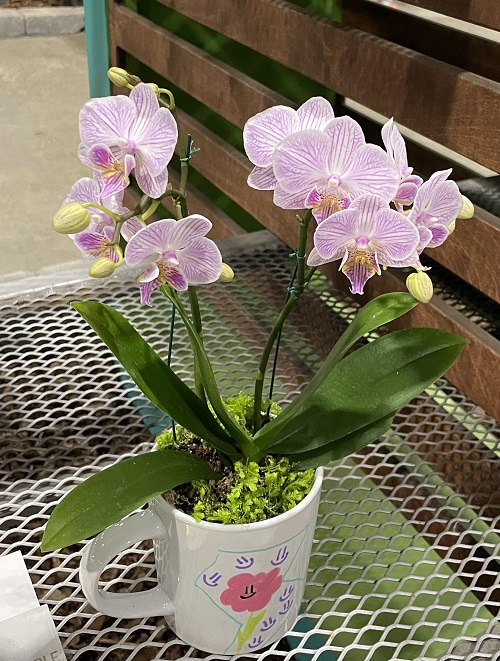 Transform your ordinary coffee mug into a striking orchid display. This unconventional arrangement is an excellent option for those who love plants but lack the floor space for larger pots. For longevity, choose a mug with a broad base and select orchids that thrive in confined spaces, like the Phalaenopsis variety.
4. Wall-Mounted Orchids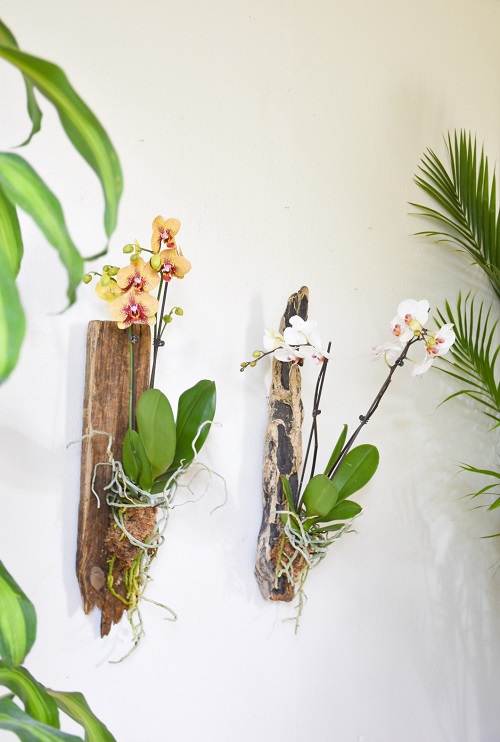 Mount orchids on a wall using a wooden plank as a base. Arrange the orchids in a line or a pattern and add small air plants for variety. Wall-mounted orchids save floor space and offer a modern twist to traditional plant displays.
5. Orchids Basket Display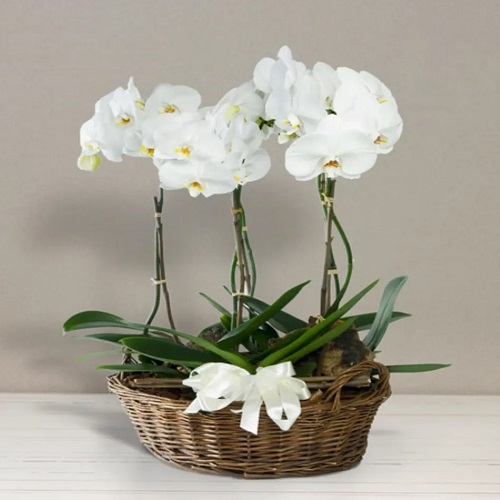 Fill a woven basket with orchid plants for a laid-back, tropical feel. Pair the basket with moss or decorative bark for added appeal. Among the various orchid arrangement ideas, this setup creates an eye-catching focal point, perfect for the living room, bathroom, or office.
6. Vertical Orchids Garden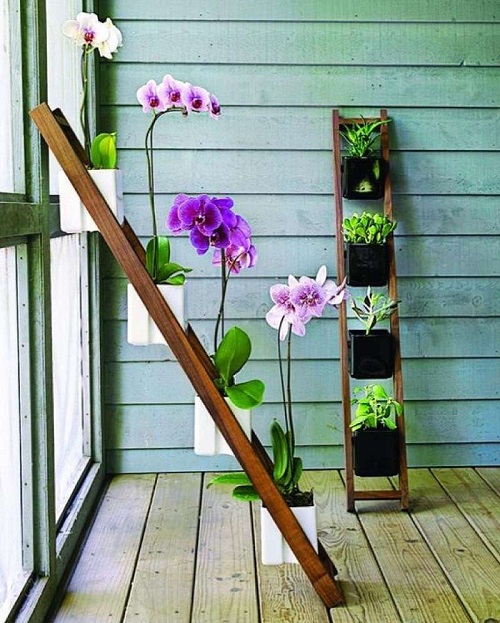 Use a vertical stand or ladder to display multiple potted orchids. This is a great way to showcase a collection without taking up too much floor space. It's visually appealing and easy to set up.
7. The Zen Bowl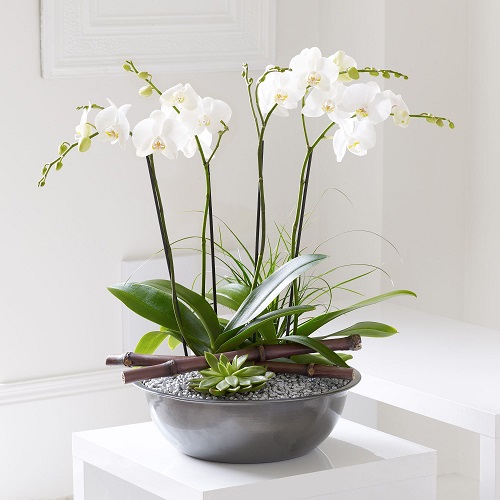 Create a Zen-inspired orchid arrangement using a wide bowl as a base. Fill it with tiny white rocks, and place an orchid in the center. Add a mini succulent and perhaps a miniature Buddha statue for a serene look.
8. Orchid Wreath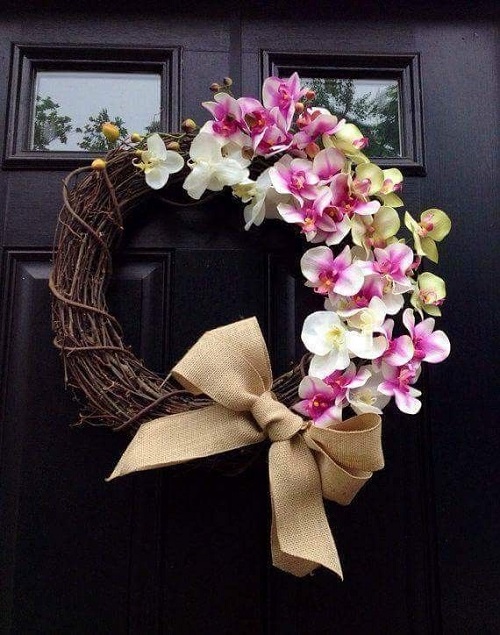 Create a wreath using orchid blooms, a willow wreath ring, and a burlap ribbon. This unique arrangement can be hung on a door or laid flat on a table as a centerpiece. Perfect for special occasions or seasonal decor, it adds an exotic touch that catches the eye.
9. Cake Topper
Use real orchids as a cake topper to elevate the look and feel of your cake. It seamlessly integrates into various themes and settings, from weddings to birthdays. Choose this unique cake topper to make your special occasion more memorable.
10. Seashell and Orchid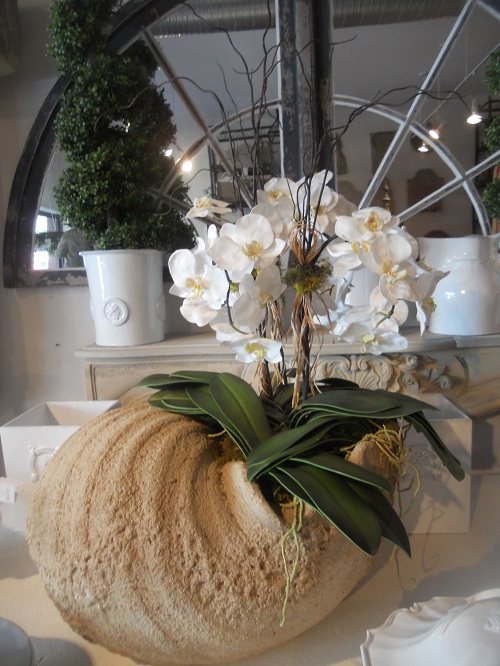 Plant your orchid in a large seashell for a beachy, tropical look. This setup adds a unique touch to coastal-themed rooms or special beach events. It's an outstanding addition in this list of orchid arrangement ideas.
11. Mason Jar Orchids Decor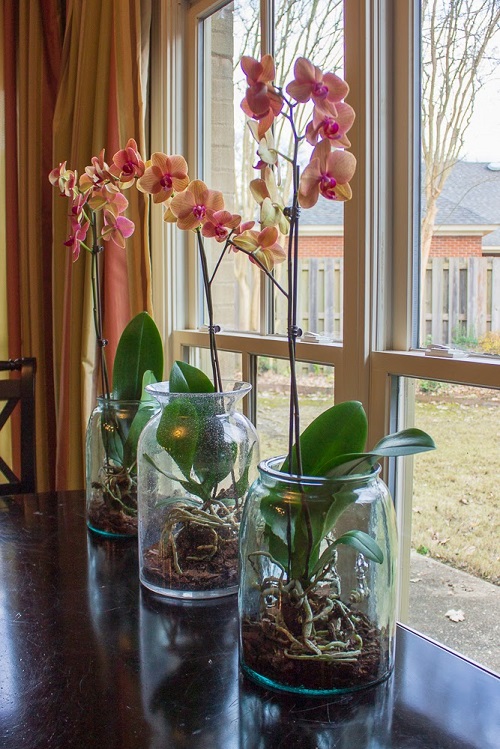 You only need a few mason jars and orchids to create a captivating window display. Line them up on a windowsill or cluster them together on a table. This setup is great for modern and traditional interiors.
Here are the Best Mason Jar Storage Ideas