Transform your living space with these inspired Gun Display Ideas. Learn how to make your firearms a stunning visual element below!
If you're a gun enthusiast looking for a stylish way to present your collection, you've come to the right place. Check out these compelling gun display ideas offering visual allure and secure storage solutions.
Read the Best Ammo Storage Ideas
---
Gun Display Ideas
1. Pegboard Gun Display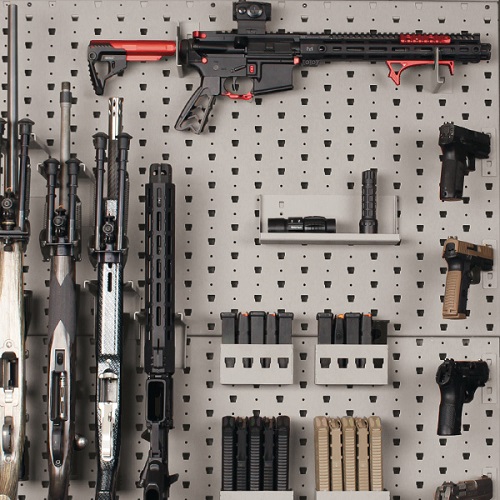 Pegboard is a popular choice for displaying guns because of its flexibility and ease of installation. Install it on a sturdy wall and use quality pegs to ensure the safety and security of your guns. You can easily customize the layout by repositioning the pegs. It's perfect for those who want to change the arrangement frequently.
2. Glass-Fronted Display Case
A glass-fronted display case adds an elegant touch to the firearm collection. This kind of display is not only stylish but also offers added security features, such as locks. It keeps your firearms safe from dust and humidity. You can also add LED lights to enhance the display further.
3. Gridwall Panels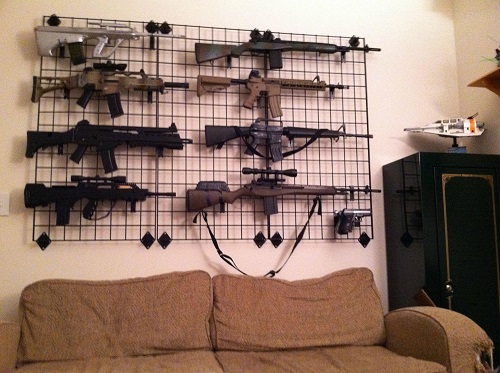 Gridwall panels are another flexible, wall-mounted gun display solution. These panels can be hung vertically or horizontally and allow for various hook and shelf attachments. The wire grid structure ensures that the display is sturdy and durable, able to handle the weight of multiple firearms.
4. Shadow Boxe Gun Display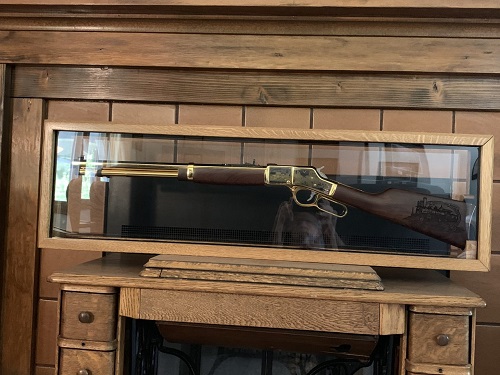 The Shadow Box Gun Display offers a multi-dimensional setting for your firearms, elevating them into art pieces. This type of display is excellent for those who own heirloom or antique firearms, as it adds a museum-quality presentation. Shadow boxes often come with a built-in locking feature for added security, and the enclosed design helps protect your collection from dust and moisture.
5. DIY Pallet Gun Rack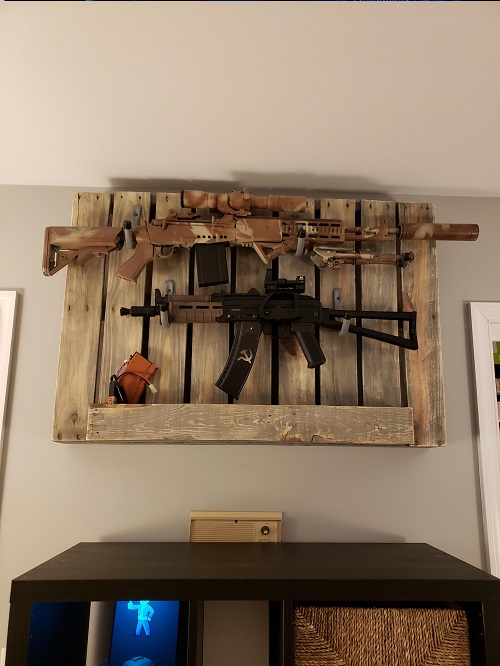 Use a recycled wooden pallet to create a rustic gun rack. Sand the wood and apply a stain or paint. Insert hooks or brackets, and you have a wall-mounted display that adds character to the space. Ensure that the hooks are securely installed to hold the firearms safely.
6. Fireplace Mantel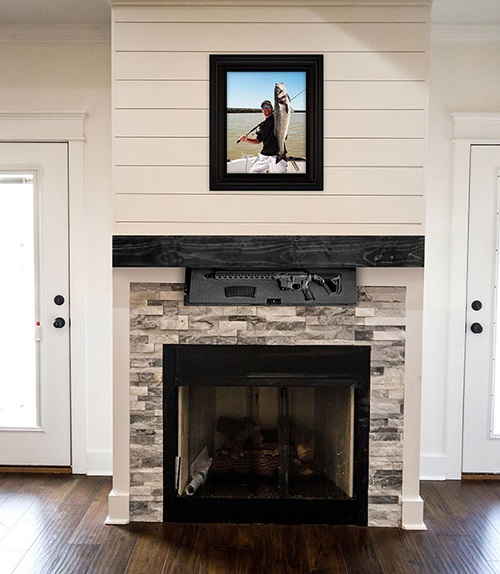 Using a fireplace mantel as a gun display adds a classic and sophisticated touch to your living room. It's an ideal option if you want to integrate gun collection into your home's decor seamlessly. Make sure to adhere to all safety precautions and laws when displaying firearms in such an accessible area.
7. Coat Rack Conversion
Turn a coat rack into a unique gun display by adjusting the hooks to accommodate your firearms. Ensure the coat rack is sturdy enough to handle the weight of your firearms. You can also personalize the coat rack with paint or decals to match your home decor.
8. Corner Gun Rack

A corner gun rack makes efficient use of space, fitting snugly into any corner of a room. This display is best for less-spacious homes. Ensure that the rack is secured well to the walls for added stability.
9. DIY Gun Rack made with horseshoes and flat stock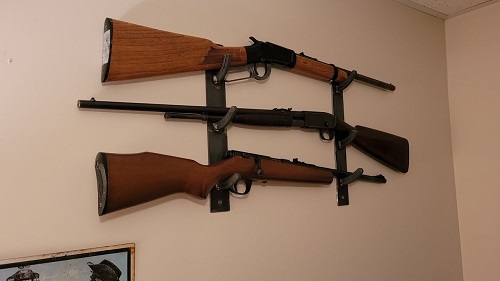 You only need some horseshoes and flat stock to create a gun rack. This rustic design brings a touch of the countryside into your home. The horseshoes add a unique aesthetic, while the flat stock ensures stability. Watch this video tutorial for detailed instructions.
10. DIY Cheap Gun Rack from Spice Rack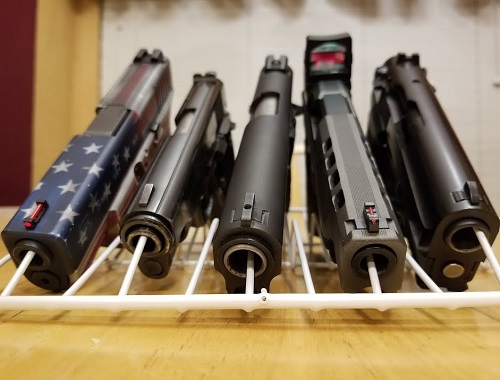 If you're on a budget, converting a dollar store spice rack into a gun rack can be a clever and cost-effective solution. Just ensure the spice rack is sturdy enough to hold your firearms securely. You can reinforce it with additional wood or metal brackets if needed. Paint or stain it to match your room's decor for a unified look.
Here are the Best Cast Iron Storage Ideas