Take inspiration from these creative and practical Soccer Scarf Display Ideas to show off your scarf collection in style!
If you're a devoted soccer fan with a growing collection of scarves, turn them into a striking part of your home decor. Don't know how to achieve this? Simply read these amazing Soccer Scarf Display Ideas that not only keep your scarves organized but also transform them into eye-catching pieces of art.
Read the Best Jersey Display Ideas here
---
Soccer Scarf Display Ideas
1. Try Curtain Rods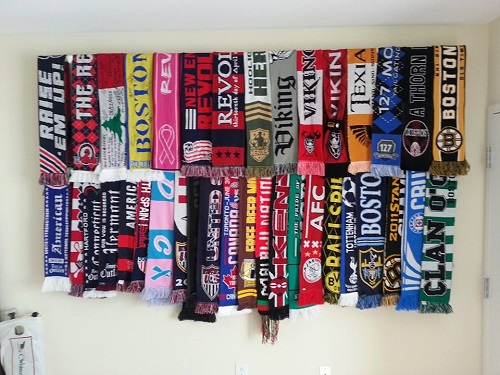 Curtain rods are a simple and cost-effective way to display your soccer scarves. This is a versatile solution that can easily hold a big scarve collection. Consider rods with a design that complements your room's aesthetic for a balanced look. The easy-to-implement method is a popular option among soccer scarf display ideas.
2. Custom Built Shelf With Hooks

redditThis wooden shelf is a practical and stylish solution for anyone looking to display scarves in an organized manner. It offers a sturdy platform to place decorative items, while the integrated hooks are the perfect place to hang your scarves.
3. Towel Bar Scarf Display

Install a towel bar on the wall to hold multiple soccer scarves for a streamlined look that's easy to update. Choose a bar that complements your room's décor for a cohesive feel. Towel bars are more sturdy than other display options, offering a reliable and elegant way to showcase your collection.
4. Mannequin Display
Do you have a mannequin? If so, use it to exhibit your favorite soccer scarf. Draping the scarf around the mannequin shows how it looks when worn, making the display more engaging and realistic. It's an excellent option in this list of soccer scarf display ideas.
5. Shadow Box Soccer Scarf Display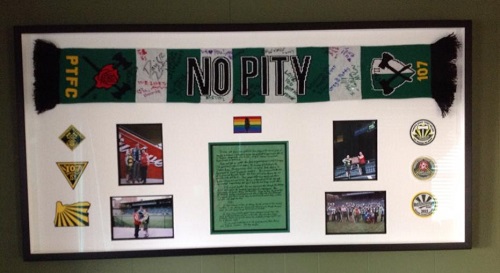 For fans looking to give their soccer scarves a spotlight, shadow boxes are a great solution. These enclosed glass-front frames protect the scarves from dust and damage while serving as a piece of wall art. Shadow boxes can be easily customized to match any room style.
6. Soccer Scarves Stairway Wall Decor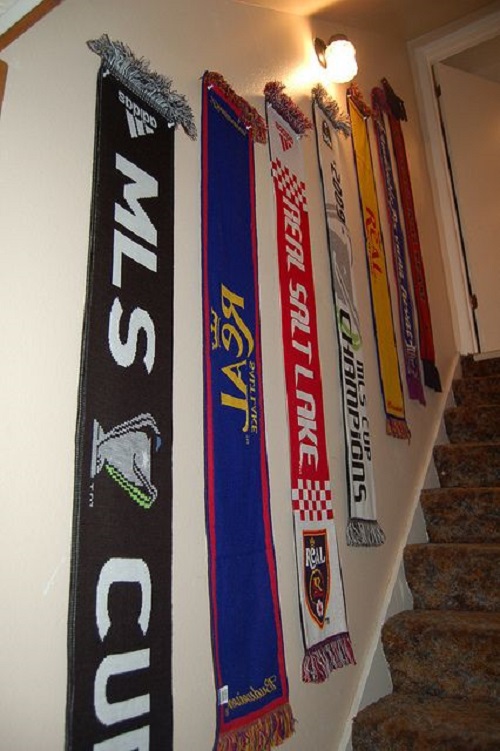 Transform an empty stairway wall into a dynamic gallery for soccer scarves. This method creates a focal point that draws the eye upwards, sparking conversation and interest. It's a space-efficient solution, taking advantage of vertical room without cluttering your living areas. Choose scarves that match the color scheme of your home, or go for a vibrant mix.
7. Scarf Coat Rack Display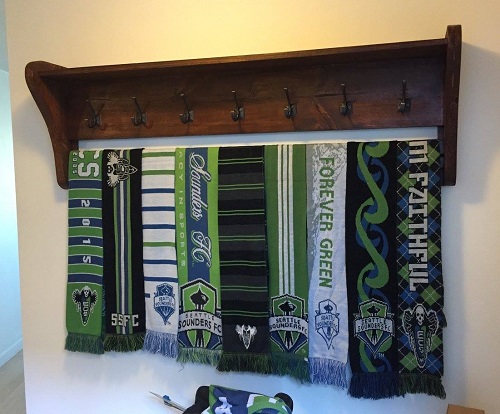 A wall-mounted coat rack is a handy solution for showing off your soccer scarf collection. This simple setup keeps your scarves organized and easy to grab. The best part? It doesn't take up valuable floor space. Pick a spot on the wall, attach the rack securely, and start hanging your scarves.
8. Soccer Scarf Clothesline Display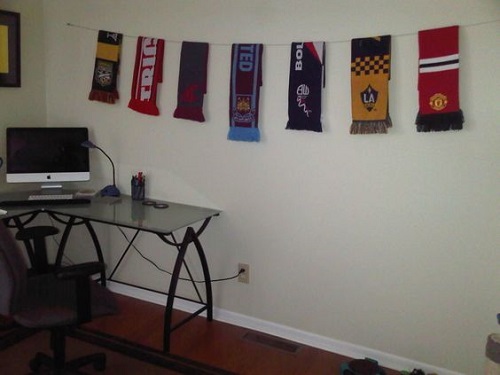 Looking for simple, affordable, and cheap soccer scarf display ideas? Simply grab a clothesline and clothespins or clips. This approach is particularly effective for those who wish to rotate scarves in and out of the display easily.
9. DIY Soccer Scarf Display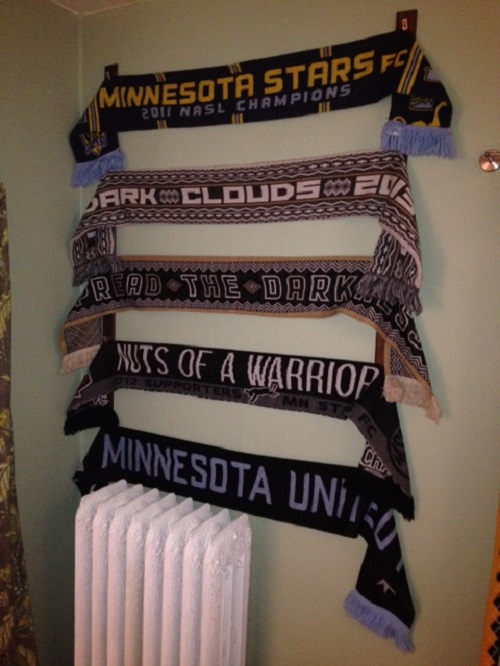 With some long wood trim, badge clips, and wood screws, you can craft a unique soccer scarves display station. Start by attaching two wood trims to the wall using the screws. Next, attach badge clips on both wood trims. Whether you have a growing collection or just a few favorites, this display method is a great way to keep your scarves organized.
10. Sport Scarf Display Rack Holder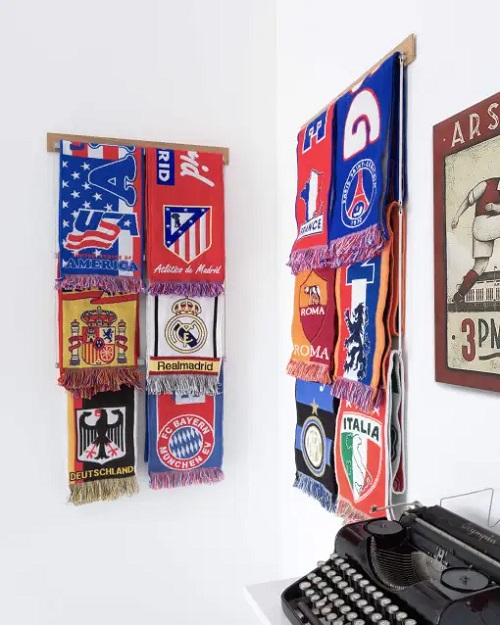 These wooden racks are an efficient way to organize and showcase your soccer scarf collection. Designed for maximum visibility and accessibility, these racks come in various materials and designs. They can be wall-mounted or free-standing to suit your space and aesthetic preferences.
Find Out Tote Bag Display Ideas here