This Post May Contain Affiliate Links. Please Read Our Disclosure Policy here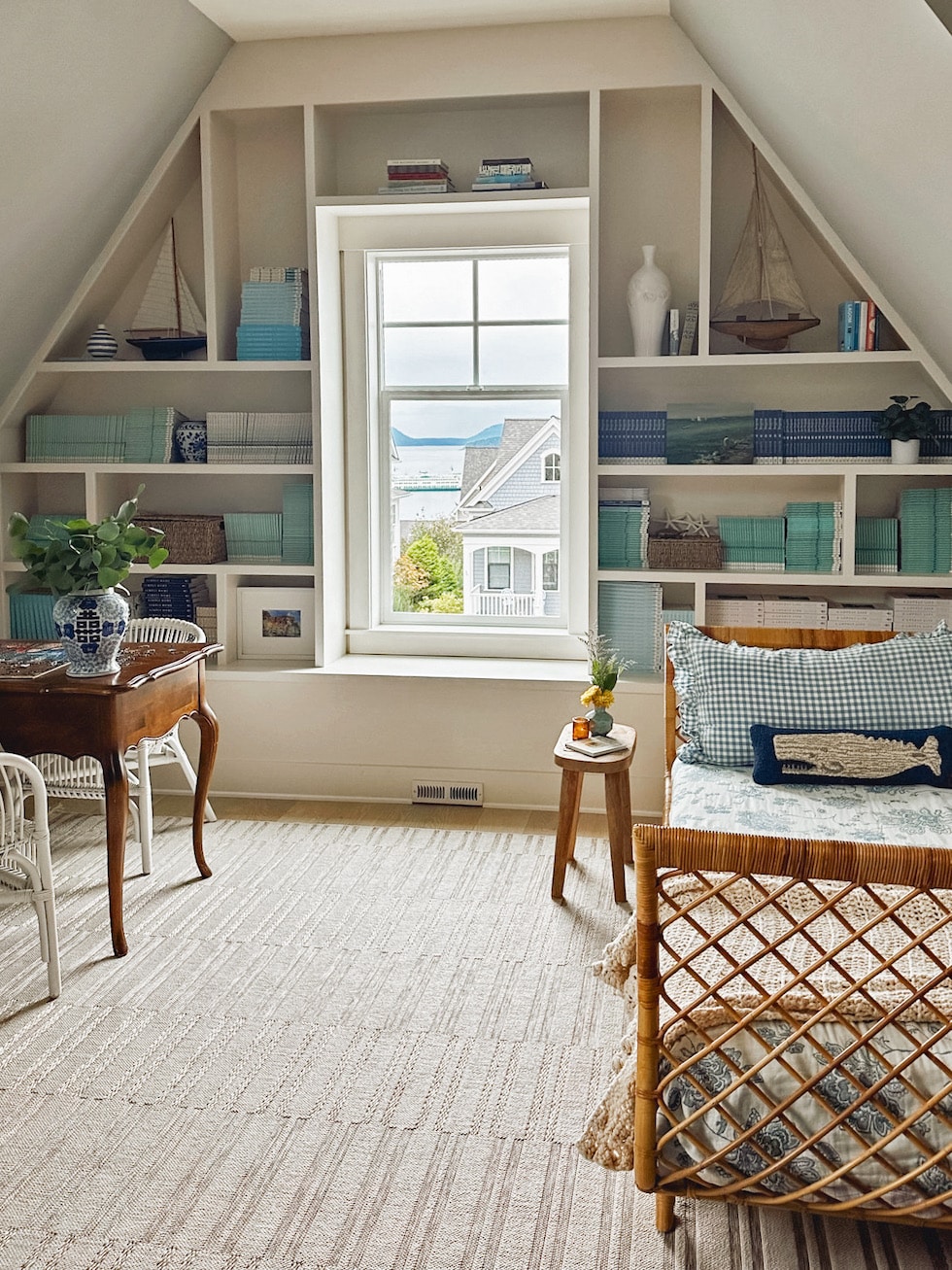 Welcome back to The Snug aka my office, our family room, guest room and future playroom for the grand littles. The first two years we lived here (which is the entire time we've lived here as we officially moved in two years ago this month), this room had to also be a holding place for furniture that would go elsewhere once the renovation was complete. In fact, for most of the past year this room served only as a storage room during our kitchen renovation! This is why I haven't shared it much lately, there wasn't much to talk about!
It's fun to finally be able to set it up to be enjoyed again! We love this space, seeing a ferry go by outside my window still gets me every time.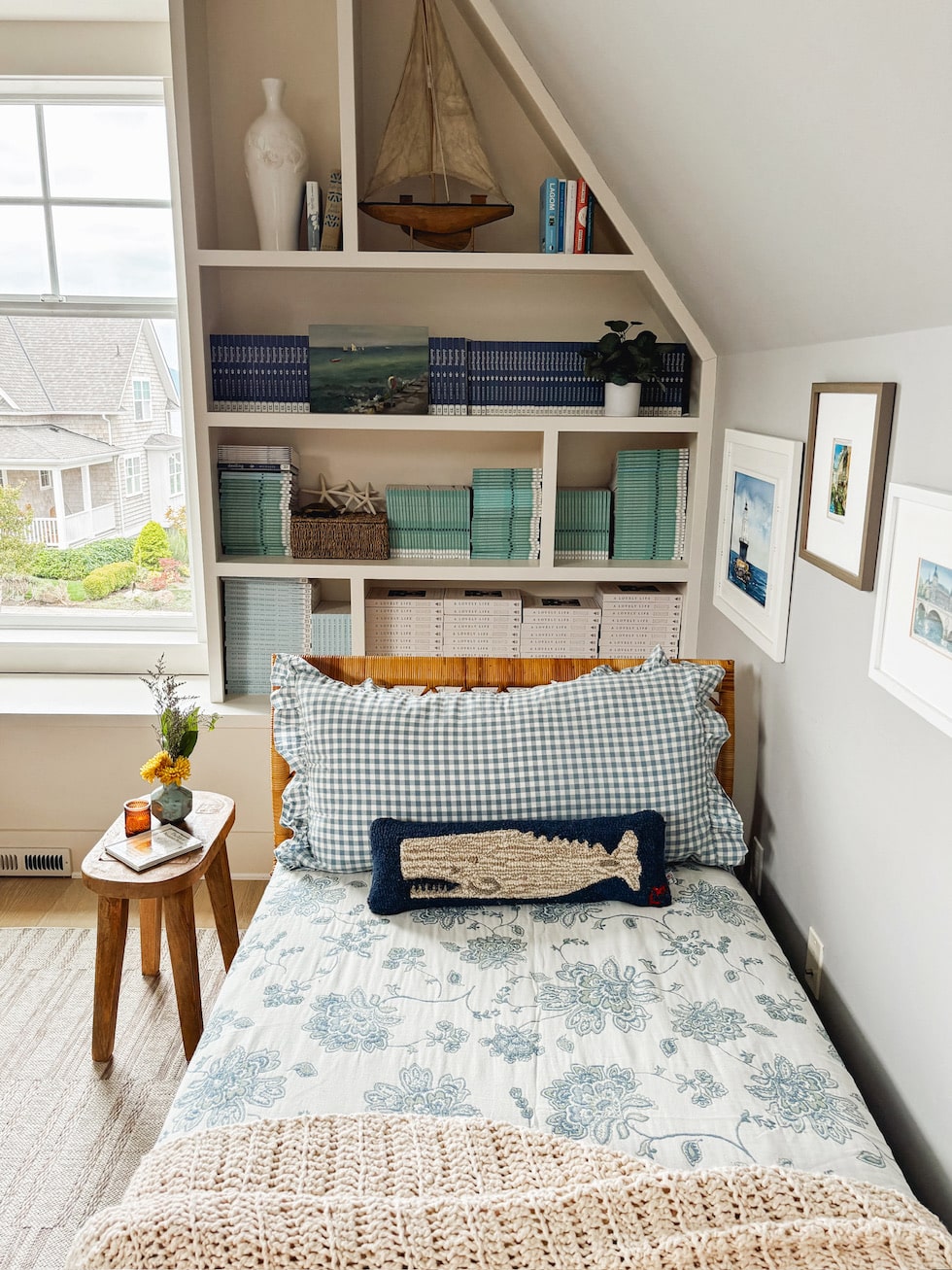 This room got the same new hardwood floors that were installed throughout the rest of the house (real European White Oak hardwood, engineered. I unfortunately don't have a link to them — they were purchased through a local store and have no brand name I can find online). We love how the floors transformed the whole room (and the whole house!). You can see more photos of the floors in this post.
Down the road we'll do fresh paint or wallpaper and I hope to get some wall sconces, lights and blinds installed over time, but for now we're just arranging furniture and accessories.
Today I thought I'd give you a little peek at the progress we made first on this side of the room.
Most of the furniture that will be in The Snug was already here so we're mostly just arranging the room a little differently. There have been a couple of furniture swaps in here which I'll share soon plus we have one less couch since we finally were able to move the leather loveseat downstairs to the living room (see my post about the living room here).
One new addition is this lovely new indoor/outdoor rug that is part of a collection launching today by Amber Lewis × Loloi! I'm sharing more about it over on my Instagram stories if you want to see it in detail. It's a beautiful but durable rug for a hardworking space like this, so I'm really happy with that addition to the room.
The rattan twin bed was on the other side of the room but I love it here. I actually considered buying a matching twin bed and still might do so down the road. The bedding has been collected over the past few years.
This little stool is a piece that gets moved to every room, sometimes within the same week! HA! Never hesitate to buy a wood stool. It can be a nightstand or an end table or a handy place to set anything! My stool was an old Target find but here is a similar oval stool. The wicker trunk is a storage spot for extra blankets.
We've had this French desk for years, it's both an optional workspace and a puzzle table which is enjoyed daily. The white rattan chairs are new and easy to move around the house or room for extra seating.
I don't usually have shelves of matching books 🙂 but these are all of the books I've written! This is where they landed when we moved in. I use them as gifts and giveaways so I like to keep them handy. Plus seeing them inspires me to do what I do. I love the look of them together however, we have a lot of books that still need shelves so I'm sure I'll be rearranging these again soon!
Soon I'll share the other side of the room. Little by little the house is coming together!
See more blog posts and photos of my home HERE!

Floral Blanket on Bed (reversible)
Amber Glass Votive Candle Holder
Paint Color: Smoked Embers Benjamin Moore
Floors are real European White Oak hardwood, engineered. I unfortunately don't have a link to them — they were purchased through a local store and have no brand name I can find online.